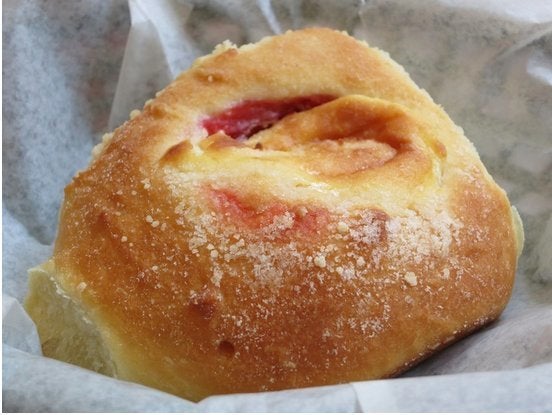 Summer is the season for BBQ, and this summer, Texas BBQ seems to be getting a lot of attention in New York. Hill Country Barbecue Market, which opened five years ago in June of 2007, is in the spotlight once again, after Pete Wells of the New York Times gave it two stars (and "BBQ snob" Daniel Vaughn acknowledged it had all the right pieces but fell victim to one of New York's biggest clichés: It was rushed). There's more to Texan cuisine, however, than BBQ, and food-forward Brooklyn is now home to New York's most recent Texan import: the Kolache.
Brooklyn is the ultimate haven for specialty food shops. From Brooklyn Brine Co.'s pickles to the recently opened gourmet mayonnaise shop Empire Mayo, you can find pretty much any specialty food you want in Brooklyn. Up until two moths ago, however, Texans looking for a taste of home couldn't find one important part of their morning routine: the Kolache. Czech in origin, a Kolache is a round, doughy pastry with a sweet or savory filling, and is apparently a popular breakfast on-the-go in the Lone Star State. When Texas native Autumn Stanford moved to Brooklyn, she was shocked to find that with all its specialty food shops, Brooklyn was missing these "neat-to-eat" pastries.
Stanford started a Kickstarter campaign to raise money for what would become Brooklyn Kolache Co., the one and only Kolache establishment in the borough. It opened in March of 2012, on Dekalb Avenue at Bedford Avenue in BedStuy. With its big, open seating area and sizable garden out back, there's more space and exposed brick at Brooklyn Kolache Co. than you're likely to find anywhere closer to Manhattan. In addition to Kolaches, you can find Pigs in a Blanket and Cinnamon Rolls -- who can argue with that comfort-food combo? Coffee comes from Kitten Coffee, a gourmet coffee roaster right up the street, which, incidentally, founded the first barista school in the New York.
I had never tried a Kolache before I visited Brooklyn Kolache Co., and like many firsts, this one was one to remember. I started with a Cherry and Cheese Kolache: the dough was fluffy and slightly chewy, and the smooth, sweet-cheese filling was the perfect anchor for the tart, cherry topping. Next I tried the Sausage, Cheese and Jalapeno Kolache, which I could see becoming an addictive hangover cure.
Whatever the filling, the dough itself is the main event. Slightly sweet, it compliments both a sweet and savory middle, and the ratio of dough to filling -- heavy on the dough, light on the filling -- leaves no confusion as to who's boss.
The cafe is bright and casual, with funky art covering the walls and mellow music playing at a perfect volume for getting some work done or for enjoying a peaceful breakfast. Light pours in from french doors that open to the lovely back yard, where more tables can be found for lingering over these decadent Texan treats. Follow their website's suggestion: "Stop by and try one!" Somewhere between a bagel and a doughnut, a Kolache is a cross between two New York staples, and this Texan treasure is working perfectly in Brooklyn.
Related
Popular in the Community