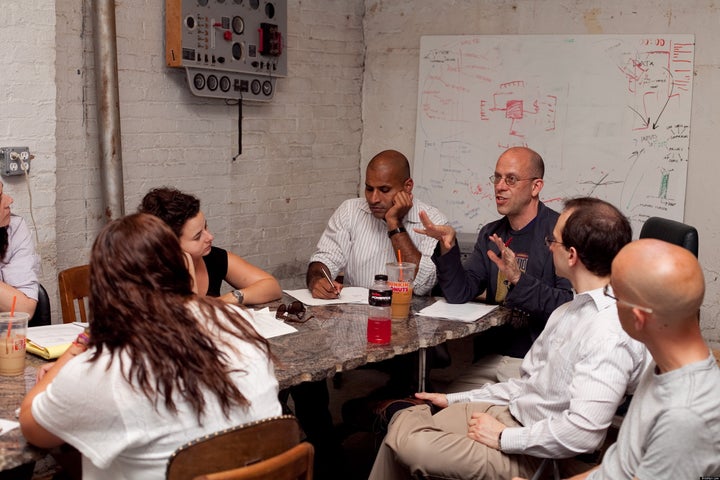 NEW YORK -- Jonathan Askin is sporting a long faux-leather trench coat and a shaved head as he enters his first tech meet-up of the night. On the second floor of SoHo's Scholastic building, the congregation is already underway. A table at the back of the room is strewn with delivery pizza, surrounded by networking techies shaking hands and chatting idly about venture funds, Silicon Alley, and location-based services.
Passing through this dense crowd, Askin is simultaneously greeting and being greeted by friends, allies, acquaintances, and occasionally, former clients. His role is both ambassadorial and communal; as the founder and director of the Brooklyn Law Incubator & Policy Clinic, his is a well-known and welcome face.
The clinic, or as it's known, BLIP, is the culmination of Askin's nearly two decade-long legal career. BLIP functions as a full service tech-oriented law firm leading its students through the full sweep of transactional law, policy and politics, technology and entrepreneurship necessary in a web-enabled world to provide pro-bono legal help to tech startups that really need it. The goal: training the lawyer 2.0 for the digital era.
BLIP is a legal outpost on the boundary of old and new. As the world catches up to the web, companies, governments and ordinary web users are grappling with unfamiliar issues regarding privacy, transparency, communication and more. The current crop of attorneys have to deal with the overwhelming amount of information freely available on the web as well as the complicated -- and unforeseen -- legal quandaries that develop as a result. The startups BLIP assists will be the pioneers of future corporate structures, even as the innovations they introduce to the digital infrastructure continue to morph the human experience.
"Lawyers are still the only people who use fax machines -- a demonstration of our Luddite tendencies," said Askin. "Change comes a lot slower to legal professions than the tech/entrepreneurship world. We've got to learn how to keep up. We've got to use the tools that other entrepreneurs have used."
Askin's own career reflects the pattern for BLIP's multifaceted approach. Born to two civil rights attorneys, Askin started his career in the same field, before he wearied of waging "trench warfare" to hold the line on issues, which, as he put it, "had been fought 30 years ago."
Then, the Internet came along.
"This is a moment that a young lawyer hasn't seem since the Civil Rights Act," he remembers thinking. "We're going to create new law that is going to change the course of history for the next few decades if not longer. We are writing the laws that will shape our digital future."
After leaving civil rights law, Askin began to move towards tech-related law, putting in time at the Federal Communications Commission, out in California working directly for startups, and playing a role in President Obama's tech task force during the election.
"I was in D.C. and I was a policy advocate and I thought I was a tech attorney. We weren't tech attorneys. We were lobbyists who knew a little bit of the jargon," he said. "I started working with tech startups -- everything they know is operations and transactions -- they don't know the first thing about policy or politics. It's very difficult for any attorney to represent the needs of a tech startup."
BLIP is Askin's attempt to fill the void of lawyers fully equipped with the range of experience necessary to work in the tech startup world. In many ways, BLIP offers Askin the opportunity to share what he's learned with law students about to start careers in a web-saturated world.
"Every single disparate thread in my life had a very circuitous legal path that has inevitably led me to exactly where I am right now," he said. "I was a dilettante -- a smattering of policy, a smattering of transactional, a smattering of civil rights work, but without having had that circuitous path, I'd be a little too myopic myself. Now I feel like I'm the blended mashed-up attorney that I'd like to see a lot of my students become."
Or, as current clinician Jameson Dempsey described it: "BLIP is Askin, Askin is BLIP."
Dempsey is one of the two students who have followed him out this night, though seminar ended just an hour before, and law school offers no extra credit. But this kind of immersion in startup culture is important for any tech-minded lawyer.
"He's actually the first professor I've ever had to assign a blog roll," said Dempsey. "Which I thought was really cool."
At the second meet-up, the techies amble around with beers in hand, or sit quietly with their iPads. The moderator asks everyone to introduce themselves by name, interest, and Twitter handle. Askin and his students comply on all three counts; attorneys you can tweet at.
"It's his vision that leaves fingerprints all over it. What he's opened the students up to is incredible," said Tom Chernaik, who worked with BLIP on a startup called CMP.LY, "He's such a fixture in the New York scene. A true lifeline into the New York tech scene is something these students are going to get out of him."
Through these meet-ups, BLIP has fostered relationships with a number of startups and tech professionals, finding a number of prospective clients in the process.
One of the clients BLIP reached through the scene is MainStreetSocial. Helping local governments monetize their websites with online advertisements, as well as to leverage social media to improve contact with constituents, MainStreetSocial has had to deal with both the ordinary business of starting a company as well as with broader issues involving the legality of selling ads on government sites.
Ryan O'Donnell, one of the founders of MainStreetSocial, first heard Askin speak at a tech event.
"Jonathan was at the entrepreneurs roundtable and I heard him say, 'At BLIP we do X, Y and Z for startup companies -- if you're interested find a way to get in touch with us'" he said. O'Donnell immediately found a way to connect with Askin, who took the initial meeting.
"Thirty seconds into the conversation, I went through my quick elevator pitch of what we did, what our challenges were, and he got very excited," O'Donnell recounted. "He goes, 'I have what I think would be the perfect team for you.' I'm going to tell them about you and I want you to come back in and meet with them."
The students helped O'Donnell with research, and drafted a legal memorandum. "We were then able to take it out to current clients, as well as prospective clients and say, 'Here's a memorandum that says, yes you can put advertisements on your websites if you follow these criteria,'" he said. "It's the first time I've encountered anything like that."
For the students in the BLIP clinic, working with real clients is a major part of the appeal. With Askin as a pedagogical guide, students are deployed into real legal work for clients facing tricky issues ranging from drafting privacy policy, to incorporation, to wider policy related questions. And as the startups they work with grow into full-fledged companies, other benefits present themselves as well.
"Once we do get to scale and are a larger company, that's the first place I'm going to look when making internal hires for legal counsel within the company," said O'Donnell.
BLIP's students are just as dedicated as their professor. BLIP has no room for the half-hearted. As the most popular clinic at Brooklyn Law, no first-year students are admitted, and almost no one is admitted on their first application. Even so, the size of the clinic is twice that of the next largest clinic in the country. There's no doubt that part of the clinic's draw is the chance to work under Askin.
"He has a million ideas and he has a million projects he wants to work on and one person can only work on so many projects," said Dempsey. "And so having twenty students who are really gung-ho about making a difference in the community, about learning more about tech law, about experiencing the breadth of the projects that we have in the clinic allows him to realize a lot of his visions ... and the man has vision."
But apart from his position as professor, Askin also seems to infect his students with his overarching notion that the work BLIP does is truly the work of the future.
"I see his role as very much inspirational, the guru, the person you go to, the person who just drives you on a day-to-day basis, who says, 'Remember what we're doing here, we're trying to develop these skills,'" said Julie Adler, another clinician. "It's more about the greater mission, and he's always trying to keep our sights on that mission."
Related
Popular in the Community