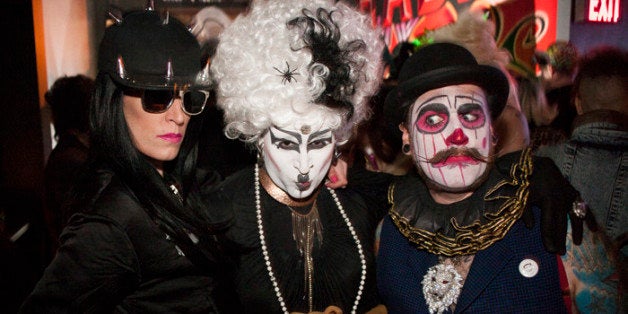 This is the sixteenth installment in an ongoing series that explores drag culture and the nightlife scene in Brooklyn, N.Y. Over the past several years, following the large-scale exodus of artists across the East River and into northern Brooklyn, those engaged in drag culture in this outer borough have created a new, queer world entirely their own. Accompanied by a larger movement to understand drag culture outside of the pageant circuit, many individuals engaged in the drag community in this borough approach drag culture through a nontraditional lens of "alternative" drag or performance art, enabled largely by the malleable and queer nature of this part of New York. Visit HuffPost Gay Voices regularly to learn not only about the individuals involved in Brooklyn's drag community, but more about the culture of the community itself. Photographer Santiago Felipe contributed his work to this project.
An event unlike any of its kind, the Brooklyn Nightlife Awards are a massive community effort, the winners of which are voted upon and chosen by the community as a whole.
Founded and curated by Brooklyn drag icon Merrie Cherry, the Awards provide an important opportunity to recognize, honor and celebrate both collaborative and individual accomplishments within Brooklyn nightlife, the cultural production occurring throughout this outer borough, and the unifying sense of community shared by everyone involved.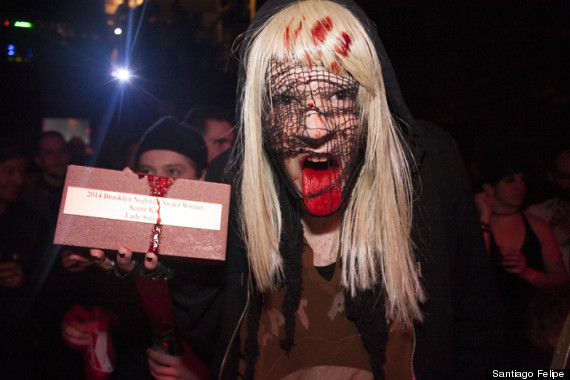 "Brooklyn, as far as nightlife goes, has always represented a sort of counter culture to the already eccentric NYC nightlife scene," Mocha Lite, 2013 Drag Queen of the Year, told The Huffington Post. "When I first learned of all the annual events dedicated to awarding nightlife greats, there was definitely a void of recognition that came with being from the Brooklyn scene... BK artists take pride in just how free their minds are permitted to be while on stage, despite what they may walk away with at the end of the night, simply because NO ONE will tell them 'no, that doesn't work' -- ever. There's a sense of freedom and rebellion here, even within a community already considered so far left. There have been many competitions and pageants, but nothing in my time here this major!"
This is the second year of the Brooklyn Nightlife Awards, with last year's event taking place on a smaller scale at Sugarland Nightclub. Winners of each category receive a plaque bearing their titled superimposed on a brick -- pictured above is Lady Simon, who won the category of "Scene Kid."
"The whole night was just such a carry, in a good way obviously," Lady Simon told The Huffington Post. "Performances were amazing and everyone that won totally deserved to win... You could definitely feel the love in the Brooklyn air that night! Everybody was just proud to be a part of the scene and proud of each other as well."
PHOTO GALLERY
Brooklyn Nightlife Awards
The awards themselves were peppered with a number of performances throughout the evening, many of which were by nominees, truly showcasing the talent and creativity that makes the Brooklyn nightlife community so unique, malleable and politically-charged.
"I certainly felt a lot of love and pride in the room last night," drag king Goldie Peacock told The Huffington Post. "Life as a performer isn't always easy, and on top of that Brooklyn has a notoriously high cost of living, so people are working really hard and feeling lot of gratitude for what we have. I can't speak for everyone and I know that peoples' situations vary, but from my experience I can say that being a Brooklyn nightlife performer means rehearsing in your shared living room because you can't afford studio space, hot-gluing a bunch of stuff from the dollar store onto some garment you bought on sale from a thrift store to give it more pizzazz, working several day jobs and several night jobs... Having an event where everyone can come together and celebrate our hard-won creative achievements feels intensely gratifying."
As an annual event, more than anything, the Brooklyn Nightlife Awards are both a platform to bring visibility to the work of artists and performers in this nightlife scene, as well as a celebration of the Queer New World these individuals have collectively built together. This community of promoters, artists, drag kings, drag queens, burlesque dancers, DJs, photographers, performers and everyone outside and in-between truly represent an amalgamation of the creativity and talent that construct and make the queer world of northern Brooklyn so open and freeing.
"Its not just about drag," Merrie Cherry told The Huffington Post. "I would say it's about the Brooklyn community as a whole. The people coming to events that were represented in the Brooklyn Nightlife Awards are warriors in their own way. We wave our freak flags out and proud, forcing people to look and examine who we are. If they look close they realize that -- like them -- we just want to have fun. That's really what it's all about."
Look below for an entire list of winners at the 2014 Brooklyn Nightlife Awards. Missed the previously featured drag performers and installments in this series? Check out the slideshow at the bottom of this piece.
Best Bar/Club: Metropolitan Bar
Best Bartender: Leslie Van Stelton (This n' That and Metropolitan Bar)
Best Burlesque/Boylesque Performer: Darlinda Just Darlenda and Scary Ben
Best DJ: Jessamess
Drag Queen/King of the Year: Horrorchata
Best Event to Leave Brooklyn: My Chiffon is Wet
Legend Award: Thorgy Thor
Scene Kid: Lady Simon
Best Mixed Party: Hey Queen
Best Event Photographer: Tinker Coalescing
Promoter of the Year: David John Sokolovski
Best Event Publisher: Next Magazine
Best Social Media Presence: Hamm Samwich
Best Visual Artist: Tyler Wallach
Calling all HuffPost superfans!
Sign up for membership to become a founding member and help shape HuffPost's next chapter
BEFORE YOU GO
PHOTO GALLERY
Queer New World: Brooklyn Drag Culture