Fox's "Brooklyn Nine-Nine" stars Andy Samberg (who is also a producer on the series), Andre Braugher and Terry Crews as cops in Brooklyn, and according to the creators, the show shares more creative DNA with "The Office" and "Parks and Recreation" than with cop spoofs.
"This is not 'Police Squad' -- this is a workplace comedy that happens to be set in a police precinct," "Brooklyn Nine-Nine" executive producer Mike Schur said at the Television Critics Association Summer 2013 press tour panel on Thursday morning. "The idea is that they're real cops and the crimes that they're investigating are real crimes ... We want it to seem like a real precinct. It's hard sometimes because of 'Police Squad' and 'Naked Gun,' but we have a cat of nine tails, and when one of us pitches a joke like that, we whip each other."
"Brooklyn Nine-Nine" has much more in common with "Barney Miller," which the producers cite as a major influence. "The most realistic depiction of police work ever on TV was 'Barney Miller," according to actual law enforcement officers, executive producer Dan Goor noted. "You're not constantly running at full speed down an alley. It's life in the precinct ... That was inspiring to us; you can do a modern comedy set in a police precinct without relying on that drumbeat of detective work."
The producers were also inspired by "Barney Miller" in its realistic mix of ethnicities (if not its inclusion of women), pointing out that the New York City Police Department is made up of 50 percent caucasian and 50 percent non-caucasian officers. As one critic noted, it's very rare to see a series with two Latina actresses on broadcast television today, something that stars Stephanie Beatriz and Melissa Fumero appreciated about the show.
"Isn't it great? It's awesome. It never happens that you look over and there's another Latina actress on the same show as you," Beatriz admitted. "We're not doing any accents -- nobody's doing anything spicy. It's amazing, and it does reflect ... the United States." While Beatriz said she doesn't know why other shows and networks are so hesitant to embrace racial diversity, she offered, "Change happens in small steps."
Another way "Brooklyn Nine-Nine" is differentiating itself and avoiding the repetitive nature of most procedurals is by eschewing the "case of the week" format. "There are many different aspects of being a cop," Goor said. "They could be on parade duty and frustrated they're not solving a crime. And there will be some high stakes, murder-y stories."
Samberg described his character Detective Jake Peralta as a "comedy McNulty," based on Dominic West's character from "The Wire," but "instead of drinking and philandering, he would do gags in the office."
After writing his own digital shorts on "Saturday Night Live," Samberg said "to show up and be handed 25 great jokes is the best feeling you can have as a comedian."
While there is a degree of improv on the set, Samberg insisted, "The writers are no joke. They're all serious comedy writers so the scripts come in extremely funny ... We do it a number of times as scripted, and once we have everything that everyone had in mind to begin with, we cut loose ... There was definitely some improv stuff that made its way into the pilot. The spirit of the show is irreverent and silly."
There will be gay characters and LGBT elements to the series, and the creators said they aim to treat gay romance exactly as they'd treat heterosexual relationships, showing how the stresses of working on the force can strain relationships.
The pilot features a hilarious cameo from Fred Armisen, and Goor and Schur hope it will be the first of many comedic guest spots, likely stemming from the detectives' need to go door-to-door to canvas for witnesses. "It's a great comedy set-up because every time the door opens, you never know who's going to be behind it," Schur said. "It seemed like a really good way to grab some funny people that we are friends with or that Andy is friends with or anyone is friends with and just have them show up ... We don't have anyone specific lined up yet or anything, but, hopefully, it will be at the level of someone making a phone call and saying, 'Hey, do you have an hour? Can you come down and shoot this goofy thing?'"
Goor also aspires for the show to be like "Parks and Recreation" and that the writers will be able to "grow their world." "There's the potential for defense attorneys or prosecutors or perps or Confidential Informants," he added. "It would be great to have funny people we can keep coming back to."
"Brooklyn Nine-Nine" premieres Tuesday, Sept. 17 at 8:30 p.m. ET on Fox.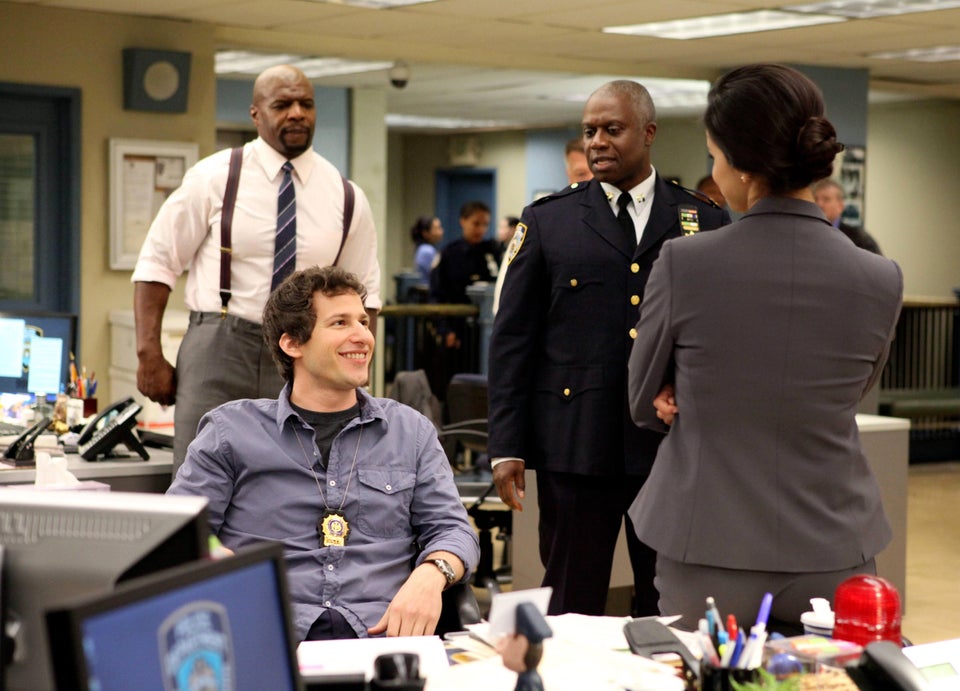 Fox New Shows 2013-2014
Popular in the Community