The good news about "Brooklyn Nine-Nine" (8:30 p.m. ET Tuesday, Fox) is that this modestly entertaining comedy reminded me of two shows that didn't take very long to find themselves.
All things considered, it's not surprising that "Brooklyn Nine-Nine" has a genial, pleasing loopiness and very solid work from an intelligently assembled cast, given that its creators, Michael Schur and Dan Goor, also work on "Parks and Recreation."
"Parks and Rec" (which returns Sept. 26) has created its own daft and delightful little universe over the course of five seasons, and though the Pawnee chronicle and "Brooklyn" are far apart geographically, both shows are founded on sincere, aspirational premises. Not to get too deep about it, given that I've only seen one episode of "Brooklyn," but Goor and Schur's new show and "Parks and Rec" posit that it's our job as citizens and human beings to help others when we can and cooperate wherever possible, even if our beliefs, approaches and opinions differ from those of our coworkers or acquaintances. Of course, "Brooklyn" hasn't had much time to develop this idea in its own distinct way, but there's a refreshing lack of cynicism in the pilot.
As I watched it, I recollected my initial review for "New Girl," which was cautiously positive, especially about the strength of that cast. "Brooklyn Nine-Nine" also takes an ancient TV premise -- it substitutes bickering cops for "New Girl's" mismatched roommates -- and gives it a light, energetic makeover without dismantling the core concepts that make it so strong. As was the case with "Parks," "Brooklyn" has a deep bench: Chelsea Peretti, Joe Lo Truglio and Terry Crews are among the versatile actors that fill out the show's roster nicely, and there's a genuine deftness to how the pilot unfolds (even if there's a bit of hastiness when it comes to the resolution of the first case).
But the efficient and amusing "Brooklyn Nine-Nine" gives me a little pause as well, I must admit. A couple of years ago, I wondered whether Zooey Deschanel and her distinctive, Etsy-elf presence would be incorporated smoothly into the fabric of "New Girl." She was, and that transition helped "New Girl" make the leap from good to very good (and occasionally great). I have some doubts about whether "Brooklyn Nine-Nine" will be able to do the same with Andy Samberg, who plays Jake Peralta, a brash NYPD detective who is a knowing, loving riff on every cop cliche that ever was (he breaks the rules! He's a rebel! He's too devoted to the job!)
Will an actor best known for his stint on "Saturday Night Live" be able to find a real person inside a character who is sort of a goofball meta-commentary on TV's endless array of alpha cops? The question isn't necessarily a comment on Samberg's skills, given that Bradley Whitford starred in the similarly spoofy "The Good Guys" and Jeremy Renner appeared in the short-lived ABC cop dramedy "The Unusuals." Neither of those shows ever quite worked, despite the skills and energetic commitment of those casts (and the one-hour format could have been partly to blame for their tonal disarray).
But it must be said that there isn't much in Samberg's history as a performer to indicate that he'll be able to make Peralta a real person over time. He may be able to do so -- and former "SNL" player Amy Poehler has been a revelation as "Parks and Rec's" Leslie Knope -- but the "Brooklyn" pilot is not exactly jam-packed with an abundance of evidence on that front. Having said that, there are so many other low-key pleasures to enjoy that I'm certainly willing to wait and see what happens with Peralta.
"Brooklyn Nine-Nine" has a series of fine lines to walk: Its weekly cases have to make a certain amount of sense in order to ground the whole affair and not make a joke of the bad things that can happen in big cities. It's got to make Peralta seem like a moderately real person while also allowing him to be a funny, larger-than-life character who alternately annoys and energizes his fellow cops. And it's got to give good material to every member of its varied cast, including Andre Braugher, who proves (again) that he's good at everything by nailing the role of Capt. Ray Holt, the precinct's tough new leader. Braugher may be known for his dramatic roles, but he beautifully and effectively underplays Holt and comes off as a born comedy professional.
If the cast and writers can continue to invoke the spirit of "Parks and Rec" while also channeling the shaggy, humane humor of the wonderful old-school cop comedy "Barney Miller" (an influence the show's creators gladly acknowledged at a press event in August), Fox may have another winner on its hands. Goodness knows cop shows are ripe for a bit of well-crafted parody, but if we're lucky, these folks will find even more rewarding material in the weirder corners of this precinct.
"Brooklyn Nine-Nine" airs 8:30 p.m. ET Tuesdays on Fox.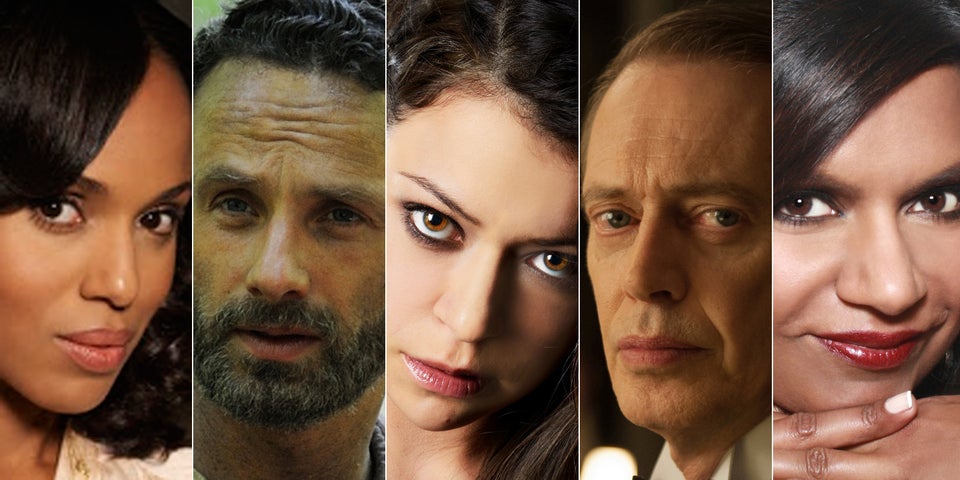 Critics Picks 2013-2014
Related
Popular in the Community