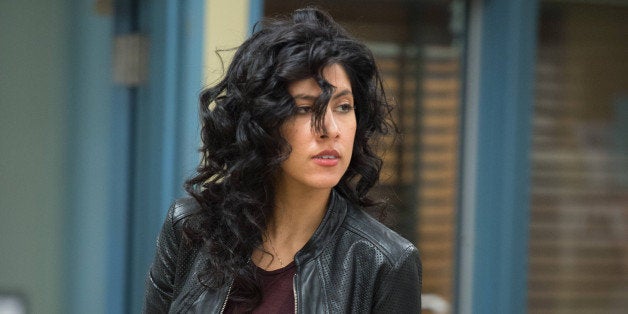 Stephanie Beatriz's voice on the phone is unexpectedly sweet. She greets me with an enthusiastically high-pitched "hi" that suggests she's smiling.
Sweetness and smiles aren't qualities you associate with Rosa Diaz, the tough, intimidating, good-hearted detective the actress plays on Fox's award-winning series "Brooklyn Nine-Nine." But serious roles are in Beatriz's wheelhouse. In fact, the star spoke to The Huffington Post recently about her transition from Shakespearean tragedies on stage to deadpan comedy on the small screen.
While a smile from Detective Diaz is a rare occurrence on the Golden Globe-winning series, Beatriz said she's not nearly as somber in real life.
"I'm not really a super-serious person," Beatriz said. "I guess in some ways I am, but I do like to have a lot of fun. I mean, one of my favorite places in the world is Disney World, so that'll tell you a little bit about me."
After spending most of her career in theater, the actress decided to try television more than five years ago. After a few small roles in series like "The Closer" and "Modern Family" (she played Gloria's sister, Sonia), Beatriz was looking for a role that would stick.
"Honestly, I was not in a position to be selective at that point," Beatriz admitted with a laugh. "I was what you would call a struggling actor."
She had moved to Los Angeles in 2010, telling her agent she wanted to do comedy -- something like NBC's "Parks and Recreation."
"I just kept talking about Parks & Rec because I loved it so much," Beatriz said. "So when one of my agents contacted me and said, 'We got this audition for you, it's by the guys who write Parks & Rec,' I was like, 'Ahhh!' And actually Rosa's character was not named Rosa at first. She was named Megan. They actually changed the name after I booked the role."
The Latina detective turned out be far from one-dimensional. Detective Diaz can take down a charging 200-pound man with one arm, yet doesn't lack the sensibility and emotional intelligence to be there for her friends when a situation arises.
"There's so many badass male characters that we see in television and film," Beatriz said of what she likes most about her character. "It's just who they are and there's not a ton of explanation about it. You just go, 'Oh right, there's a badass.' But there aren't a lot of female characters like that, so I just loved that there was a female character that they were writing that was sort of unexplainably this badass character.
"So when I went in for the initial audition, I just went, to use a very not-okay phrase, balls to the walls with it," Beatriz said. "I just did what my instincts told me to and I guess they liked it because they called me back."
But portraying a serious character in a laugh-out-loud comedy has challenges of its own. Diaz and the brilliantly stoic Capt. Holt, portrayed effortlessly by Andre Braugher, both rely on deadpan humor to get the laugh.
"Sometimes it can be a little tough to maintain the steadfast deadpan, but I'll tell you what, most of the time what I'm doing is thinking, 'If I ruin the take right now, then the audience is never going to see how frickin' funny Andy [Samberg] is in this scene because everyone is laughing,'" Beatriz said.
While the star confessed she's "notoriously horrible" at improvisation while on set -- which she blames partly on her stick-to-the-lines theater background -- Beatriz said there's plenty of ad-libbing from other actors.
"There is actually a good amount of improv, or I guess a good way to put it is looseness." Beatriz said. "Our writing staff is really really awesome. They're really fun and flexible. They often come up to us with new lines on the fly. They're watching us tape the scene and they'll come over to us and be like, 'What about this?' And then sometimes we'll do something called a fun-run, which is exactly what it sounds like."
"You know that episode where Holt goes 'Hot damn'?" the actress added suddenly, referencing a scene where Capt. Holt and the precinct took bets on why Amy (Melissa Fumero) was late for work. "That was an improv. He just busted out with it. That's why they cut away so fast at the end of the 'Hot damn,' because all of us died laughing."
Since its 2013 premiere, "Brooklyn Nine-Nine" has received two Golden Globes and has been lauded for being one of the "most progressive" series on television and a champion of diversity on the small screen.
A good example is Rosa, who despite being Latina has yet to reveal much about her culture or background. The lack of focus on nationality is something Beatriz can relate to after being born in Argentina to a Colombian father and a Bolivian mother, with whom she moved at a young age to Texas, where she fostered a love of Mexican culture.
"I've been building the character week by week, really, because I've been building off of what our writers give us every week," Beatriz said. "It's really up to them what they decide her nationality is. I haven't inputted it for myself yet because it isn't the kind of show where her nationality is at the forefront of the storylines, not unlike myself."
When it comes to tearing down stereotypes and not falling back on clichés for the sake of comedy, the star said the key is to put a character's humanity first.
"When you label somebody and put them in a box, then you put the lid on the box and you just never look inside again," Beatriz said. "I think it's much more interesting for human beings to look at each other's stories and see each other. Really see each other and then see themselves through other people's stories. That's where you start to break down stereotypes.
"Seeing other people's realities, like I said, their dreams, their hopes, their fears all that stuff," the actress continued. "Then you connect with somebody else, even if they're from somewhere completely different than you and have a completely different life than you, you still connect with them because at the end of the day, we're all human beings."
While Detective Rosa Diaz's personal life remains a mystery on the show, Beatriz said that will change very soon with the arrival of a guest star, who will have a recurring character much like Eva Longoria's Sophia.
"There's some really fun, really good storylines coming up, where she's kind of forced to share a little more about herself. Her personal life gets kind of intertwined with all the people in the office," Beatriz revealed.
On the topic of diversity, the actress credits the show's creators, Michael Schur and Dan Goor, and everyone behind the show.
"It goes back to NBC Universal, Fox, and Mike and Dan and their adamant desire to have the show look like a real precinct in New York," Beatriz said. "They really wanted to reflect what New York City looked like and it does."
"I don't know , it just feels like as the world is expanding -- there's more openness to different kinds of stories, which I think is good," the actress added. "Audiences want to see themselves, and audiences are of all different backgrounds, colors, ethnicities. It's an exciting time to be an artist."
Before You Go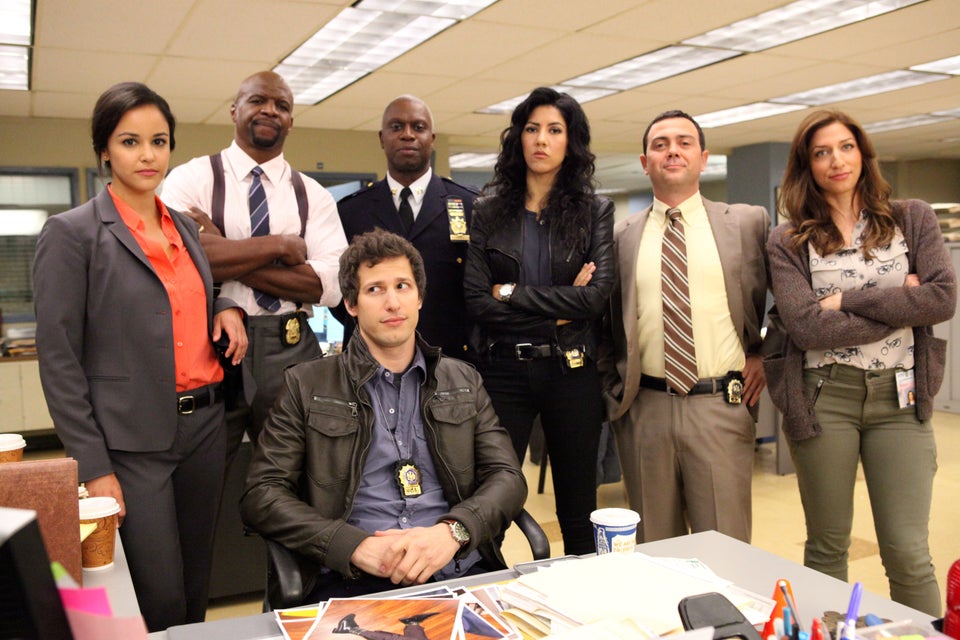 "Brooklyn Nine-Nine"
Popular in the Community