Photographer Kamau Ware refers to himself as a storyteller, sharing the narratives of the past through the lens of a camera. The Brooklyn creative once led tours at New York City's Tenement Museum sharing the history of the Gumperts, Rogarshevskys, Baldizzis and Confinos. But when a black middle school girl, who was on the tour, questioned the absence of the city's black history, Ware became inspired to dig deeper and find out. Eight years, some art exhibits, and a successful Kickstarter later, Ware is unveiling New York City's hidden black history through his own walking tour project called Black Gotham Experience and an upcoming photo book, Other Side of Wall Street.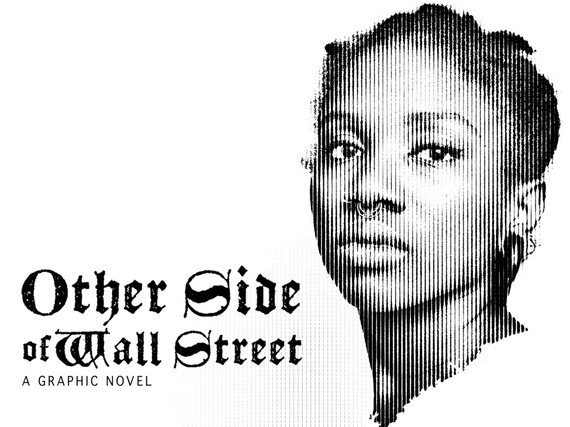 "One reason why I say that Black Gotham Experience is my life's work is because I am a victim of the Transatlantic Slave Trade," Ware said.

My memory, culture, identity, and chemical elements are products of a ruthless lust for sugar, wealth, and empire. I can't speak about my family willfully coming to America for an education or even escaping persecution. The journey here and our time here was the persecution. On the flip side, I have connected with the stories of Black people who have no heirs. Who were murdered as rebellious slaves or died free, buried somewhere in New York City that has been forgotten.
For the last five years, Ware has hosted a series of interactive walking tours dedicated to N.Y.C.'s black history. I attended my first Black Gotham Experience tour last week, and was pleasantly schooled on the dark, victorious, and painful black history that has been conveniently omitted from the average American textbook.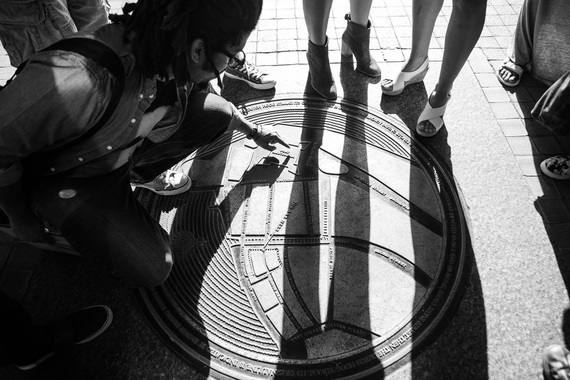 The first goal was a walking tour and web site, which kicked off in 2010. I soon realized that this one tour had to be broken up into three tours -- 'Other Side of Wall Street,' 'Caesar's Rebellion,' and 'Citizen Hope' -- each about a century. But no matter how long a tour would go, there was still relevant information that cannot be reached in the allotted time. Plus, people needed time to digest all the suppressed history. Most people [use] Harlem of the early 20th century as their only reference point [regarding N.Y.C.'s black history]. Going back 300 years is an exercise.
Ware expands on his history lesson with his upcoming graphic novel, Other Side of Wall Street which has been supported via Kickstarter. Other Side of Wall Street is the first of three novel projects that will bring Ware's lessons to life, employing casted and costumed characters to illustrate untold stories.
One signature element within Ware's work is social interaction. Inspired by the free Black community of 17th century Wall Street who survived the slave trade and were clever enough to form a union and petition for an expansion of their rights, Ware bases his project through fellowship. "My vision isn't possible as a lone creative warrior," Ware explained. "I will need other creatives, and that includes a creative audience willing to challenge their own minds. There is no journey without participation. Freedom is not achieved alone." Ware's creative team includes fellow photographers, costume designers, artists and his wife, Sew Fab author Lesley Ware.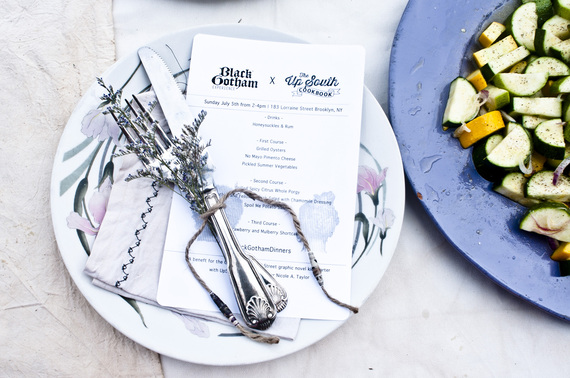 But it's not just other creatives involved in his journey, the photographer proudly invites the general public to follow his process as he meets his vision. Throughout his Kickstarter, Ware expressed his gratitude to supporters via dinner parties, tours, and art exhibits all themed after Black Gotham. "To see support continue to flow in by people I know and don't know, sent me and my team to happier and happier places. Life after kickstarter is life with a broader deeper community that is in motion. Having some time to sit with the project and take into account what I learned from a month of engagement was exponentially beneficial to the creative process."
In anticipation of Other Side of Wall Street, Ware hosts a series of events for each season until the launch of the book, giving the public an open view of the book's production. This fall, which is titled BGXF15 (Black Gotham Experience Fall 2015), the photographer will host several tours, free speaking events, and a pop-up exhibit showcasing the pages of the upcoming novel which is expected to debut Fall 2016. Ware intends to continue his BGX seasons even after the book.
Be sure to stay up to date with Ware's creative process and events by visiting his website BlackGotham.com.
Calling all HuffPost superfans!
Sign up for membership to become a founding member and help shape HuffPost's next chapter