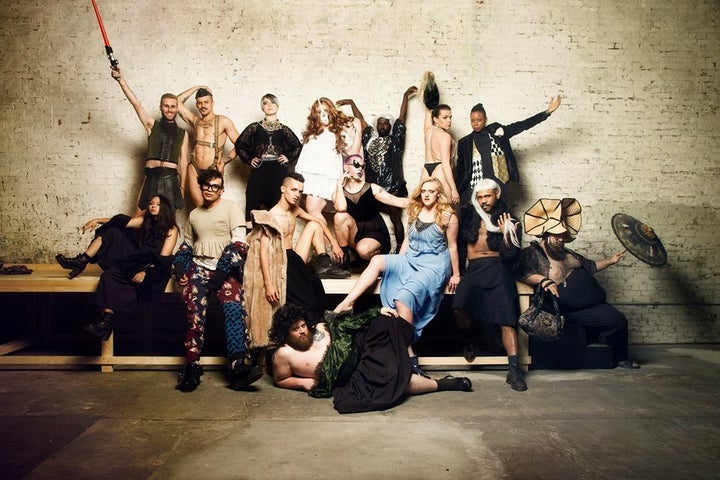 Almost two weeks after the massacre of 49 queer people at Pulse nightclub in Orlando, Florida, various communities in New York City are now preparing for their annual celebration of Queer Pride.
In wake of the tragedy in Orlando, Pride this year feels different -- community feels more crucial than ever and tenderness with one another more necessary. Brooklyn art collective The Culture Whore, whose celebrations of Pride in the past have been a response to the commercialized nature of mainstream NYC Pride, are focusing on the themes of strength and resilience for their annual celebration.  
Tonight, June 24, will see The Culture Whore, founded by Dream Dommu and Paul Leopold, celebrating "The Dragon Ball," a party and point of community connection focused on strength, fortitude and the importance of queer family.
"This party is so much about strength, power, fighting for what you believe in, fighting for who you are," Dommu and Leopold told The Huffington Post. "Our parties are always incredibly cathartic, and Pride especially is one of those times every year where our whole community comes together, and we all need that so desperately now. We felt the desecration of the sacred queer space, the club, so deeply, and we want this to be a chance for our community to take that back, and take our power back with it."
"The Dragon Ball" draws on a slew of references, including anime, "Dragon Ball Z" and "Game of Thrones." While The Culture Whore's event is one of many happening in conjunction with NYC's queer Pride this weekend, these parties have become fantastical spaces of community culture where people not only are free to explore different facets of their own personal journeys with queerness, but feel supported in a time when we need each other more than ever.
This Pride, let's explore the queer bonds that bind us together -- and the way that we can all work towards a liberated world that we all want to actually live in.
See you at "The Dragon Ball."
"The Dragon Ball" takes place tonight, June 24, in Brooklyn. Head here for tickets and information.
REAL LIFE. REAL NEWS. REAL VOICES.
Help us tell more of the stories that matter from voices that too often remain unheard.