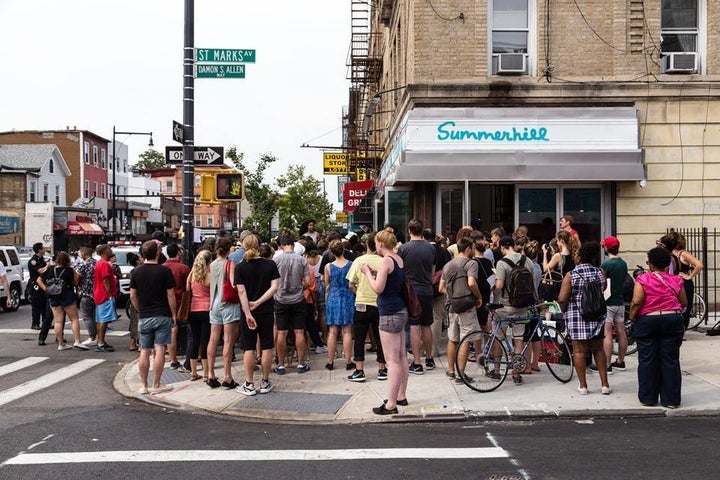 Dozens of residents in the Brooklyn neighborhood of Crown Heights are speaking out against a local bar after the owner used a "bullet hole-ridden wall" and 40-ounce rosé to promote her business.
Community members are accusing Becca Brennan of glorifying violence, perpetuating negative stereotypes about black people and engaging in cultural appropriation after a press release for her restaurant Summerhill circulated online last week. The release, which describes the bar as an "oasis," featured a $12 cocktail pictured in front of a wall described as being marked with bullet holes.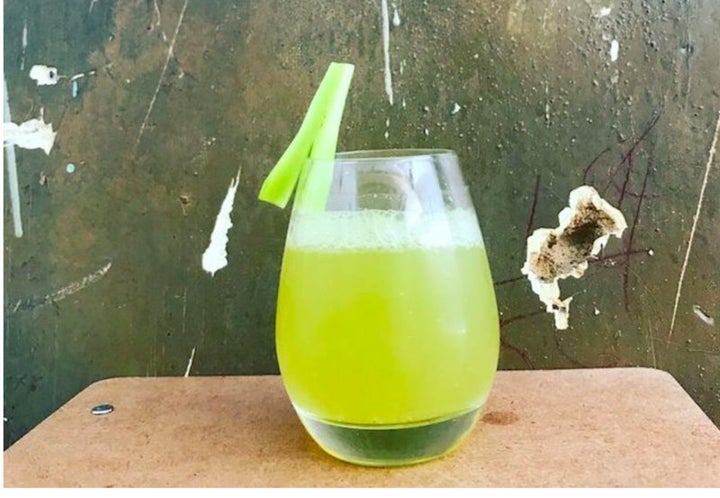 "Yes, that bullet hole-ridden wall was originally there and, yes, we're keeping it," the release read, per Gothamist. Brennan, a 31-year-old former attorney and Toronto transplant, told the publication that her intention was to be "cheeky" and play up a rumor that the location was formerly a corner store that sold guns ― a claim that has since been debunked.
"Just looking at the angle I don't know if that is possible that that's a bullet hole," she said. "We call it that because if you look at the history, someone seriously said, 'Isn't that the place where we could buy guns?' And then we were like, 'OK.'" She also initially planned on selling 40-ounce bottles of rosé in brown paper bags; she has since taken that back.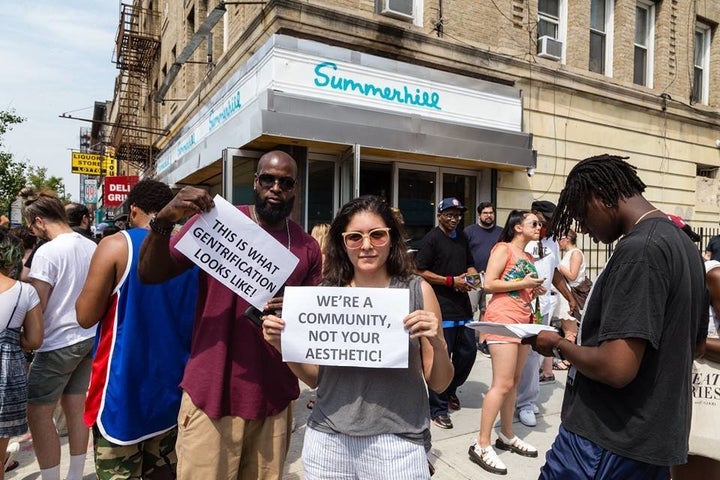 Brennan has been receiving criticism for her insensitive marketing since. Residents have been posting complaints on Summerhill's Yelp and Instagram accounts. They also posted signs around the neighborhood denouncing the restaurant.
"Wow, what a disappointment," Yelp user Nicole M. wrote. "The owner is making a point of displaying her privilege and indifference to systemic poverty that has plagued the Crown Heights area in the past by promoting rosé in brown bags and an alleged bullet ridden wall? Gross. Way to also ignore the detrimental effects of gentrification as well."
Following the online backlash, organizers Justine Stephens, Jon Villaran and Paola Ayala put together an open forum to allow people a space to voice their concerns.
"Crown Heights still struggles with gun violence, and for them to market the experience of their bar — an 'aesthetic' as Brennan has referred to many times— is distasteful and an outrage," the organizers told HuffPost in a joint statement.
"What Summerhill did (and is continuing to do) invalidates the culture of a community with a storied past," they continued, noting that this is a trend for gentrifying businesses in New York City. "Becca chose to focus on negative stereotypes of Crown Heights past and instead tried to accentuate a history that this community is trying to overcome. Crown Heights is more than just gun shots and malt liquor, it's a community of people that have lived there for decades that have stories of their own, and Becca refused to acknowledge that."
Residents gathered in front of the self-proclaimed "boozy sandwich shop" for the open forum on Saturday. Participants chanted "Bye-bye, Becky!" and held signs reading "This is what gentrification looks like."
Crown Height's mostly black population has shrunk while white residents' population doubled between 2000 and 2010, according to The New York Times.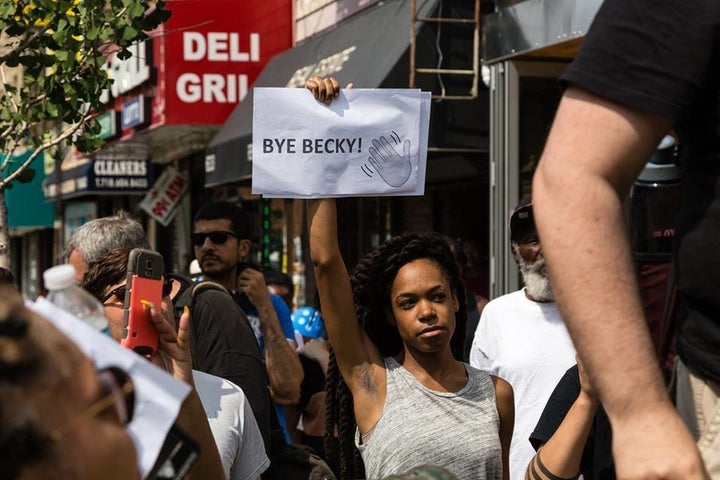 Participants took turns voicing their opinions on what was problematic about Summerhill. Among them was Toya Lillard, a Crown Heights resident for more than 20 years, according to Gothamist.
"People of color are not props or backdrops," said Lillard, who is black. "If you are new to this community you are duty bound to do some research. To be culturally literate. To know where you are. To know what came before you. It's not our job to inform you or educate you. It's yours."
Residents also addressed the dangers of using these stereotypes for profit when they are, unfortunately, some people's reality.
"I ain't never wanted to go to no beachfront with a f**king wall that look like gun holes been in it," one woman in the video below said during the open forum. "I've witnessed people die in front of me. Nobody talks about the PTSD that we go through ... Don't tie something to our culture. Half of that s**t was pushed on us."
Though Brennan was present, Gothamist reported that she didn't engage with community members. Instead, her team handed out a statement of apology during the forum.
"I deeply apologize for any offense that my recent comments might have caused," read the statement, which a representative for Summerhill sent to HuffPost. "I did not intend to be insensitive to anyone in the neighborhood, and I am sorry that my words caused pain. I made light of serious issues and that was wrong."
Summerhill is a neighborhood restaurant where everyone is welcome. The reason we maintained the distressed wall is the aesthetic. We have kept other elements of the original space as well to create a visually engaging experience.

The restaurant décor is not intended to make light of any aspect of Crown Heights, or its history. I've reached out to the Crown Heights Tenant Union and the organizers of the forum on Saturday in hopes of setting a meeting to discuss the concerns that were brought up and I look forward to having the opportunity to meet with them. We love Crown Heights and we are very proud to call it home. I respect the comments that I have received from the community and I recognize that I have more work to do to continue healing relationships with my neighbors. I intend to do that.
Stephens, Villaran and Ayala told HuffPost that Brennan's response was "appalling, but not surprising."
"We reached out on several occasions to have her comment at the forum and let her listen to the ENTIRETY of the community of Crown Heights, but she refused to and instead had us speak with her media representatives and employees who were equally as dismissive," they said. "At one point, Jon was confronted by an acquaintance of Becca who called the event a riot, again focusing on negative stereotypes of this community and refusing to hear us."
The organizers issued a list of demands for Brennan, including a verbal apology, a detailed business plan on how Summerhill will incorporate local residents and people of color as employees at living wages or higher, the removal of "bullet holed" walls, employee participation at community meetings, food and service at an affordable cost and a public report on the actions the restaurant has taken regarding the demands.
The organizers said an hour after the open forum, they received a response from Summerhill representatives stating that they listened and would like to have a conversation that allows them to work together.
But for the organizers, they just want two things: "We are hoping that Summerhill will close and for other new businesses to take a closer eye at respecting the communities around them."
Before You Go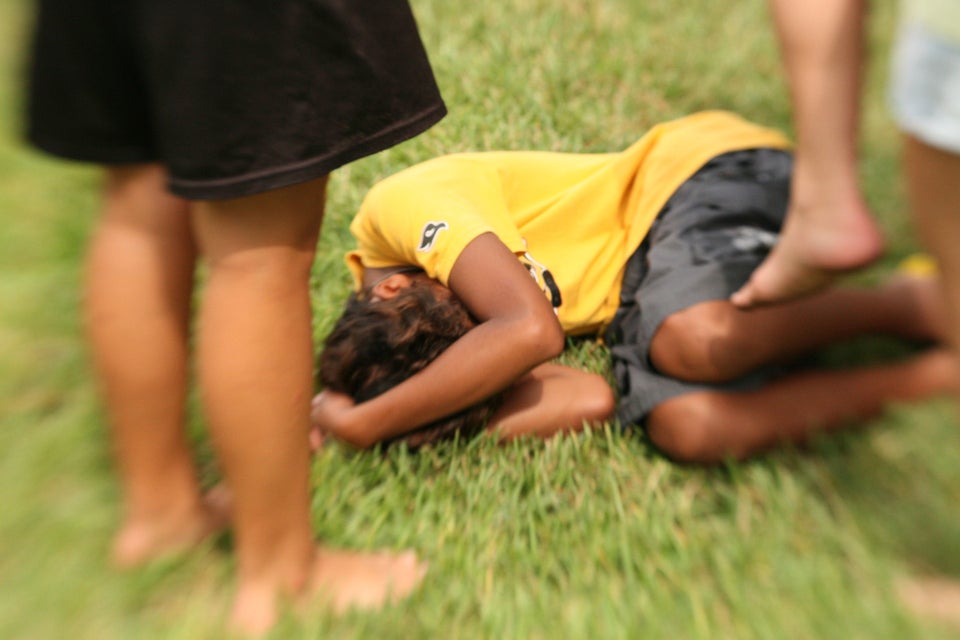 Fighting Racism And Discrimination Everyday
Popular in the Community