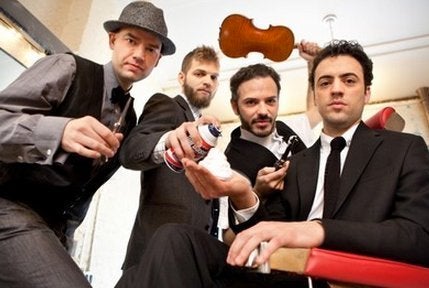 Few ensembles embody Ezra Pound's 1934 modernist maxim "Make It New" as wholeheartedly as the string quartet Brooklyn Rider. Adept in playing everything from Beethoven to Roma improvisations to Philip Glass, Brooklyn Rider has been transforming the old into the new for nearly a decade.
Last month, as part of the year-long Carolina Performing Arts festival The Rite of Spring at 100, celebrating the centenary of Igor Stravinsky's ballet, the quartet curated a program centered around Pound's famous phrase. With modernist classics by Stravinsky and Bartók, a recent work by composer Gabriel Kahane, and three world premieres by free-jazz maven John Zorn, singer-songwriter Shara Worden (better known as My Brightest Diamond), and Brooklyn Rider violinist Colin Jacobsen, the concert unleashed a marathon of newness.
It was a sensational evening, concluding with Jacobsen's Chalk and Soot, based on Wassily Kandinsky's 1912 avant-garde poem Klänges ("Sounds"). Choreographer John Heginbotham created a series of uncanny images with his company Dance Heginbotham, and Worden sang Jacobsen's setting of Kandinsky's mysterious text -- her own piece for Brooklyn Rider, Disconnect, Delay, Lean and Release, was intriguingly embedded within Jacobsen's work.
I interviewed Jacobsen and Worden separately when they were on the University of North Carolina campus preparing for their performance.
Brooklyn Rider -- Colin Jacobsen
Tell me about your relationship to The Rite of Spring.
Colin Jacobsen: I don't remember the very first time I heard The Rite of Spring, but I can remember great experiences. It's exciting to be here as part of this UNC celebration because embedded in our quartet's name is a reference to a group of artists from the same time period as The Rite of Spring, the Blue Rider. Ever since we've been thinking about this program, it feels like we've been in a little bit of a time capsule, a time warp, with Bartók and Stravinsky.
How does your piece deal with the modernisms of 1912-1913, the year The Rite of Spring was created?
I wanted to honor the time period that Kandinsky wrote that stuff, but I tried not to be too conscious about it. The text gave me a lot of clues as to rhythm and melody. The world of Kandinsky is so strange, and it's just fun to set that.
Tell about the idea of "Make it New" in the context of your program.
As a quartet living today, we're confronted with that question because we care about living in our world. We want to counter the assumption that a string quartet is a musty, old form, and it feels like there's a lot of vitality to music happening today.
So "Make it New," the idea of going back to The Rite of Spring in order to think about new things, is great for us, because that's what we're constantly doing with our programming -- thinking about ways to bring Beethoven, Bartok, Debussy into the present and have a dialogue with music of today. The more we look at the period of The Rite of Spring and we think about modernism, the idea that it had to be new, we see more closely that actually, at that time, Stravinsky, Picasso, and Kandinsky were all also looking to old ways to move forward. It's about looking not to the generation right before you, but looking further generations back -- so this feels like a perfect model, looking at a hundred years ago.
My Brightest Diamond -- Shara Worden
What inspired you in The Rite of Spring?
Shara Worden: When I started thinking about writing a piece that was influenced by The Rite of Spring, I really was thinking about our culture, and the rites that we have now, and if we have any relationship to the earth and to season. And I didn't feel that we do, really, have rituals that are related to harvesting food, or patterns of the earth. I started talking with farmers in Detroit, where I live and talking to them about their pace and their view of the earth. They felt that we relate more to shopping than we do to the seasons -- trips to Costco being a symbol of abundance, the full shopping cart gives you that same feeling that maybe once a ritual did.
Does your work lament this, or restage The Rite today?
For my piece I was using it as a meditation point to think about the disconnectedness that I feel from the earth, and looking for a recovery of a tradition of people gathering together and -- not really sacrificing a virgin, but thinking more about wanting, longing for that connectedness, or that sense of the passing of time. The piece that I wrote is really about a fractured feeling, and I was also listening to a lot of Webern, and feeling all the voices being separate from another, except at a few points all the voices come together. I used the composing of the piece as a way of slowing myself down, and hopefully by the end of the piece there's a little more rootedness.
What was it like writing for string quartet, an ensemble that has a long and deep tradition?

It's incredibly intimidating. The weight of history is something that is quite overwhelming, and so in a way you have to just respect it and appreciate the history, and also chuck it out -- otherwise, how can you write anything at all?
Any other thoughts about your relationship to The Rite of Spring?
I think we could talk a long time about what it looks like in modern society to have a season, when so much of our life -- with air conditioning and cars and windows rolled up -- we don't really feel connected to the earth in that way. So what does that look like for us now? I think we're all searching for that.
A Spotify playlist of music performed by Brooklyn Rider and Shara Worden, aka My Brightest Diamond.
You can learn more about The Rite of Spring at 100 here, and read a previous Huffington Post interview about the project here. Be sure to check out Reflections on the Rite, a blog that discusses what 'The Rite of Spring' means today; Brooklyn Rider's violist, Nicholas Cords, recently wrote a guest post.

REAL LIFE. REAL NEWS. REAL VOICES.
Help us tell more of the stories that matter from voices that too often remain unheard.