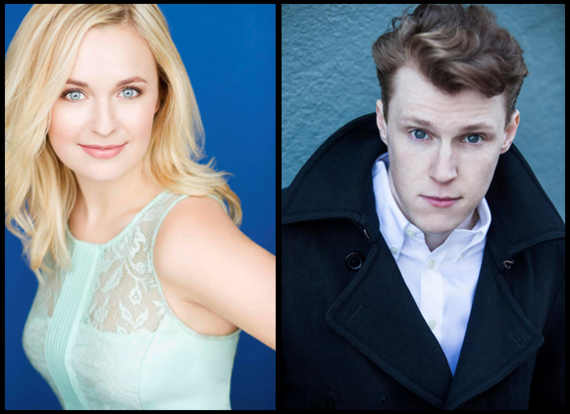 Julia Mattison and Noel Carey in the docuseries called Brooklyn Sound.
The show, about a legendary recording studio in danger of closing its doors, features guest actors from popular shows such as Unbreakable Kimmy Schmidt and Empire.
Julia Mattison's Website & Twitter , Noel Carey's Website.
Brooklyn Sound is a lot of fun so check it out. It's actually a mockumentary, so Julia Mattison and Noel Carey themselves play most of the 'musicians/acts' that appear on the show. I still can't figure out how they do everything in such a timely manner. I'm exhausting myself thinking about it, so I decided to stop thinking and just enjoy the show :)
What inspired you to do a project of this nature?
Julia: We knew that we wanted to create a music and comedy show of some kind, but it took us awhile to figure out exactly what it could be. A lot of inspiration came from observing the music industry currently, and seeing how a lot of independent recording studios have been struggling in recent years. Setting the show in a recording studio felt like a perfect environment to not only play these characters and write music, but to also tell a very current story.
Noel: There was a point before all of this when Julia and I had toyed around with the idea of starting a band. We wrote a few pop songs together which we played in public a couple times, but it was hard for us to gain momentum. So we needed something that could scratch that songwriting itch. When the idea of this show came along, we figured "Why start one band when we can pretend to be in six bands?"
What is the process of making an episode of Brooklyn Sound from start to finish?
Julia: We really developed all six episodes at once, in a fairly short amount of time, so the process was pretty crazy. We started by coming up with the characters, brainstorming their storylines, and writing the music. Then we figured out the overall arc of the show and how these characters would weave in and out of it. With that info, I went off and wrote the episodes. Then the team got together and we made edits and got into pre-production, where our director, DP, and producer figured out the insane shooting schedule. We filmed everything in one week with 15 hour shoot days and lost our minds. Then our director/editor Drew Van Steenbergen took all of the footage and worked his magic, and we had our six episodes! It was a lot more complex than that, but that's a good general sense of it :)
Music plays a very important role in this series. What experiences as musicians were you able to draw from in creating Brooklyn Sound?
Julia: We both have musical and musical theater backgrounds, so I think we tend to find our way into things through music and writing songs. Once we started coming up with songs and playing around with different musical impressions, the world of the show opened up and the stories became easy to write.
Noel: Every time I've recorded in a studio, the process is always a little different. One band might like to record a song live with everyone in the room playing at once and one might prefer to track all the instruments separately. You'll find when you watch the show that each band's process of recording is very unique to them and often bizarre to Lucy and Joel.
Each episode of Brooklyn Sound features a new band or musical artist visiting the studio, and you both will be playing members of these bands. As the creators, you worked both behind the scenes as well as in front of the camera. How hard is it to do both?
Julia: I didn't find it too hard to do both because I feel like, in a way, the jobs were one in the same. We made up this imaginary world and then we got the chance to actually jump in and live in there. I think the ease in jumping between the two was mostly thanks to our awesome team (our director Drew Van Steenbergen, DP Matt Figler, and Producer Andrew Merki) and the crew who made it so seamless. I always felt like the show was in great hands.
Noel: Julia's right: one hand washes the other. My only regret is not being able to spend more than a few hours in each character. We were so pressed for time on set that many of the performances wound up being very instinctual and choices were made on the fly; it's actually a great way to work, but I still wish I could've lived in those characters a little longer.
Julia -- what's your favorite bagel shop? (Great, now I'm hungry.)
Julia: I'm hungry now too! My favorite bagel shop is The Bagel Store in Williamsburg, but I feel like I shouldn't say that, because I don't think they need any more press right now. They're the same place that created the infamous Rainbow Bagels, and now there are lines wrapped around the block daily, so I don't go there as often. Note: I feel really cool complaining about how things have changed in Brooklyn. I'm part of the problem! But Lordy, do I love a good bagel.
Julia -- You like Judas Priest and...
Julia: I think one factor that ties all of my favorite bands and artists together is a really catchy melody and/or an amazing vocal. I also like any and all music that you can sing along to in a car. Currently, you might find me listening to The Beatles, Bowie, Brandi Carlile, Kanye, Tenacious D, Crosby Stills & Nash, Watsky, Aerosmith, Tori Kelly, an extensive 90's Nostalgia Playlist... I always circle back to 90's nostalgia.
Noel -- Do you think Julia is crazy for working with you since Freshman year at Emerson College? Why does she put up with you?
Noel: Everyone I work with has to be a little crazy. If you consider yourself someone who strives to be normal, we're probably not going to get along. Julia and I are also look for the "crazy" first when we write; the stuff that makes us laugh uncontrollably because we don't understand it right off the bat. Then we take it and shape it and hopefully inject it with a little drama or a little heart, but our material always comes from an imaginative and crazy place. That's just how we work.
Noel -- Do you seriously think you're funny?
Noel: If I love something, I want to do it. If it gets me excited, put me in the ring, I want to try it. That's the way it is with comedy. I love it, so I do it. Everyone is funny, but someone might keep her sense of humor to herself or only let it out with close friends. Not everyone has the innate desire to make people laugh or to bring comedy to people's daily lives, especially people they don't know, but I do. Comedy is kind of like this great drug that I just want to get everybody hooked on.
How do you both keep in shape?
Julia: I like taking a variety of classes so I don't get bored. SoulCycle, Zumba, Parkour-Lates. I made up that last one, but I bet it exists. I tried Insanity a few times and felt like I was dying, so that didn't stick. I also like to raise my heart rate by shaking impatiently when I'm waiting in line at The Bagel Store.
Noel: Yoga has been a huge help to me over the last couple years. It's very calm and focused and personal, which I like, but it also brings a sense of awareness and alertness that fuels my creative side. Personally, I don't really work well with any routines, even with my writing. If an idea's there, I rush to the piano or the computer. If it's not, I take a walk. Or I do Yoga.
What's next for you both? Individually and collaboratively.
Noel: Right now I'm finishing scripts for a new web series and finessing the scores to a couple stage musicals. Collaboratively, we're focusing on bringing this show to the public and promoting our work as a musical comedy duo. One day we'll write a children's book or maybe make a documentary about flying, but not quite yet.
Julia: I'm currently working on a new pilot as well as a new standup / musical comedy project that I'm hoping to put up soon. Noel and I are also doing "Ruby Manger Live! at 54 Below" on May 22nd at 54 Below, which is a cabaret of sorts where I play a seventy year old woman, and Noel plays Randy Newman. Naturally. Alongside that, I know we're both excited to continue with Brooklyn Sound and see what happens next!
REAL LIFE. REAL NEWS. REAL VOICES.
Help us tell more of the stories that matter from voices that too often remain unheard.