A cafe in Brooklyn's Bedford–Stuyvesant neighborhood is being accused of racial discrimination in handing out candy on Halloween. The Strand Cafe allegedly refused to give sweets to black trick-or-treaters, only to give treats to white kids a few minutes later.
Oma Holloway, who serves on advisory Community Board 3, said she and fellow board member Michael Catlyn saw a cafe employee tell three groups of African-American children dressed up for Halloween that the shop wasn't participating in the holiday, according to local news outlet Kings County Politics.
But when a white mother came in with her two costumed children, Holloway said the barista started doling out sweets to them.
Holloway told the website that she and Catlyn immediately called out the barista.
"You got to be kidding me," she said she told him. "Little black kids walk in and you don't have candy for them, but you have candy for the white kids. This is unacceptable, here or anywhere."
Holloway added, "I'm on the community board and I understand he doesn't have to participate [in Halloween festivities], but to do something so blatantly discriminatory, this is not acceptable and as a patron I'm not accepting it."
Kings County Politics described Bed-Stuy as a "historically black neighborhood that is becoming increasingly gentrified."
HuffPost reached out to the Strand Cafe, which did not pick up the phone.
However, a man named Poran Chowdhury, who identified himself as the owner, attempted to explain what happened on Bed Stuy Friends, a private Facebook group.
He called the incident a "misunderstanding":
We didn't give out no candies yesterday to anyone. We only had few snacks for sale. The guy was there working he is very new and don't speak English very well, that is the reason he couldn't explain it to them. I feel really bad and sorry for this misunderstanding. I grow up in this neighborhood, behavior like this with kids I will never tolerate from employee. We all are human and one family. Hope I did make it clear..
When fellow group members asked for more details, he responded:
Explanation- yesterday when kids came to our cafe, asking for Candy's. He told them we don't have any Candy to give but they saw some candy right next to the register, which is was for sale only. So they thought we giving out the candys but not to them. It was just a big misunderstanding. I'm working on the video from yesterday so you guys can see anything like that happen. Soon I get the video I will post it, if it's necessary.
A man named Abdul C., who also identified himself as the business's owner, attempted to address the situation on the Yelp site: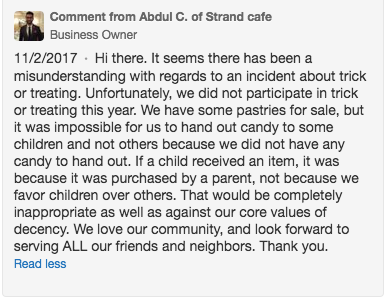 Hi there. It seems there has been a misunderstanding with regards to an incident about trick or treating. Unfortunately, we did not participate in trick or treating this year. We have some pastries for sale, but it was impossible for us to hand out candy to some children and not others because we did not have any candy to hand out. If a child received an item, it was because it was purchased by a parent, not because we favor children over others. That would be completely inappropriate as well as against our core values of decency. We love our community, and look forward to serving ALL our friends and neighbors. Thank you.
But the owners' explanations don't hold water with her, Holloway said, because the white kids were in costumes with treat bags and she saw no money being exchanged.
Holloway has reached out to fellow community board members and to New York City's Commission on Human Rights to determine the next step.
"I'm not here to hurt businesses," she said. "But it's situations like this that perpetuate tension and we all need to be held accountable."
Popular in the Community