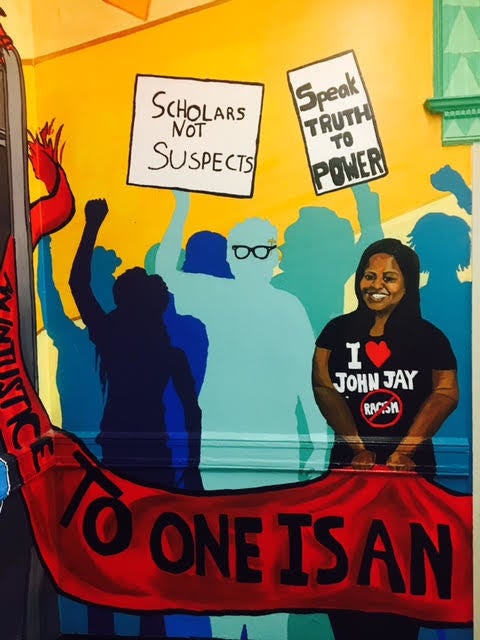 The DOE doesn't seem to think kids that look like me are worth it. But these teachers, principal Bloomberg saw the potential in us when we've been indoctrinated to believe the same thing that we aren't worth it.
These are the words of a recent alum of Park Slope Collegiate (PSC), one of the Brooklyn higschools that comprise John Jay campus that contains predominately lower-income Black and Latino students. The comment emphasizes the deep inequalities faced by underfunded, racially and economically segregated public schools in New York City, which has the largest school district population in the country. They reveal the deeper tensions that conflict with the city's narrative as a bastion of liberalism and progress.
In March, the Office of Special Investigations (OSI) of the Department of Education (DOE) launched an investigation of "communist organizing" by Jill Bloomberg, principal of PSC. The investigation started directly after Bloomberg, a visible critic of inequities in NYC's public schools, critiqued the DOE of discrimination when it allocated fewer resources for sports teams to her mostly black and Latino students than it did to another school in the John Jay building, Millennium Brooklyn (nicknamed by some as "Apartheid High"), which has a higher percentage of white students than the city average. Parents, students, and community members continue to denounce the DOE's investigation, which many note is inappropriately fueled by vague allegations of organizing a political party. The investigation widened to include more school staffers the DOE believes is involved with community organizing.
It reveals the larger landscape of inequality and terror that criminalizes educators committed to social justice as it divests from the lives and futures of poor Black and Latino students.
The students I spoke with know this type of violence very well. They are recent alums who have survived and thrived amidst the deep underfunding and inequality of the NYC public school system while benefiting from the presence, knowledge, and mentorship of educators currently being investigated. Many are from communities that identify as low-income, immigrants, and first-generation students. They imagine their futures as educators, community organizers, artists, doctors, professors, and more.
They frequently reference the benefits of having a critical mass of educators whose holistic investments in students have instilled within them important truths: They matter. Their voices are important. They can change the world for the better.
White kids get the funding and we don't. The moment you walk in, you are told you are a threat. You are harassed. Your school is underfunded. Of course, this is the consequence of attending a school that is predominately made up of minorities.–Soral(Pseudonyms used to protect students' identities.)
Two out of three of the teachers being investigated taught me. Not once did any of my teachers put any ideologies in my head. The claim that they coerced students is completely ridiculous. These individuals have helped me to be a strong-minded and independent person. They have helped me when I've been down and congratulated me when I did well.–Marque
Their words reflect the regressive politics of school funding in so-called left-leaning states such as New York. Critics encourage DOE to expand its considerations beyond the bureaucratic logic that ignores disparities in the provision of educational services to the city's under-resourced communities.
They highlight the dehumanizing patterns of racial and economic segregation that accompanies inequality in school funding. We see this as the wealthiest 10% of school districts in rich enclaves of New York's school district suspend $25,505 on average per pupil as compared to the $12,861 spent per student in the poorest 10% of school districts. As the number of high-poverty schools serving primarily Black and brown students across the country has doubled between 2001 and 2014. As lip service is given to educational reform but lack the new investments of around $2 billion recommended by the Board of Regents.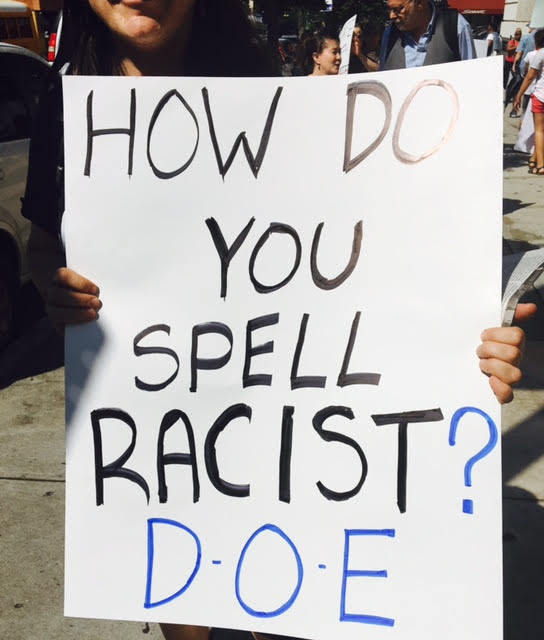 And it is this dynamic culture of inequality that subjects the needs and interests of underprivileged students of color and their educators to the lethal periphery of DOE's agendas and budgets.
Our school, teachers, and principles are being attacked for fighting against racism and trying to integrate out school. Instead of trying to shut us up, how about you listen to what we have to say and create changes. The more you shut us down the more animosity will increase between the DOE and the students it is supposed to 'protect' and 'give equal opportunity' to. Think about that.-Ashley
Although I learned a lot through textbooks, I learned even more through our everyday struggle and real life experiences! I am an African American female and as I grew up I realized the inequalities I faced everyday. For example, being 14-years-old, going to school, and being forced through metal detectors which highschools with majority white students were not forced to. I wanted to learn more about my history and the struggles that minorities face today! At PSC I was allowed to do this. I was able to question things and investigate. My teachers taught me critical thinking strategies. They created an open space to share ideas and be open with my feelings.-Dan
What is striking in students' testimonies is the connection they make between their formal education and their lived experiences as people with marginalized identities. They are conscious about how their identities shape their academic and organizing work. Most referenced discussions about the installation of metal detectors, segregation and police violence as crucial aspects of their overall educational experiences.
The forceful and baseless interrogations of educators and students at PSC evoke a McCarthy-era style of terror: where people were falsely accused of being Communists in the 1950s. This included the questioning of Alex Stevens, a 13-year-old girl who was pulled out of class by the PSC guidance counselor and brought to her office where the superintendent and two OSI investigators queried about the events in her home and daily activities.
Though these tactics are not new, their implementation within schools is highly appalling as it shifts attention from the prolonged classism and racism enlaced within educational systems. Additionally, the city's efforts to parse what it considered political activity raise questions about the violation of the civil rights of PSC's educators. As the New York Civil Liberties Union's executive director Donna Lieberman notes, "teachers and principles don't check their rights at the schoolhouse door."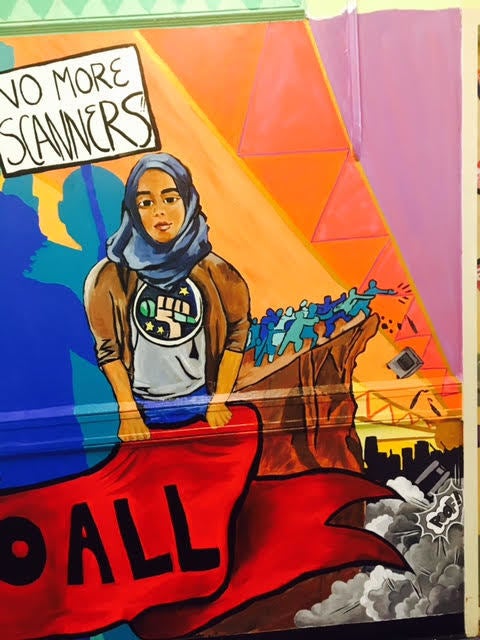 Ultimately, DOE's investigation is a retaliatory attack on multiracial, multiclass organizing intended to strengthen the savage unity among racist educational institutions and punitive justice systems that rests firmly on the backs of public school educators and underprivileged students.
Students will continue to highlight what escapes the DOE's recent investigations: That students are not passive, empty vessels and continue to be active participants in their education. That they are purposeful actors in developing an egalitarian school system that values their lives and experiences. That they are intentional in their efforts to expose the myths of "equal opportunity" that prevail in a world where money and politics eclipses truth and integrity.
Calling all HuffPost superfans!
Sign up for membership to become a founding member and help shape HuffPost's next chapter
This post was published on the now-closed HuffPost Contributor platform. Contributors control their own work and posted freely to our site. If you need to flag this entry as abusive,
send us an email
.