Authorities were still searching for the gunman after 10 people were wounded on a New York City subway train during rush hour Tuesday morning and more than a dozen others were injured in the melee.
Police located a U-Haul van linked to the attack and named Frank James, who reportedly rented the vehicle, as a person of interest. Police said they don't know if James, 62, had any connection to the attack, but said he rented the van in Philadelphia. Police urged the public to come forward with any information about his whereabouts.
Authorities had made no arrests as of Tuesday evening, and offered a $50,000 reward for information. They said the motive for the shooting was unknown.
"Clearly this individual boarded the train and was intent on violence," New York Police Commissioner Keechant Sewell said.
Sewell said at an evening news conference that the suspected gunman, a man who was dressed in a construction vest and gray hoodie, donned a gas mask as a Manhattan-bound subway train waited to enter the 36th Street station in the Sunset Park neighborhood of Brooklyn, which links several subway lines. The suspect set off two smoke grenades before opening fire on people aboard the train and on the platform.
Ten people were shot, with five listed in critical but stable condition. Thirteen other people were injured either while fleeing or from smoke inhalation, said NYPD Chief of Detectives James Essig.
"We are truly fortunate that this was not significantly worse than it is," Sewell said. "We know this incident is of grave concern to New Yorkers. We cannot lose sight of victims in this city. We will use every resource we can to bring those to justice who continue to prey on the citizens of New York."
New York Mayor Eric Adams said he would double the number of police officers patrolling the subway system. He added that the scourge of gun violence remained an American problem that needed widespread political action.
"We witnessed an act of violence and evil in the heart of Brooklyn that turned the N train into a war zone," Adams said. "Thanks to the quick thinking of the MTA crew, and the bravery and cooperation of passengers, lives were saved."
A 9mm Glock semi-automatic pistol was recovered at the train station following the shooting, and police said they also found 33 shell casings and two undetonated smoke grenades, gasoline, fireworks and a hatchet.
Investigators homed in on James after finding the key to the U-Haul van in the subway station in a collection of belongings they believe is linked to the shooter. The van was found on Tuesday afternoon, about five blocks from a subway station the suspect is believed to have entered before riding it about 5 miles to Brooklyn's 36th Street station. A credit card bearing James' name was found as well.
Investigators are also looking into reports that James posted dozens of angry tirades on YouTube in recent months. The videos featured rants about race, violence and current events, including the ongoing Russian invasion of Ukraine. In a video posted last month, James appeared livid about Adams, and criticized the mayor's policies on public safety in the subway system.
The incident is not being investigated as terrorism, Sewell said, and the suspect's motivation is unknown. "We're not ruling anything out," she added.
Authorities didn't immediately release surveillance images showing the person. A "malfunction" with the camera system at the 36th Street subway stop was hampering the investigation, Adams told local radio station WCBS 880.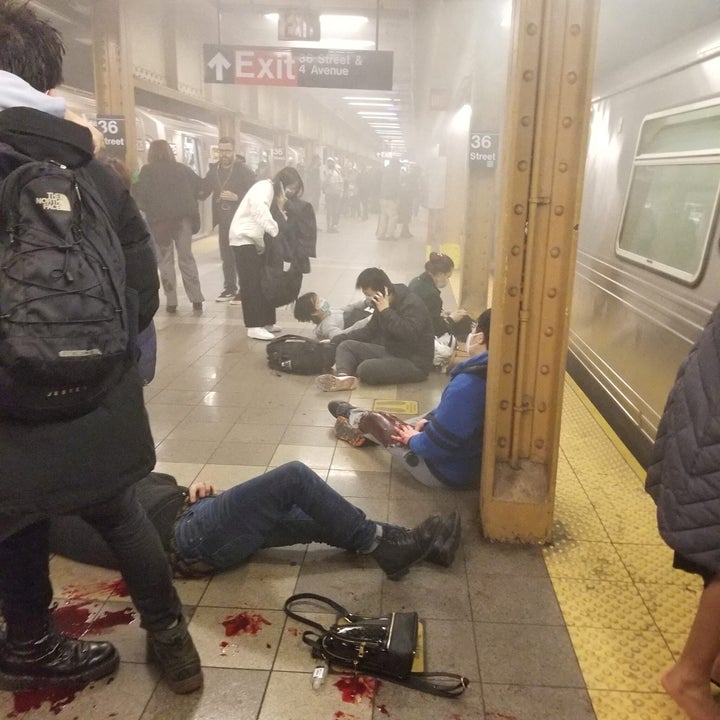 Photographer Derek French captured the chaotic scene of riders lying on the subway platform near pools of blood. He said he'd just gotten onto an R train when one of the victims ran to his subway car.
"I saw the victims laying down with two citizens treating them," French told HuffPost. "All [victims] were talking, but I'd say in a state of shock."
He said citizens trying to offer medical care didn't have much on them to help, so "it was a relief" to hear a first responder say the victims were expected to survive.
"Myself and a few other citizens just wanted to help out as best we could for those affected by rendering medical aid until paramedics arrived," French said.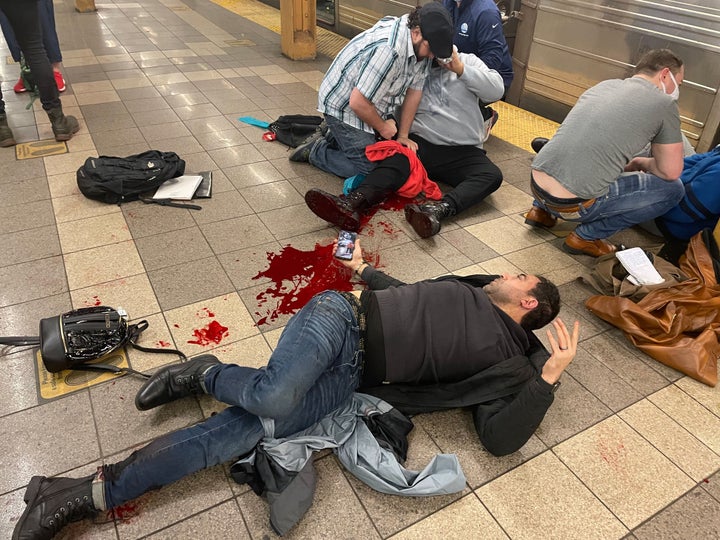 Juliana Fonda, a WNYC audio engineer, told Gothamist that she was riding an N train when she heard shots fired and saw smoke filling the next car.
"The reaction of the passengers was terrifying because they were trying to get away from something that was happening in the back of the train," Fonda said. "None of us in the front of the train knew what was going on."
The doors between cars were locked, Fonda said, and people were "pounding" on the door to her car trying to escape.
Another eyewitness, Yav Montano, told CNN that he had heard what he thought were fireworks on an N train as it slowly pulled into the station.
"There was one gentleman on the train using all of his strength to try to open that door, and he ended up opening it, but the other door to get into the other car was locked," Montano said. People on the other side who tried to help open the door were unsuccessful.
MTA Chair Janno Lieber applauded the quick actions of passersby.
"On 9/11, I stood on 4th Avenue and watched New Yorkers come back from that tragedy," Lieber said during a press conference. "I watched New Yorkers help each other, store keepers walk out and give people water. That was the same thing we saw on the platform today. We saw New Yorkers in a difficult situation in an emergency helping each other, that's the subway riders, that's who New Yorkers are."
"New Yorkers are incredibly resilient," he added.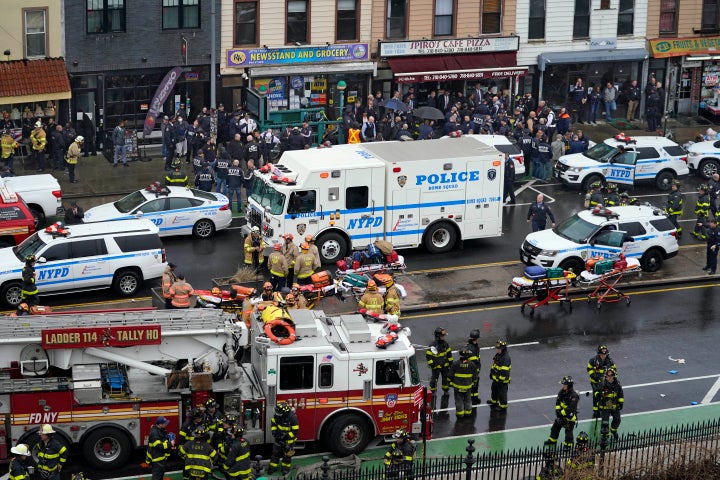 "We are sick and tired of reading headlines about crime," New York Gov. Kathy Hochul (D) said at the news conference with other federal, state and city officials.
NYPD officials said last week that shootings across the city in the first three months of the year were higher than the same period a year ago. Crime was a major issue during last fall's mayoral race; centrist Democrat Adams pledged not to slash police budgets amid a progressive push for police reform. Since becoming mayor, Adams has reintroduced a specialized plainclothes unit with past links to police brutality.
Sebastian Murdock contributed to this report.
Popular in the Community