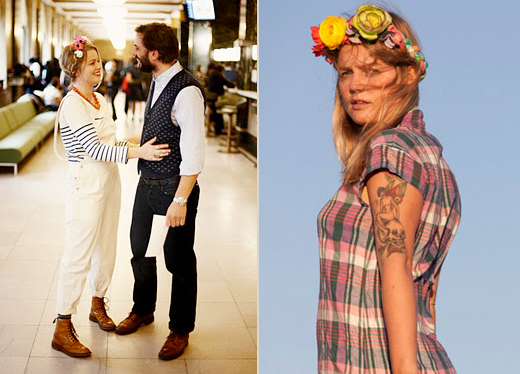 Fanny Bostrom Gentle and Bill Gentle on their wedding day; Bostrom Gentle modeling her design for Folki
Multi-media artist Fanny Bostrom (aka Fanny B) achieved internet fame when she adorably donned dungarees and a floral wreath on her wedding day last spring--and managed to look way more stylish than your run-of-the-mill girl in strapless Vera Wang. A feature on The Selby a few years earlier on the artsy abode she shares with husband Bill Gentle didn't hurt, either. Nor did Gentle's photos of the Swedish beauty, who now goes by Fanny Bostrom Gentle, on his own popular blog, Backyard Bill.
But it was those wedding photos, first seen on must-read blog A Cup of Jo and then "plastered all over the internet," says Bostrom Gentle, that were spotted by someone at Anthropologie, who in turn headed to Bostrom Gentle's own site, checked out her exuberant paintings and illustrations, and tapped her to design a line of handmade accessories. Inspired by the wanderlust traveler, Folki -- now in its third season -- includes jewelry, ponchos, scarves and more that makes three-dimensional magic out of Bostrom Gentle's artwork.
Chris Frey, a regular contributor to The Inside Source, eBay's digital style magazine, recently sat down with Bostrom Gentle to talk Sweden, New York ("a place where magic happens," she says), love and work. Check out some highlights below and visit The Inside Source for the full interview.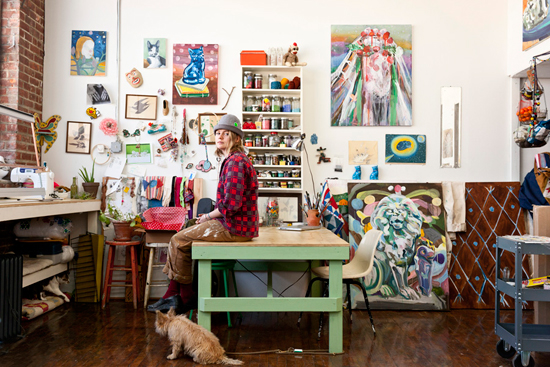 The Inside Source: Fanny, tell us about Folki.
Fanny Bostrom Gentle: It's sort of ironic because, when I first came to New York, I took some jewelry classes, but then decided that I wanted to focus on painting. But here was this great opportunity [from Anthropologie] knocking at my door and I just jumped on it. Mostly, I work with fabrics. I love color and patterns with lots of beading and hand-sewing. I want the pieces to have a lot of soul. I want you to be able to see the hand in it, but with attention to good quality, nice fabrics, etc. I usually only do one-of-a-kind pieces, but I'm just now starting to do bigger quantities, which is a big learning curve for me.
The Inside Source: What about growing up in Sweden has influenced your art?
Fanny Bostrom Gentle: Sweden is always going to be in my bones. But I didn't realize that I wanted to make art until I left.
The Inside Source: You live in Brooklyn. Describe your studio and how you approach making work?
Fanny Bostrom Gentle: I just moved to a bigger studio with big gorgeous windows and lots of light, which I need since I more or less live there. I go home when I need to sleep and to have a few cooked dinners with my husband, Bill. Right now it's all about jewelry, jewelry, jewelry! My label, Folki, is taking shape despite some growing pains. But it's very exciting, too! My studio contains lots of colorful bead and threads, patterns, paints, blankets and a fruit basket hanging from the ceiling, which is painfully empty at the moment. I need to stock up. During the week, I have a few beautiful girls coming in to help in the studio, as well as my two cats, Siri and Gidgit, who live there, too.
The Inside Source: Are you a vintage shopper? Do you search eBay?

Fanny Bostrom Gentle: I always search flea markets because I love the element of surprise in finding things. But, I search eBay for specific things like threads, pearl buttons, and vintage quilts.
The Inside Source: Do you have favorite designers or pieces that you wear all the time?

Fanny Bostrom Gentle: I am a sucker for 45rpm. Their clothes are just so amazing and comfortable and it doesn't ever feel like they are following a trend. I hate trends because they feel so impersonal.
Photos courtesy of Backyard Bill. Article written by Chris Frey for The Inside Source.
Related