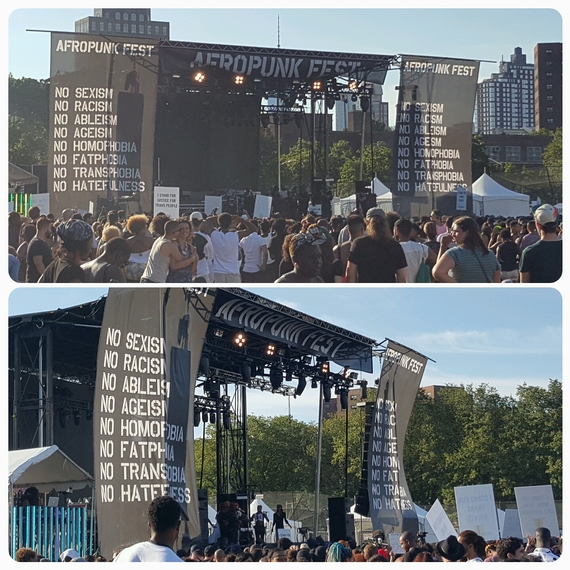 No Sexism. No Racism. No Ableism. No Ageism. No Homophobia. No Fatphobia. No Transphobia. No Hatefulness. Basically, no divide among people caused by ANY prejudice beliefs! Big and bold these phrases read on the Green Stage, the main stage to Brooklyn's 2015 Afropunk Festival at Commodore Barry Park in the Fort Greene neighborhood. This is as 'urban' as one can get as far as city parks -- Brooklyn's oldest for that matter, not too far from the Farragut Houses projects, Brooklyn's Navy Yard and the Boys & Girls Club across the street from it. And the melting pot of all races, gender variations, ages, freaks, punks, hipsters, toddlers (accompanied by their parents of course), you name it, was probably amongst the greatest performances for both Saturday and Sunday's festival line-up. When I opened my spiritual prayer for Saturday morning, August 22nd, it said: "Explore - I revel in our Oneness as I explore the world around me. I celebrate diversity!" For this entire weekend, that was a definite.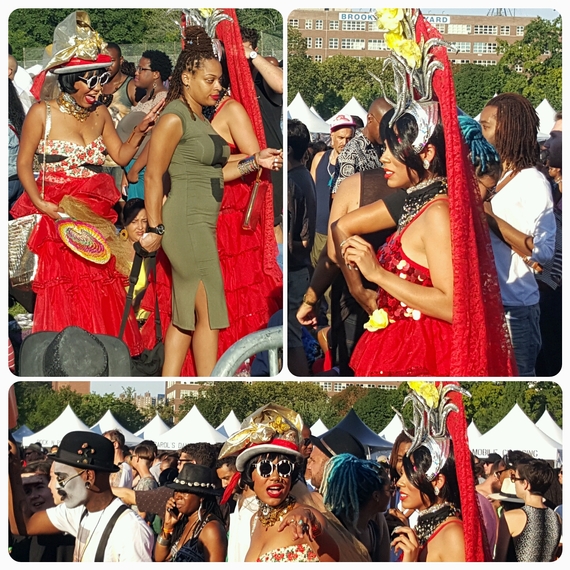 This festival, as it's always been, is more than just about music performances. It's an opportunity -- slowly but surely, for many established companies to market their brand towards a keener more savvy audience; and for grassroots groups to activate potential activists, promoting their consciousness and getting their voices heard, literally.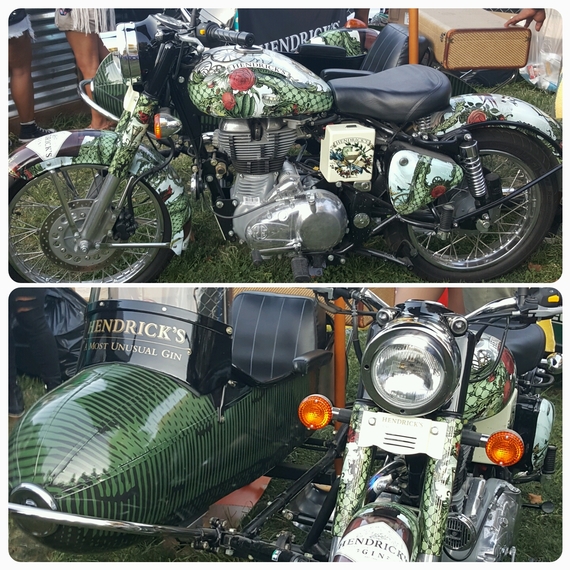 In between the many stage performances, if you weren't timely distracted by the Black Lives Matter recruits parading through the crowds with chants, then you could've easily looked over your shoulder to see another stance on more issues blocking your view in the form of placards.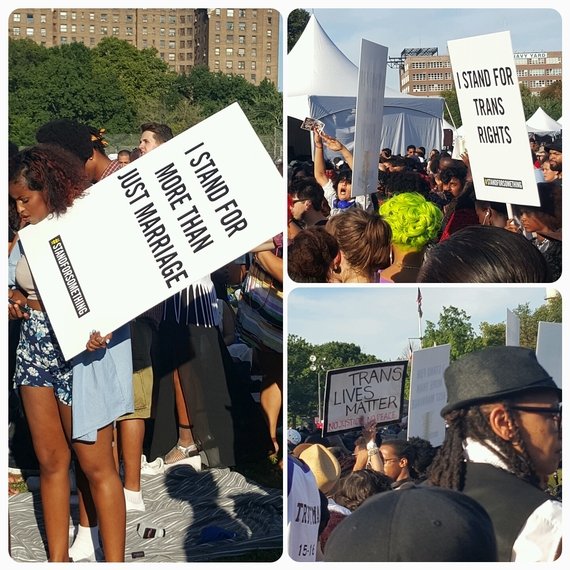 All respectfully done, without a clash or conflict of interest or sound overlap, all these movements inside the park seemed better planned and meticulously orchestrated than the fracas of crowds outside entering the General Admission lines on Saturday. What a mess! But on Sunday, thank goodness it was rectified.
On Saturday, DJs such as Pat Pervert and CX KiDTRONiK rocked the TRAP, hybrid electronic and blacktronic beats in between band sets by the likes of Suicidal Tendencies, Danny Brown and Death Grips, who headlined the Red Stage to mostly under-30 year olds high on dancing, amongst who knows whatelse! While over on the smallest Gold Stage, a more chill atmosphere of youngsters partied to a similar pace of frenetic beats to names you'd find hard pronouncing seriously or spelling correctly, such as Papi Juice, Nadus, Uniiqu3 and headliner Brenmar. Over on the main lawn, the crowd thickened as time drew closer to seeing Lion Babe -- an upcoming NYC favorite, followed by SZA from NJ. Both sets didn't disappoint, as the former boasted underground favs, "Jump Hi" and "Treat Me Like Fire", while the latter teased us with her dreamy, spaced-out drips of "Child's Play" and "Babylon".
But it would be quite the contrary for the next two female artists, both from the NY Tri-state area. First up, singer Kelis. One might excuse her since she's due in November and upon walking onto stage, the tone of the cheers from the crowd signified such admiration for her obvious baby-bump and very pregnant physique, drapped in an elegant pink dress. But her set was flat, with her singing bordering on croaking at times throughout hits such as "Got Your Money", "Acapella", "Millionaire" and what was she thinking when she near-destroyed her "Milkshake" hit by using Madonna's "Holiday" and "Girls Just Wanna Have Fun" instrumentals underneath it?? Mixed reactions of, 'oh no darling, this is Afropunk not a hedge fund CEO son's bar mitzvah', to some just happily singing along, swept through the reactive vibe amongst the crowd. Speaking of celebrations, apparantly her birthday was the day before, so out from the side of the stage came her BFF with a cake, then the well wishes from the BK massive. Afropunk used to be free, that's all I could say after that performance. As harsh it may seem, you probably will cringe hear some of people's worst comments about the next act.
Enter Lauryn. Excuse me, sorry, Ms. Lauryn Hill. 45-60 minutes late at that. What a shame, shame, shameful waste. It's like her reverence exists only because of her past brilliance with Pras and Wyclef of The Fugees, and of course our dedicated worship to her for that timeless, classic LP, The Miseducation of Lauryn Hill. But after Saturday? Ms. Lauryn Hill lost tons of those once loyal 'church goers' not because she can't 'preach', but more so for her incomprehensible behavior on the pulpit! Also, factor in her lateness and overall disregard for us, the ones that once supported her. Imagine tolerating a ridiculously low volume from the very beginning of her set, including "Mystery of Iniquity" while she sits down, constantly gesturing crudely with her hands to direct her morsel peasants on instruments. Well, that's how it seemed. I felt like if any of one those musicians missed a note, she'd order her other 'subjects' to bring out a guillotine! When she finally stood and got to familiar songs such as "Ex-Factor", her brilliance was obvious, yet short-lived. Eventually the production staff literally pulled the plug on her set, including her entire band, as her alotted time was running into Grace's.
The stage for a good few minutes resembled a blackout before an inevitable complete evacuation. Then to make matters worse, she stormed right off towards the exit in the least humbled manner, even as the minority of fans still gave her love shouting, "we love you Lauryn". The result? Not an acknowledgement from her! Maybe she was pissed they didn't address her completely as, 'we love you Ms. Lauryn Hill.' We were relieved she was over, but I'm sure the Afropunk staff was more than happy she was finally exiting the borough. Well me, I'd wish next up DJs from Soul Summit -- who played soulful house music after her set, had immediately queued up "I Used To Love H.E.R." by Common, to be honest.
A true diva was up next. Grace Jones at 67 years old had just shocked the world as part of the main entertainment for Afropunk's first ever Fancy Dress Ball on Friday evening prior to the festival. The buzz on her Friday night performance spilt over to Saturday, building up such anticipation that, without even hitting the stage yet, she'd already made her competition seem insignificant. The aura of Grace Jones, years after her debut onto the music scene in the late 1970s and with hits throughout the 1980s, is still and will be forever grandiose.
Like the mystique of Sade, or the diva clout of Diana Ross, Grace Jones' songs have become secondary to the theatrics of her multiple outfit/costume switches, ad lib rants in between songs and that natural command of the stage she has. Grace is special. She must have 'changed' six times before hitting her seventh song, though she was barely clothed and exposed her topless, almost naked 5' 9" structure each time covered in body paint. We were in awe, felt continually connected to her true 'punksanity' and were thrilled all the way! From "Pull Up To The Bumper", "My Jamaican Guy" and "Slave To The Rhythm", to the time she exited the stage, there weren't any frowns going around for this raggamuffin sister.
Two nights in a row, and at age 67, no one would argue that 'No Ageism' now needed to be shifted to the top of Afropunk's agenda!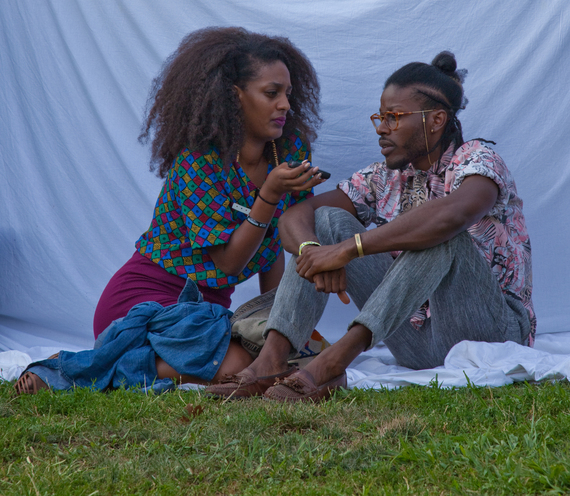 On Sunday, the General Admission lines were shorter, looked more organized and even though still very well-attended of course, compared to Saturday's ongoing frolic, it felt somewhat lighter once inside. Today, I'd try to switch it up a bit and spend more time camping out by the Red Stage, instead of the main Green Stage. The Gold Stage I'll admit was neglected, but as the nature of festivals are with multiple stages, missing key acts due to time conflicts is inevitable. Folks stood around posing for pictures, taking selfies and awaiting that next blogger, or assigned fashion photographer who snapped shots after saying, "you'll look dope" or "that's fly, can I take your picture?" I couldn't imagine a festival scene anywhere else full of more flavor than Afropunk in BK. These kids couldn't outdo some other festivals when it came to the bizarre, or the 'punksanity' of Grace Jones, but their style and creatively unshy get-ups most definitely trumped the trendy fashion outfits we've seen so tirelessly at other festivals.
I wasn't missing DC-bred Kelela, who had the decency to keep thanking her fans in between her floating, pillow-soft Cloud R&B songs such as "The Message", "Cut 4 Me" and finally "Bank Head" exploding those unfolding 808-kick drums from halfway until the end, to an even more explosive crowd who were SO past ready to dance!
We missed GoldLink, but caught Los Angeles' Vintage Trouble who definitely won new fans after engaging many onlookers unfamiliar with their dusty, funky blue grass jams. Sunday afternoon's atmosphere of live musicianship filling the Green Stage area saw lead singer Ty Taylor crooning away on their "Blues Hand Me Down", and here had some really interesting things to say about Afropunk Fest.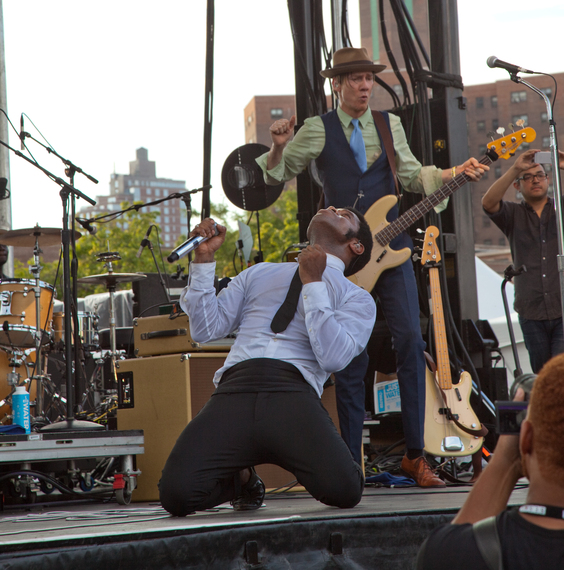 They'd even exited the stage onto the park grounds spilling amongst the audience right after their last song, almost making the scene seem surreal. As artists having just performed, they avoided the VIP baricaded area, and instead walked right past and through the thick of the audience. Some band members even pleasantly stopped to pose for pictures, and why not? After all, they were just heading to the neighborhood Putnam's Pub about three blocks away, something I'd discover after the concert, stumbling upon all the members kicking back with drinks lounging around for Wonderground Sound's after-festival party. Like Digible Planets said, BK's cool like that.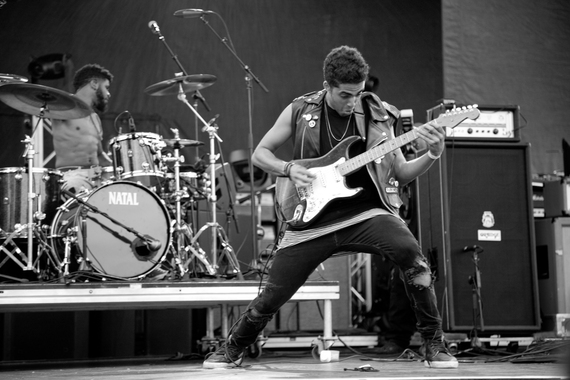 Aligns, a Brooklyn-based band, had a short set after, and next up was Austin, Texas' own Gary Clark, Jr. To many on hand in BK, his name was known but most hadn't experienced his style, poise and expertise on the guitar. When he was done, he left most confidently saying that he's our modern-day Jimi Hendrix. After Gary Clark, Jr. masterfully strummed away to tunes such as "Bright Lights", "When My Train Pulls In" and "Don't Owe You A Thang", who could blame them?
If Saturday on the main stage seemed like the platform for female divas artists, then Sunday was starting to feel like the day of 'the man' -- with BK's own Lenny Kravitz soon to hit his own guitar. But it was time for me to hear some beats. Let's dance!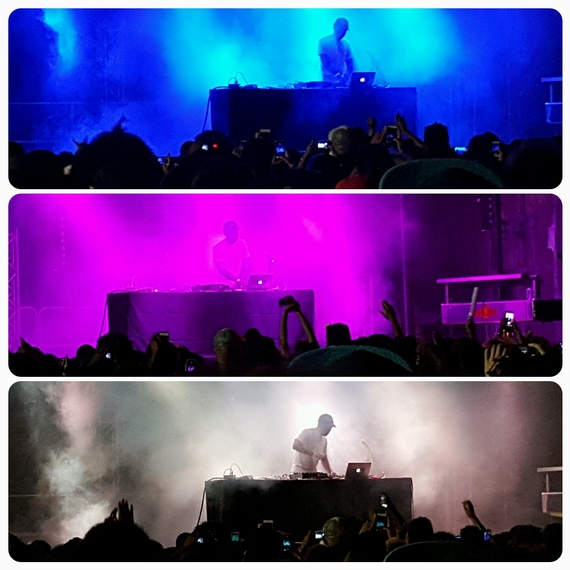 On the other side of the park, over by the Red Stage, Haitian-born KAYTRANADA was about to DJ for what must have been this stage's biggest gathering yet. Not by any means a maestro on the mic, the Montreal-based DJ/producer spoke clearly with his remixes, re-edits and his reimagined interpretations of disco for selections such as "At All", "Leave Me Alone", his edition of "Be Your Girl" by Teedra Moses and probably his most famous remix of "If" by Janet Jackson, moving a sea of youngsters who turned this part of the park into a club! He was one of the festival's definite highlights, for myself and many others.
No wardrobe malfunctions this time 'downtown', Lenny Kravitz proudly spoke to the audience about his Brooklyn (Bed-Stuy to be exact) roots, and it'd be his first time performing in his hometown. I've never seen Lenny Kravitz have a bad show. From his earliest shows in the 1990s with Terence Trent D'Arby in LA at American Legion/Hollywood Post 43, to Nokia Theater at LA Live in 2000s, and now fast-forward to today at Afropunk in Brooklyn, no wonder he's an artist some fanatics travel state-to-state or even country-to-country to see him over and over again. He's that good, and his band, not to mention his three energizing back-up singers, reward any audience. When he did "Fly Away" closer to the end of his set after already rocking us with "American Woman" and "It Ain't Over Til It's Over", the crowd feeling the end was near, flew with him. When he exited thanking the audience leaving the stage, we applauded feeling sadness as Afropunk was over, NOT.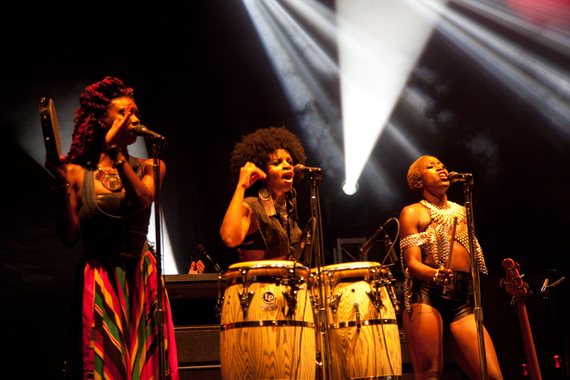 But like a malfunction of our senses, yet still focused on the nearest and least disruptive exit route out the park, could that be Lenny on an unlit stage again reaching for his guitar strap? In a flash, as the stage lights flickered back on, he queued his back-up singers, band and summonded the crowd back in with the stroke of his guitar!
The streets quickly emptied out, with many repositioning themselves back towards in front the stage as he belted out "Are You Gonna Go My Way" to a frenzy of screams and adults jumping and acting younger than themselves, forgetting-away all of NY's hardships. Brooklyn may have lost Biggie, and yes, who could forget the heights BK's gained from Jay-Z. Oh but tonight, right then and there, it was more like, 'Lenny Lenny Lenny can't you see, sometimes your words just hypnotize me.'
Photo credit(s): by author, Marlon Regis; otherwise used with permission by Biz 3 Publicity & Management from Afropunk Festival (@afropunk); and Dante Bowen for Infernophotos (@infernophotos).
Popular in the Community