Ever wonder about the mysterious world your brain travels to when you start to daydream without notice, or when you experience that dreamlike, transcendental state that briefly occurs before you jolt up in a slightly confused haze? That intangible, quixotic wonderland is what Fort Lean sets out to capture. And capture it they do -- quite well, in fact.
According to Keenan Mitchell (vocals/guitar), "It's a warped normalcy. There are elements in our music that you might think you've heard before but they translate to something different when the parts come together. It's like a bootleg vacation, the idea of an escape that is compromised or somehow undercut; a kid on holiday with his parents, free but for the hotel walls."
Bandmate Zach Fried (guitar) goes on to say, "What we're trying to explore sonically is something true to life, where there are moments of pleasure and peace that coexist with moments of surprise and chaos."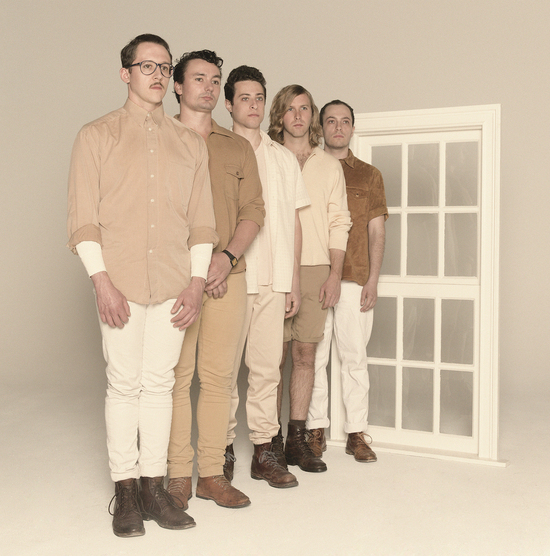 Other band members include Jake Aron (bass) and Sam Ubl (drums), who met Zach the first week of college at Wesleyan University, over 10 years ago. They met Keenan Mitchell and Will Runge (keyboard, guitar) at their college a year later. They all played music in college for various bands, moved to Brooklyn, formed Fort Lean, and set out on their psychedelic journey.
As for the name? The band believed "Fort Lean" perfectly captured the essence of place, while not being an actual one -- a place were a "strange utopia" can exist. "We wanted an imaginary place that could be a stand-in for all the values that we want our music to represent," says Keenan.
Fort Lean has left quite an impression since they formed in 2011. They received critical acclaim from The New York Times, who stated, "Fort Lean was already a standout at CMJ." The band also received praised from Esquire at the band's 2014 CMJ performance. In her review, Esquire's Julia Black writes, "It's a thrill to watch his [Keenan's] big, wild eyes scan the crowd for connection before he takes a deep breath and launches into another impassioned chorus. Be the one to catch his eye, and I dare you not to break contact first."
I just may take her up on that.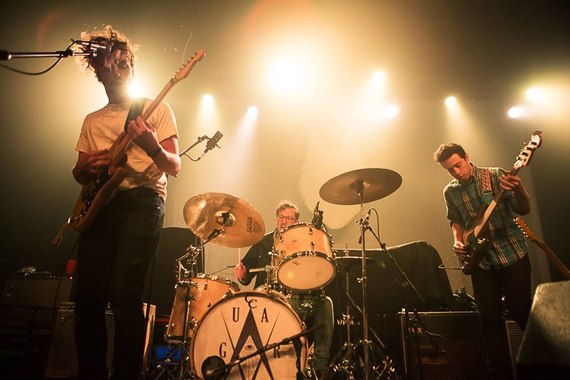 Read on as I chat with Keenan Mitchell about Quiet Day, the good 'ol college days, and how the band manages to defy categorization.
Hi Keenan -- Thanks for taking the time to speak with me today!
I just wanted to talk a little bit about your band, how you got started, and what you have coming up.
Fort Lean has been been together since 2011, correct?
You met Jake, Zach, Will, and Sam in college. All of you must have clicked pretty well, as you reconvened in New York to form Fort Lean. How did you go about collaborating on lyrics and figuring out what direction you wanted to go with your music?
We collaborated on some projects in college, and got back together in 2011. We did a few shows. Really, from day one, we got got along pretty well. In terms of lyrics -- we all have different areas of expertise. It's a collaborative songwriting process. I write a lot of the lyrics, but not all of them. A couple of times, they [the bandmates] will record something themselves and bring it in.
You received a glowing review from The New York Times for your 2011 CMJ performance. That must have been a really cool moment for you guys.
Definitely. It made my mom feel like we were actually in a real band. [Laughs.]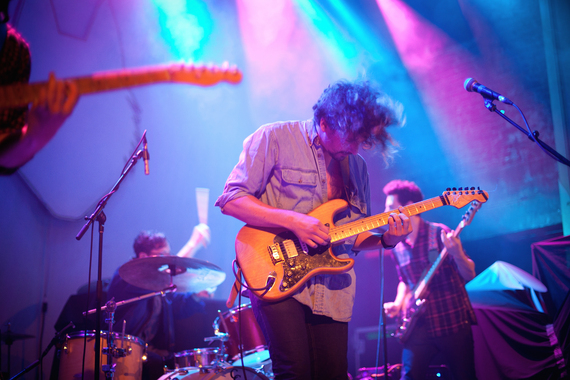 Ha-ha, a proud moment. How sweet.
Yeah, it was a great feeling.
You've signed with with Brooklyn's indie label, Ooh La La Records, and your debut album Quiet Day comes out October 2nd. The original release date had originally been in the Spring of 2015, so you must be anxious to put it out!
Yes, very excited! We've put a lot of hard work into it. We just want to get it out into the world!
What musicians or bands would you say influence the you the most? Either as a collective or individually.
We all grew up listening to classic rock bands, but everyone has their go-to favorite. I listen to a lot of old blues, soul, rock 'n roll. I listen to some of the local bands in New York, or bands that are similar to our sound. It's kind of all over the map.
I think those influences really come across in your music. As a band, you definitely don't conform to one genre. Your music is more than just indie rock. It kind of defies categorization. As a listener, you never know what to expect and it's always a great experience.
For example, your first single, "Cut to the Chase," is really unique and catchy. What was the inspiration for that song?
That song was a little riff that Zach brought in. We just took that traumatic kernel of our lives and presented it as a story.
Video premiere and trailer for upcoming music video series
The karaoke video for the song is great -- I fell in love with it right away. So, a bit of randomness, but have you ever played shows in Texas outside of SXSW? I ask because I recently lived there and am curious.
We've been to SXSW several times, although that's probably not an accurate representation of Texas.
Ha-ha, it's definitely not an accurate representation of Texas. But yeah, Austin's awesome. The eclecticness, the food, the music. There's really nowhere like it.
Exactly. We've always enjoyed our performances there.
Well, aside from your album coming out October 2nd, is there anything else you'd like to share with your fans, or in general?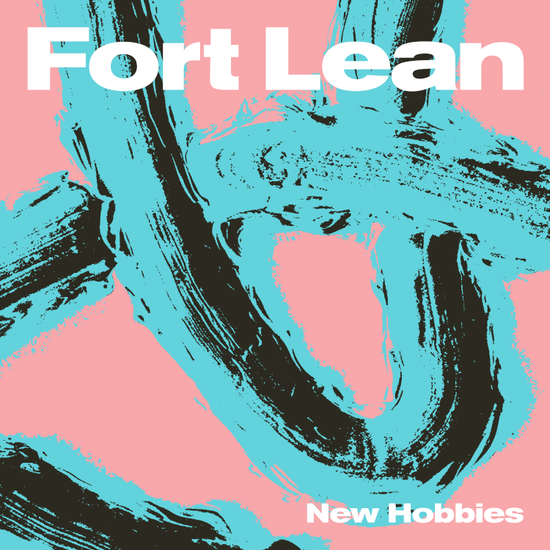 We recorded a couple new songs recently for a tour-only EP called New Hobbies. One of the songs is called "Easily." Check it out!
Will do! (And everyone else should too! It's pretty great). Thank you for your time Keenan, and best of luck on your upcoming album release!
My pleasure, and thank you!
Quiet Day is available for pre-order on iTunes and is also available on vinyl. Stream Fort Lean here!
Special thanks to Fort Lean, Ooh La La Records, and Golightly Media (for being awesome, as always). All photos courtesy of artist. For more information about the author, visit laurenkruczyk.com.
Popular in the Community