First came the stories, and the paintings followed - scores of them chronicling the personal narratives of people creating new homes in a new land and blending their cultural traditions with their New York lives.
Listening, Nina Talbot, a New York-based painter, heard the cacophony of Brooklyn's immigrant experience:
• One of Verna King's sons died and she is trying to get back to her art while dealing with her grief. She has lived in the Red Hook projects for 40 years, supporting herself as an accountant, and raising four children.
• Arriving through Ellis Island, Bella Neger had very little money. When she saw a dress in a store window that she couldn't afford, someone suggested she sell her waist long, wavy black hair to a wig maker to earn the money. She did.
• Serena Stamler was liberated from the Mauthausen concentration camp in Germany in 1945 by an American battalion consisting primarily of black soldiers. Having been raised in pre-war Hungary, a homogeneous European society, she had never seen a black person.
"I tried to put myself in their shoes to experience what they described," said Talbot, who was born in the Bronx, but lives and works in Flatbush. She spent 11 years interviewing her neighbors and painting them. "Sometimes it is hard to imagine the life of an immigrant and the struggles to survive. It is a painful process, but one that I have found necessary to understand what those around me have been through."
The result of Talbot's curiosity is the exhibit, Painting Brooklyn Stories of Immigration and Survival, now on display at the Brooklyn Historical Society through February 27, 2011. Talbot has numerous paintings from her years of work, but the 17 canvases in the exhibit represent three series: Generations of Brooklyn, Vendors of Newkirk, and Neighborhood Folks.
"Each of the series has its own theme, but they are all united by the overall idea of people in my community who have had larger than life paths to arrive where they are," said Talbot.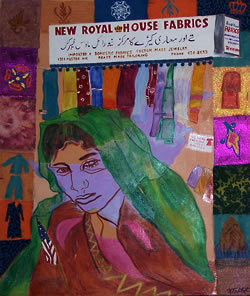 Fatima of New Royal Fabrics from the Vendors of Newkirk series
Generations of Brooklyn was the first series in which Talbot actually interviewed people in depth, edited the elements of their stories, and painted them. Vendors of Newkirk offers a sense of place: mom-and-pop shops on her local shopping strip, Newkirk Plaza, in Flatbush. "Those shops have been there since the turn of the century," said Talbot. Newkirk Plaza was the first subway shopping mall in the US. "The shops are somewhat at risk of disappearing due to gentrification. Most of them are owned by immigrants from all over, such as Haiti, Ghana, China, Tajikistan, Ukraine, and Mexico," she said.
Neighborhood Folks, the most recent series, focuses on people that Talbot met or knew. "The lives of the people in this series were extraordinary in scope of struggle, and tinged by racism, torture, war, and loss," she said.
Talbot said the painting process begins with listening. "In those cases where people are around, I can actually talk to them," she said. "Then comes remembering, editing, and finally, laying out the elements in preparation for painting. There are also revisions, in terms of scale -- big events need more space in the paintings, and details, such as family elements, need to be smaller in scale."
Talbot's work has been in solo exhibitions at the Bread & Roses Gallery, The Brooklyn Public Library, the Ingber Gallery, and the Williamsburg Art Historical Center. Her work has also appeared in group shows at the Brooklyn Museum of Art, the Bronx Museum of Art, Sewall-Belmont House Museum, Kouros Gallery and Three Brooklyn Artists, organized by the Smithsonian.
"I've loved Nina's paintings since I first saw them some years ago, said Esther Cohen, a New York City-based book editor and poet who contributed poems to many of the paintings in the exhibit. "Nina came to my office when I was executive director of Bread and Roses and we gave her a show. Everyone was crazy about her work," said Cohen. "When she told me about the Brooklyn project, it seemed like a natural for the Brooklyn Historical Society, which is revitalized under new director, Deborah Schwartz. They loved her work, she was very happy with them. It's a good match," Cohen said.
Talbot said her next series of paintings will be portraits of veterans from different wars. "Usually I'll segue from strong paintings that interest me most from a current series into the next," she said, noting that her last series, Neighborhood Folks, has two veterans, Fitzroy Newsum, a Tuskegee airman, and DeNorval Parks, a Desert Storm veteran. "At this point in time, with our country involved in two wars, I can't think of anything else more important to focus my work on."
Painting Brooklyn Stories of Immigration and Survival continues at the Brooklyn Historical Society, 128 Pierrepont St. at Clinton St, Brooklyn Heights, through February 27, 2011. Contact them at 718-222-4111, or brooklynhistory.org. For more information on Nina Talbot's work, go to her website, www.Ninatalbot.com.
Related
Popular in the Community