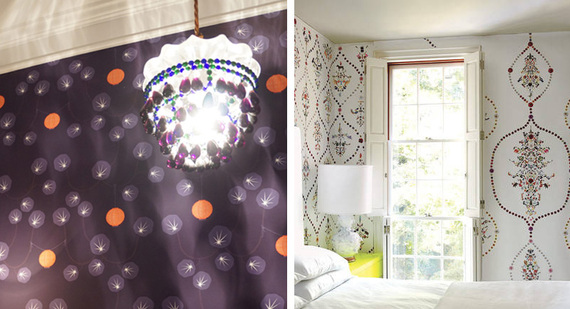 Like garage rock or the name Emma, wallpaper suffered through a couple decades of cultural purgatory before returning again to the fashionable front and center in the new millennium. As a predominant design element, wallpaper is definitively back, but quite literally this isn't your grandmother's decor. Gone are the frilly florals and chintzy damasks. In their place, artists and artisans are forging completely new conceptions of what wallpaper can be, from a history lesson to a watercolor dreamscape. And if the wallpaper renaissance has a mecca, it's Brooklyn, where a dozen or so designers are defining the new looks.
The best of the bunch include:
Flavor Paper
This firm's wall designs are printed in its Boerum Hill headquarters (passersby can catch a glimpse of the magic happening in the Pacific Street storefront).
Kimberly Lewis
Lewis specializes in prismatic patterns with an infusion of mod aesthetic.
Flat Vernacular
Most famous perhaps for gracing the oft-Instagrammed walls of Lena Dunham's Brooklyn Heights apartment, Flat Vernacular's Sticker Wallpaper is painstakingly composed of thousands of individual stickers.
Grow House Grow
The designers at this firm insert a narrative element into every design.
Eskayel
Founded in 2008, Eskayel's wallpaper is made by reproducing the hand-painted patterns of co-owner Shanan Campanaro.