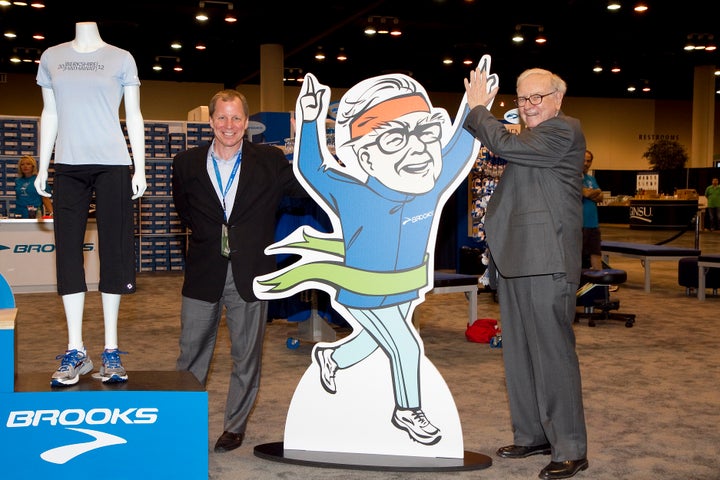 NEW YORK -- Brooks Running Company did not rush to make T-shirts following the Boston Marathon bombings. Instead, it quietly joined forces with others in the running industry to create a special website to help Boston raise money for victims of the tragedy, which it launched Monday.
"This collective effort [is] the most appropriate way to memorialize those lost," CEO Jim Weber said. The company's low-key response to the tragedy underscores the nature of Weber's character: He's no show-off.
Weber, a 52-year-old Minnesota native, has led Brooks since 2001. Yet for more than a decade, he has stayed out of the spotlight with few press interviews. Behind the scenes, however, he has been leading a massive turnaround for the company. When Weber took control of Brooks, the company was barely worth $65 million. Now it's on track to reach $1 billion in sales by 2020 at the latest and has had sales volume growth of 34 percent for the last two years.
In a sit-down interview with The Huffington Post, Weber said the key to success has been to focus exclusively on running gear and aggressively expand into international markets. Also helpful: Warren Buffett. The company joined the Berkshire Hathaway stable in 2006.
Weber spoke with HuffPost about what he's accomplished as CEO at Brooks -- and why he thinks there's room for a creative entrepreneur to build a new running shoe.
What did you find when you joined Brooks 12 years ago?
The company was near bankrupt and I was the fourth CEO in two years. We really were not relevant in marketplace; retailers didn't need to sell our brand, and even runners would not have missed us if we disappeared. ... We were about to miss a payroll.
How did you turn around a mess like that?
We began to focus on $80 running shoes and exited 50 percent of our product line in the $30 price-point range. That looked bold, and when we left $20 million of revenue on the table I think a lot of people were very worried about us. ... We wanted to be a running company, and I had no doubt that we could be a successful business, even if I didn't know how big it could be.
You have grown from a $65 million company in 2001 to $409 million last year. How do you scale with that kind of growth?
To scale requires a business leadership acumen that can deal with complexity on a global scale. For example, you are never perfect on inventory -- you either have too much or too little and we are really good it, but being good at it at $500 million is different than at $75 million. Managing that complexity is about leadership at a top level.
Let's talk about barefoot running. That can't be a good trend for the running-shoe business.
We have embraced the whole conversation. It was inspired by Born to Run [by Christopher McDougall] and in that book, when I read it, it was very powerful and it was not really about shoe/no shoe. The essence was about how running was primal and there is something about running that we need to do.
There is a theory among runners that shoes are designed to wear out fast in order to boost shoe sales. What's that all about?
Runners expect shoes to break in after 20 miles, where it forms to your fit, and have the feeling, "This is a great-fitting shoe." It's forming to your foot but it's degrading. There are some urethane materials that are indestructible, but there is no forming around your foot and they feel rubbery and bouncy and just don't feel great. Typically we get 400 to 500 miles from a shoe. We could build an indestructible shoe, but it wouldn't run or ride as well because of form factor.
Is it possible for an entrepreneur in their garage to make a new running shoe?
The answer is yes -- I don't think it's easy -- if you create something that works and is compelling. Creating a great running shoe is really hard. You can move a stitch line on upper design 2 millimeters and destroy the fit of the shoe -- it can blister or chafe. But if you can create a niche product that works better for people, they will move. They are brand loyal but only to a point. They are loyal to products that meet their needs.
Where is your favorite place to run?
In Seattle at Bridle Trails State Park on a 75- to 80-degree day. It's a summer thing. I jump in there on my way home from work and there are old-growth trees. It just feeds me.
I don't publish my times! That's confidential. I am the slowest guy at Brooks. I run three to five days a week and have for 30 years.
Can you wear another brand of shoes to the office at Brooks?
New employees on their first day of work get a certificate for a new pair of shoes. So there are no excuses. If you show up in another brand, poor you.
What about that other running shoe company that is based in Oregon?
You mean Nicky, as in rhymes with sticky? No, we have such respect for Nike. They are fantastic, but we are playing a different game. We built a brand around bio-mechanic profiles. We have great respect for them as a company and as a brand.
What's the biggest lesson you bring from growing up in Minnesota as an ice hockey player that is relevant today?
I put on my whiteboard a famous [Benjamin] Disraeli quote: "The secret to success is constancy of purpose," and I learned that at a young age. I put everything I had into ice hockey. I wanted to play in the NHL as a kid, so I focused on that ... I would shoot pucks in my garage for two and a half hours every day and sometimes I would be in tears because I couldn't do this wrist shot that a teammate could do. I am a true believer in focus.
"Miracle!" I grew up with a lot of the players on the 1980 Olympic team and played them in high school. Half the team were Minnesota players, a little older than me, but I played against them.
This interview has been edited for length and clarity.