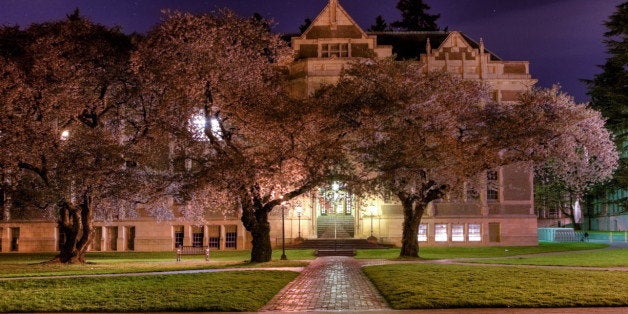 Florida. Winter of 1973. They had recently let girls into the boys' ivory tower. And, the women had the audacity to complain about the accommodations -- or lack thereof. So, how would one appropriately complain to people with power to effect change?
Ahh. The timeless questions of ... democracy, capitalism, and student council petitions in high school. Our American right to complain, to be disgruntled. So valuable -- when we're heard. If only they had social media in 1973 to go viral on YouTube and Vine.
These women in southern Florida complained about unsafe walkways and lack of lighting. They said they didn't feel comfortable, and wanted a women's center -- a space for women to meet. They said the rest of the campus was a "Men's Center" and they wanted a Room of Their Own. Their administrators said they would approve the plan, but more need had to be shown to get more buy-in.
So, what frugal and pragmatic solutions were close at hand for these women? No, they didn't burn their bras -- even when one professor told them that women needed to wear bras in order to preserve the appropriate shape of their anatomy. It was bedsheets and broomsticks they found. Some black dye for the sheets to create the look of a cloak, a few broomsticks with the bristles cut off and replaced by maxi-pads, and pointy hats. They walked through campus in their attire to draw attention, to be bold, to be witches with the purpose of conjuring a safe campus for women.
This was Take Back The Night. Our attempt to make known our vulnerability, our fear, and our solidarity to create a safe place for women without the threat of sexual violence. Today, there are over 600 Take Back The Night Events around the world, and several hundred scheduled for Sexual Assault Awareness Month. The participants will not be dressed as witches, but wearing t-shirts with our slogans and images of empowerment. We will be of all genders, races, religions, ethnicities, ages and economic backgrounds. Some of us will be blind and deaf; some will have served in the US Military, some will have been raped 3 times, and some will have been abused from age 4 to 14 nearly every day.
Take Back The Night Events happen on college campuses and in communities. They are in big cities and small towns. They are happening this month in Japan, Afghanistan and Kansas. Some will bang pots and pans together with fierce force, as if to beat out the pain, the societal-laced shame, on their route. Some will burn a piece of paper with the name of the person who hurt them and release it into a fire filled steel drum, with the intensity of a starlet on a movie set. Some will march despite rain or freezing cold with toes frozen. The theory might be there is nothing sensible about being raped, so why should the protest be "sensibly dressed" for the weather. Some of the vigil candles will blow out with the wind, and be relit several more times.
Take Back The Night invites you to speak, to add your story to the heap. We invite those who stand against sexual violence to Walk the Walk with us, to do more than just talk the talk. We want you to show up and be loud, hold a candle with us, or say something powerful to help a survivor know they are not alone.
Healing from any form of sexual violence is a long journey. Tonight we at Take Back The Night invite you to join our free workshop. Join a therapist and two survivors to take steps in the healing direction and move away from the pain! Visit www.TakeBackTheNight.org to join us tonight on April 6 (tonight) at 9PM EST.
This post is part of a series produced by The Huffington Post and Take Back the Night in conjunction with Sexual Assault Awareness Month. To learn more about Take Back the Night and how you can help prevent sexual violence, visit here. Read all posts in the series here.