Co-authored by C.J. Pascoe, author of Dude, You're a Fag: Masculinity and Sexuality in High School
A few months ago Kentucky county clerk Kim Davis made the news because she refused enact the Supreme Court order to marry same sex couples in her county citing religious objections. Davis was jailed for contempt of court, released and is now back at work, though letting her subordinates marry same sex couples rather than doing so herself. Last week Justice Kennedy suggested, perhaps not directly, that she resign from her job.
This protest was started by two comedians from the group Comedians in Public - Jericho Davidson and Michael Albanese. These two heavily bearded, and apparently straight, men, in a video launching the #kissesforkim project said, "Dear Kim Davis, we want to let you know that no matter what you do, love will always win." They instructed viewers to "grab your closest friend, give him a kiss, take a photo or video and upload it using #KissesForKim, to let Kim know that she cannot win."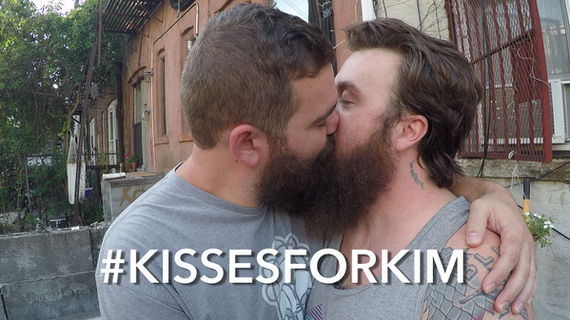 While these instructions are aimed at "gay, bi, trans WHOMEVER!" according to the video, the pictures of two presumably straight men kissing were picked up most favorably by the interwebs. Queerty.com for instance, posted the following "#Heterosexual men the whole world over are making out with each other for a good cause. Find out why at queerty.com. #kissesforkim #kimdavis #kissykissy #smoochsmooch #xoxo #gay #straight #samelove." Indeed, much was made of the fact that the two men who created the campaign identified as straight. Now it's not that same sex couples didn't appear in these photos, it's that the straight-identified men got the attention.
Many thanked straight men for doing this, calling them "great men" and the like. We would suggest that the focus on (and discourse surrounding) straight men kissing is instructive. In fact, it reminded us of a previous episode we had written about who were engaging in seemingly same sex activities in a post we called "Bro-Porn." In that post we addressed the way in which two straight comedians kissed at Chick-fil-A to protest the organization's homophobic policies and the Warwick men's rowing team posing nude for a photo shoot. We suggested that perhaps engaging in acts that seemingly contradict normative expectations of masculinity, may in fact bolster it:
This sort of "bro-ing" of anti-homophobia stances does not necessarily have the effect of challenging the naturalness and inevitability of sexual and gender categories. Much like the anti-Chick-fil-A video made by two straight, white men to protest the restaurant's homophobic policies, Macklemore's and the Warwick rowing team's gender and sexual practices and proclamations reinscribe their heterosexuality as so powerful and inevitable that even an anti-homophobia stance can't call them into question. (here)
In that post, we suggested that performances of protest, in some ways, underscore the same understandings of heterosexual masculinity that make the form of protest noticeable in the first place. They illustrate a form of heteroflexibility that is celebrated as heterosexual and masculine when the right men participate in the right ways. In the end, they're actually strategically relying on the very discourse they claim to oppose. Something similar is likely going on with the #kissesforkim protest.
How could that be? To begin, it's important that these forms of protest/allyship involve humor; they're played for laughs. And part of the "humor" in these forms of digital activism is that these guys are so straight that no one would ever actually think they are gay. In doing so, they actually shore up heterosexual privilege -- albeit in a new and unorthodox fashion.
The very smart new book Not Gay: Sex Between Straight White Men by Jane Ward addresses precisely this issue. In studying straight identified men who have sex with one another, Ward shows that sex between straight white men is a lot more common than you might think. In the book, Ward is centrally interested in how it is that sex and sexual acts between straight white men are read as credibly "heterosexual." Ward uncovers a terrific array of discourses relied upon by straight men that authorize "lapses" in their otherwise heterosexual identities and behavior. She refers to the discourses collectively as "hetero-exceptionalism." And at the conclusion of the book, Ward makes a really interesting argument about what homonormativity has done for straight white guys who might occasionally engage in sexual behavior with other straight white guys. She writes,
Increasingly central to contemporary discourse about the difference between heteroflexibility and authentic gayness is a romanticized story about queerness as same-sex love, as opposed to "meaningless" same-sex sex. The former is reserved for the real gays, while the latter is available to heteroflexible straights as well. (here: 197)
This is not to say that the straight white guys participating in #kissesforkim don't actually want change. We're not arguing that their "real" motives are sinister and are actually attempts to reclaim the spotlight. We are here interested in how these men's behavior is understood, what people seem to imagine it "means" and doesn't mean, and the fact that straight white men's participation here is so celebrated. And we are interested in what kinds of cultural transformations provide a framework within which we can make sense of these men's activism and our collective interest in them. In this case, homonormativity provides a discourse within which these men's same-sex behaviors can be read as straight -- as "hetero-exceptional." #kissesforkim continues a tradition of straight white men receiving an incredible amount of attention for being willing to take a stand against sexual prejudice, even if that "stand" might be little more than a party gag in front of friends.
Popular in the Community