Here's some stock you can invest in.
Sometimes it can be so cold outside that you feel it in your bones. To heat them back up, use the same secret ingredient many bartenders around the country are starting to use more frequently: bone broth.
The book features beef, pork, chicken and turkey stocks, as well as recipes to mix them with (chili, soups, stews and even salads), but we were most interested in the cocktails: Gin & Jus, Pig Man On Campus, The Bloody Bull, and Root Seller.
We like to call them stocktails. Here's how to make the latter two cocktails mentioned above, as featured in the book and reprinted here with permission from the publisher.
The Bloody Bull
Like its spicy sister, the Bloody Bull broth cocktail, invented at Justus Drugstore by Arturo Vera-Felicie in Smithville, Missouri, will surely help you recover from a hangover.
But when using a beef broth, it has "a bit more body and [is] a lot more interesting" than the Mary, Bender writes.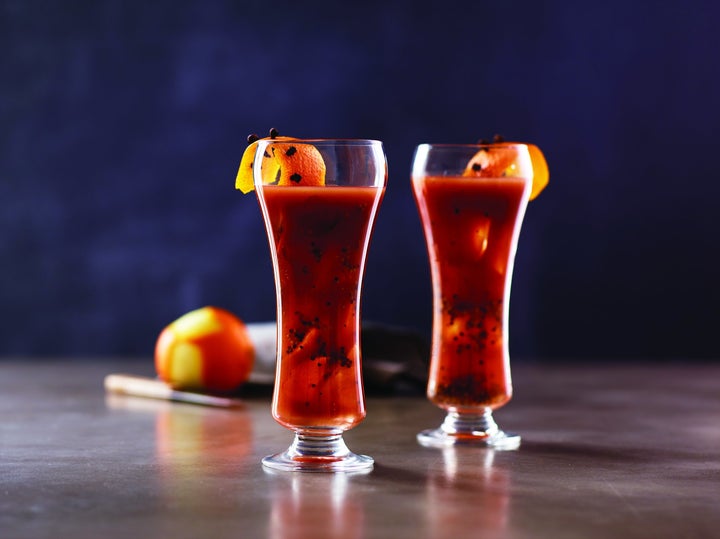 "With mustard and beef and mustard and tomato, you've got a flavor bridge right there. You take two ingredients that are so far apart, and they each have something in common with that third ingredient. Here, mustard is that flavor bridge," Vera-Felicie says in the book.
2 dashes celery bitters
4 dashes Tabasco sauce
1 dash freshly squeezed orange juice
Pinch of black pepper
1 teaspoon whole-grain mustard
2 ounces beef stock
2 ounces vodka
2 ounces Sacramento tomato juice
Ice
Place the celery bitters, Tabasco, orange juice, black pepper, mustard, stock, vodka and tomato juice in a mixing glass. Shake until your ingredients are well combined, Fill a goblet with ice and pour in the cocktail.
For garnish, use a vegetable peeler to create a 1-inch-wide by 3-inch long slice or orange peel (or as close as you can get). Push the pointy end of a clove into the peel, just until it sticks in the skin, about every 1/4 inch or so. Hang the peel over the rim of your glass.
Root Seller
"This winter warmer will make you long for spring," writes Bender. "It's light and bright and emphasizes the fennel in the stock, but it also has these lovely bits of caraway and anise from the aquavit. It's a cocktail that will make you rethink what you can do with stock."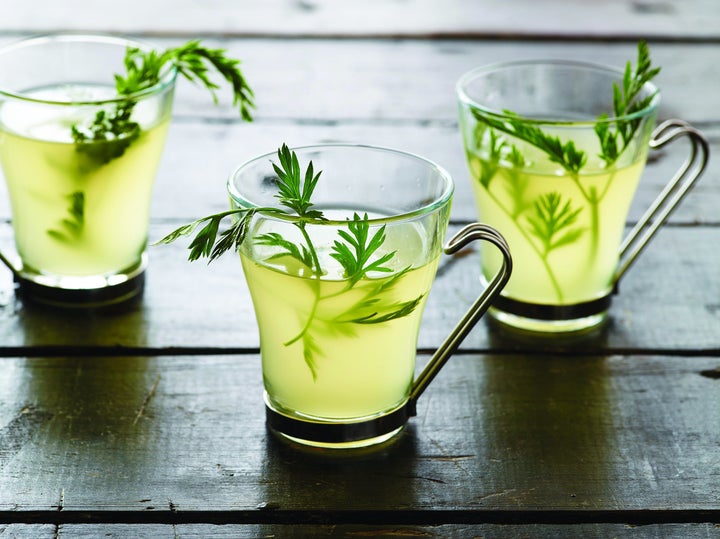 4.5 ounces of The Roots Stock (found here)
5 drops saline (see below)
1.5 ounces aquavit
3 dashes celery bitters
Carrot top, for garnish
Bring the stock to a boil over medium-high heat. After that, turn the heat down to medium or medium-low to keep it at a gentle simmer. Cover the pot with a lid so you don't over-reduce. You want your stock to be hot but not boiling, as if you were steeping tea.
You'll also want to warm the glass or mug you'll be using to serve the cocktail by filling it with hot water until the glass or mug feels warm to the touch.
Mix three parts salt to seven parts water to make the saline. Add 5 drops to the warmed mug or glass. Pour in the stock, aquavit and celery bitters. Stir gently with a bar spoon until well combined. Garnish with a carrot top.
Related