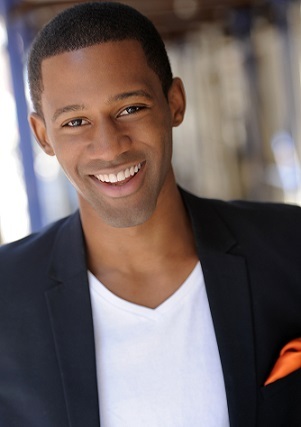 Eric D. Hill is known for his character R.J., one of Vee's foster kids, on Netflix's Orange is the New Black. He's spreading his wings into film! Follow Eric on Twitter: @realehill and the film Brother Love at #BrotherlyLoveTheMovie . Photo by Melissa Hamburg.
You star in the new film Brotherly Love as the nation's number one high school basketball player who struggles to navigate the fame that comes with being a star athlete. Tell us about your audition.
I learned of the Brotherly Love project just as I do most of my auditions, via an email from my team requesting my decision as to whether or not I'd like to be seen for a role. The moment I finished the script I was so pumped. It was one of those gigs that I knew I'd be pissed if I didn't book it. I initially read for the character Sergio, but was given sides for the older brother June to audition with at my call back. Though I can't remember what I wore, I do remember the call back being stacked with producers and the director Jamal Hill. After my final scene, Jamal Hill stood up and shook my hand. Definitely the best audition I've ever had.
What are your workout and overall health routines?

Wow, you put me on the spot. I don't have a workout routine, though I need one LOL. I do my best to stay away from processed food, but a recent trip to LA has shown me there is so much more to a healthy diet than just reading the back of stuff and pretending I won't eat it later (they're so health conscious out west - it's awesome.) As far as hair products I use, I just try to get my waves spinning every once and a while. It just requires some brushing in the shower, and a du-rag at night.
Define 'extreme sports' and your earliest memory of you getting involved in sports.
Extreme sports consists of aggressive in-line skating, skateboarding, surfing, moto x, snowboarding... if you're launching yourself into the air doing stuff that would make your mom really nervous then I'm calling that an extreme sport. I was an aggressive in-line skater as well. Though I wasn't good enough to get sponsored, I was definitely waking up at 6am at 12 years old to practice sole grinds, and farfegnugens. The earliest memory I have is trying to clear (jump over without touching) a bench, cracking my head open at 7 years old in Pelham Bay Park in the Bronx, and getting my first stitches. I was so proud.
You played R.J., one of Vee's foster kids, on Netflix's Orange is the New Black. Did you know in advance your character was going to be killed off?
OITNB is so cool. They all work so hard to produce awesome work that they make sure full scripts are only given to those who really need to know. I was not one of those people LOL. I knew RJ died, but not much more that, aside from my lines. I didn't even care. I was so excited to be a part of Jenji Kohan's latest project.
You're a Jr. How come sometimes you leave the Jr. off? Gives us some family history.
OK about this JR stuff. So initially I listed Eric D Hill Jr as my stage name; it's also my full name (D is for Dwight.) Subsequent to the completion of Brotherly Love I felt that name was a mouth full so I dropped the JR. A miscommunication resulted in Brotherly Love releasing my name with the JR. So you'll see my name with and without the junior all across the internet LOL. For the record, I love being a junior, but I prefer Eric D Hill.
I have a half-sister who I love to death. She was raised by my Dad on Long Island. I was raised by mom in the Bronx. They have a great relationship, and worked hard to keep me on the right path so I definitely felt loved. My mom is my biggest supporter. Whether it be cartoonist classes at the Y or acting classes in Queens, my mom did whatever she could to help me pursue my interests. She got me involved in every extracurricular activity our community (Parkchester) had to offer. I think that's why I love my neighborhood so much. I was very involved at with community activities.
You MUST tell us who you got that sexy cleft chin from.
My cleft chin? I'm glad you think it's sexy. I'd have to look at my dad again to see if he's got it. Honestly I don't know. I just remember my boy saying, "Hey ass chin!" That's when I found out I had a cleft.
What's the worst thing about acting?
The worst part about acting for me is the question what's next. It's so hard to book roles consistently, but when we live in a world where people know their day to day work schedule, I completely understand why they are curious about mine. I just say it's the worst part, because most people give that, "So sorry you're unemployed" face when I say, "Just this for now, but I'm excited for my next audition!"
When you have absolutely nothing to do, what do you do?
When I have absolutely nothing to do I go to my friend Pat's house and hang with him. He works from home so I always know he's available. There, I just talk to him if he's free, or watch ESPN.
I have voted in the last two elections. My goal for this upcoming election is to learn more about the senate and gubernatorial races this way I can have a better understand what's happening in our government.
Anything else you want to say?
I just want to say that positive thinking and acts of selflessness go a long way. Though one should never do nice things to hear, "Thank you," I will say there is a huge pay off for doing what you KNOW and FEEL in your heart is right/just. And a quick shout out to all the single parents doing what they can to give their children more than a fighting chance to survive in this crazy world. Seeing my mom cry tears of joy watching the trailer for Brotherly Love was beautiful. Her hard work is paying off. Yours will too.
REAL LIFE. REAL NEWS. REAL VOICES.
Help us tell more of the stories that matter from voices that too often remain unheard.