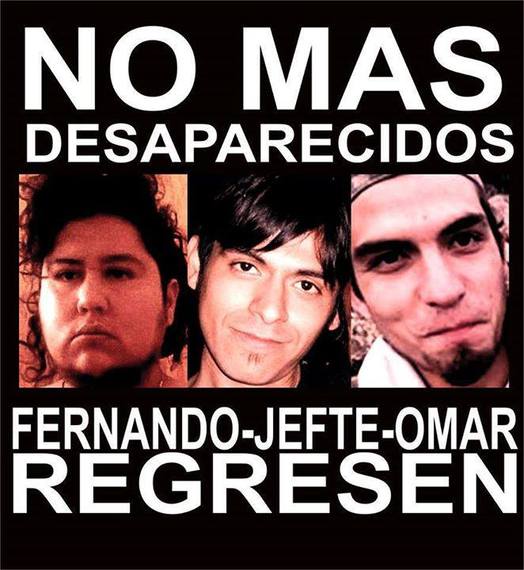 Missing Poster of Fernando Landeros, Jefte Olivo, and Omar Vazques
He attends school at the Art Institute of Houston several days a week, each quarter. He makes sure to greet each individual that crosses his path with a smile upon his face. And despite his acts of kindness, no one would ever know about the tragic incident that affects his life to this day. The unusual disappearance of his close friends.
Back in 2004, Christopher Fanjon became friends with both Fernando Landeros and Jefte Olivo while attending his first semester at Universidad Autonoma de Tamaulipas (UAT). Although coming from completely different backgrounds, they were always found going on journeys via hitch-hiking and developed a bond that would lead up to their brotherhood. Later down the line, they would form Nube Roja Entertainment, a film crew solely intended on the production of short films, which led them to many feats. From becoming the first to create a trilogy in their student festivals, to gaining recognition due to their uniqueness, the trio continued to build up their success up until Christopher's graduation in the year 2010. He would be furthering his education in Houston, Texas with promises of meeting back with Fernando and Jefte, so they could get back to their dream of filmmaking. Unfortunately, with the exception to a couple of visits, it would be the last time he would be seeing them in person.
In 2011, Fernando and Jefte begin working with plenty of other artists throughout Victoria, Tamaulipas, Mexico. They continued with the production of short films and plays, and would present them in the port city of Tampico. This becomes a tradition for them up until July 2013, where they, along with Omar Vazques, disappears without a trace. Even though their vehicle was found abandoned with personal belongings disarrayed and there were reports of them being spotted onboard the back of a pickup truck with armed men, nothing was ever done. Up to this day, the family and friends of Fernando, Jefte, and Omar, are left without any answers in regards to their disappearance.
Flash forward to present day, Christopher Fanjon struggles between working a full time job, and going to school. Even with these complications though, he continues to keep a positive outlook in life, and impresses both students and instructors with his many projects. One project in particular, On the Road to Thar, is a documentary he has been working on that has to do with the disappearance of his friends. After acquiring hundreds of minutes of him and his friends on a handful of tapes, he remains hard at work completing his most important task yet. Getting their story heard to as much people as possible. At the very least, the victims' families can finally be assured that something will be done to help aid them with their loss. With Mexico holding the number one spot for kidnappings worldwide, spreading awareness of these horrible crimes is the first step in coming up with an actual solution to this severe issue. Christopher already has a trailer made, but I plan on following him with this project until he reaches the end point.
Calling all HuffPost superfans!
Sign up for membership to become a founding member and help shape HuffPost's next chapter