An important new series hit the web this week that takes a look at the lives and experiences of a group of fictional trans characters played by real trans masculine men living in Brooklyn, New York.
Called "BROTHERS," the series follows Jack, Davyn, Aiden and Max, four transgender and trans masculine men with complicated, intersecting lives. "BROTHERS" is currently engaged in an Indiegogo campaign in order to fund the project and provide a platform for the ups and downs, ins and outs of what it can mean to be a transgender man navigating today's urban society.
In order to better understand "BROTHERS" and the issues being explored by the series, HuffPost Gay Voices chatted with creator Emmett J. P. Lundberg this week about his new project.
The Huffington Post: What inspired the web series? Emmett J. P. Lundberg: Much of my own life makes its way into my art and this series is no different. I have been medically transitioning for just under two years now, and I felt ready to explore that in my writing and my filmmaking. I wanted to see myself (figuratively) and my "brothers" on screen. I know that I am in no way able to represent the entire trans masculine community or spectrum but I'm aiming to make a portion of it more visible.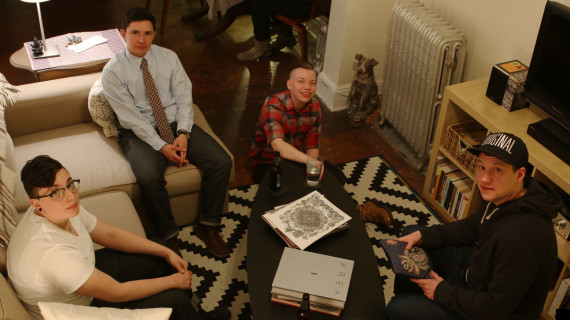 There are lots of queer web series on the Internet. How is this one different? There's nothing else like this on the Internet, or anywhere for that matter. I've looked and I've craved it. Most stories about FTM individuals are non-fiction based. Those are crucial stories as well, but I think we need a lot more representation in narrative media. People need to see our lives on the small screen, the big screen and everything in between. The only way to be taken as equal is to be seen as equal.
We also produced the show to look like a feature film. We were able to call in a lot of favors for the pilot episode, to make it look beautiful and we want the rest of the series to reflect that, which is why we are asking people to contribute.
What do you hope viewers will take away from the web series? I hope that trans viewers see themselves in the show and feel a connection to what we're doing. I hope that cisgender folks see something they weren't aware of prior to seeing the show. I'm not going for anything overly educational, but I would like to open people's eyes to something they might not otherwise have access to.
Since we launched the campaign and first episode, we have had such an outpouring of support, interest and pure excitement, that it's gratifying to know that there is a real demand for a project like this. We're trying to tap into this community spirit, to feel more and more connected as humans to each other, and to hopefully realize the rest of the series with whatever help we can get from everyone we reach. We really do want people to feel like they're a part of it, that they can see themselves reflected and heard.
Beyond all that, I just want people to enjoy the show! I want to them to get as excited as we are and be hungry for more.
Check out the first episode in "BROTHERS" above or head here to visit the project's Indiegogo campaign.
Calling all HuffPost superfans!
Sign up for membership to become a founding member and help shape HuffPost's next chapter
BEFORE YOU GO
PHOTO GALLERY
15 Things To Know About Being Transgender By Nicholas M. Teich