Friends and family always seem to be in awe of the fabulous events I attend and the cool people I get to meet personally and professionally. They are always questioning, wondering and curious as to why I attend so many charity events, and for a long time I never really thought about the answer but merely laughed them off. As I sit here and go over my calendar for the next several months, planning and attending several more amazing events, I've decided to answer. My reason to answer is not to defend my day-to-day activities but to hopefully bring light to several organizations going above and beyond; to challenge everyone to change their thinking slightly. The interesting part is it takes no extra time or money to give more to charities.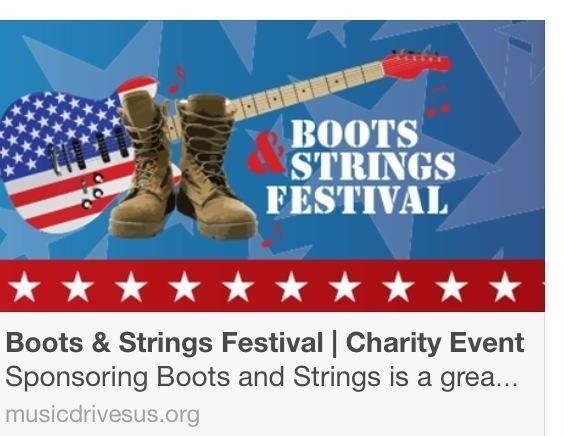 This past weekend I attended an event in Wrentham called "The Boots and Strings Festival." It was the first ever Boots and Strings event and to say that is was amazing Americana at its awesomest would be an understatement! I was fortunate enough to meet the founder of the non-profit Hero Helpers of America, Lauren Eliopoulos and congratulate her first hand. This 23-year-old dreamer watched her brother leave for Afghanistan a few months ago and in exactly one year has built an organization that raises money to benefit veterans suffering from PTSD with branches in several states. The day apparently left her in utter awe because she just kept looking around speechless with random boasts of how lucky she was. With the help of Melanie Myers, Lauren and her team in conjunction with Ernie Boch Jr's non-profit Music Drives Us, welcomed over 1,000 people to Lake Pearl Luciano's for a festival that was filled with fun and food for the entire family. With an onslaught of bounce houses, carnival games, obstacles courses, food for days, a Marines pull-up bar that seemed to draw big crowds competing for hang time, military trucks to explore, and the music headliner, The Herland Brothers Band with JW and Lori from WKLB's Country 102.5 MC'ing the day was destined to be dynamic! In Wrentham I never imagined my small world to grow smaller but as I heard Jilly Martin from Chelmsford being introduced to sing the National Anthem I couldn't help but smile and shake my head. I had just heard a few days prior that was going to be singing in my hometown of Dracut or the first ever Superhero 5k for The Joseph Middlemiss Big Heart Foundation. Here is my secret...
I could have just as easily taken the day and attended a fall festival such as The Big E. I would have wandered around with thousands of other people, some happy to be there and some dragged along to spend the day. I would have spent money on food, cotton candy and all of the other fun things that are associated with fall festivals and left feeling tired and beat down. Instead, I chose an event that was no more expensive and all the more fun with my money going to a cause. I was able to support all the local businesses associated with Boots and Strings event such as Luciano's, The Heartillery Group and several others. All day I was surrounded by people that are compassionate, kind and caring; people who genuinely wanted to know more about me and what I do as much as I wanted to learn about them so we could possibly help each other because helping is in their genetic make-up. Surrounded by a crowd of people that were passionate and positive living with their mission in mind; people raising kids with a philanthropic spirit; new creative businesses looking to be discovered and older businesses respectfully saying thank you by giving back to the community that supports them.

Charity events seem to be a magnetic circle of positive energy flowing from community to entrepreneur, small local business to organizations helping the community or its people. We all had many laughs watching the ALS Challenges being accepted and became a little more educated on the disease. My challenge is not to dig deep into your pockets for money you don't have. I can relate to pinching pennies and sacrificing luxuries during trying economic times. My challenge is the next time you are planning a family fun day out, a date night, something different to do with your girlfriends, the next time you shop or do anything you typically would do regardless of circumstance, consider charity. You will be amazed at the rewards you get back.
George, with humble hearts we thank you and all of the other service men and women past, present and future for your commitment to your call to duty. May your next seven weeks overseas be fast and free from harm.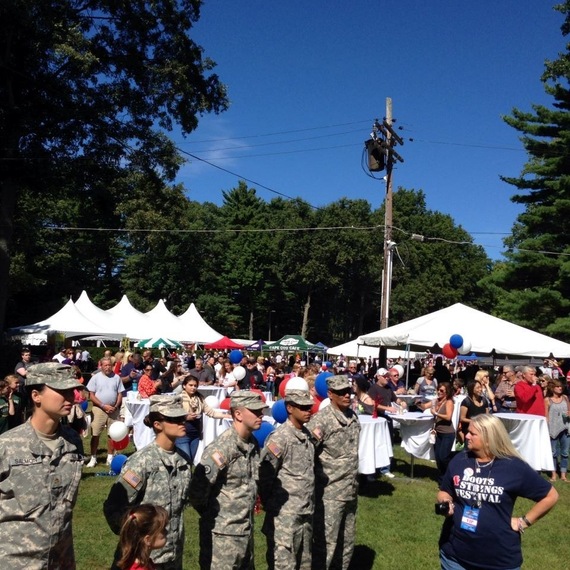 To learn more about above mentioned please visit:
www.Herohelpersofamerica.org
www.Musicdrivesus.org
www.heartillerygroup.com
www.Jmbigheart.org
www.Alsa.org
Popular in the Community