We can finally say goodbye to "Slumdog Millionaire" & "Kumar" as the only references to brown entertainers in the media. Don't get me wrong, "Slumdog" was dope, but there's recently been an emergence of strong, confident brown voices, many of which have reached their break-out moments in the past couple years.
These are performers who have been grinding, shattering stereotypes, and are gaining massive influence. Their importance cannot be understated, It opens doors for younger performers who come from a similar background, like myself, and allows us to believe that being brown doesn't mean we have to play stereotypes for your entire entertainment career. It doesn't exclude us from artful American media. And, yes, even brown people can get the Netflix treatment.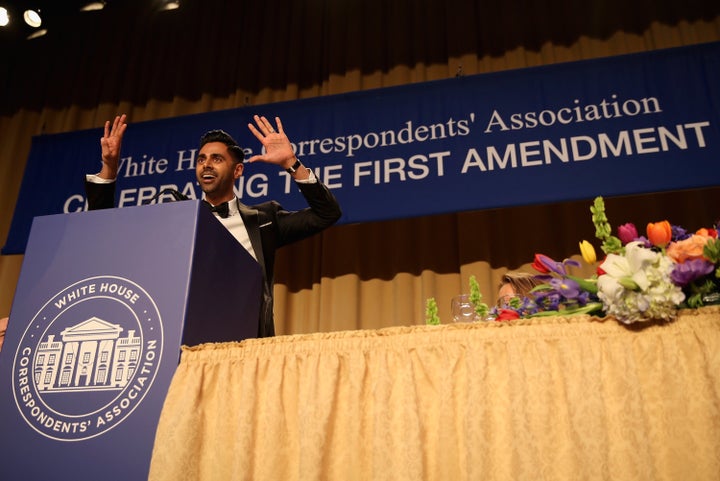 Hasan described his and his peers coming into fame as a "brown renaissance" in an interview with HOT97. It's the coming of age of brown kids from immigrant parents. The first generation had to do a lot of blue collar work, so that their kids could be in position to choose arts as a career path. Those kids are starting to experience their moment.
Hasan Minhaj has become a massively influential voice in political commentary and narrative comedy. His Netflix special, "Homecoming King", breaks new grounds by framing a tale of being seen as the 'other' as a truly American story. A story of first loves and the pursuit of one's passions. He discusses the casual, normalized alienation he felt in a story that doesn't preach to the audience, but instead bravely and honestly shares Hasan's story in a manner that addresses the specificity of his experience through larger themes everyone can connect to.
The lack of communication within his household, tagged as "Brown People Love Secrets", is told through a sibling rivalry between him and his sister. The persecution his family faced after 9/11, is told within the confines of a parent fearful for the safety of their kids. This kind of work brings together audiences and pushes for greater empathy and understanding among people. Hasan produced an incredibly relatable story, in which he is the lead - showing an industry that brown performers are not the 'other', our stories connect with everyone, not just with a niche and certainly not just with people who look like us.
Aparna Nancherla (Comedian)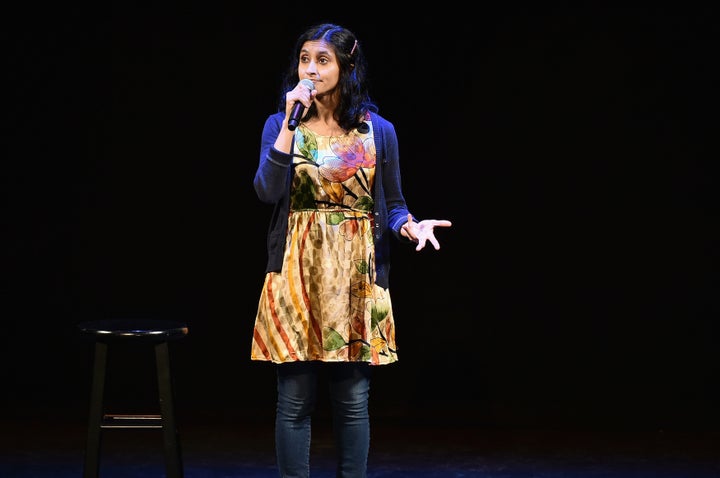 Aparna Nancherla brings a wildly unique perspective to comedy. Her bits often subvert conventional story structures by pointing out absurd behaviours to everyday situations, like in this clip from her half-hour. She is the first Indian-American woman to appear on late night doing a stand-up set, which is awesome but also crazy when you think about how long it's taken just to see the beginnings of better representation for brown women in entertainment. While race is often a piece within some of Aparna's set-ups, it's not really the forefront of her comedy. It's important to have entertainers who are able to just fully be and express themselves without being treated as the snap shot into the mind's of an entire group's experiences.
Performers like Aparna help us to see the push for diversity and representation as more that just brown people doing brown shit on TV," for the sake of having it, or to feed into the fetishisation or exoticiation of it. We need more brown performers who can be seen as performers with strong perspectives and work, that aren't necessarily restricted to traditional/conventional immigrant stories or brown nerd stories. Work like this is crucial for young creators and audiences to grow up feeling like they can operate outside of the box and defy their labels.
Aziz Ansari (Actor, Comedian)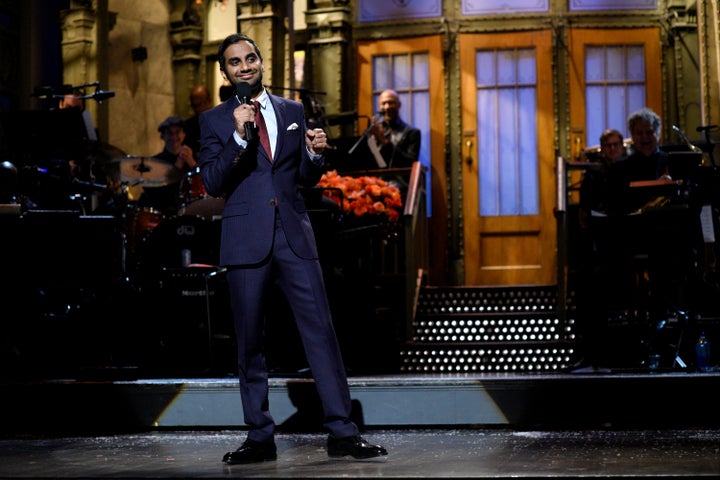 When I was in high school, brown actors were relegated to the best friend character or borderline racist depictions like that one brown dude from "Big Bang" (the actors name is Kunal Nayyar, by the way).
But Aziz Ansari has broken through and really pioneered the confident brown man in American entertainment. Very early on in his career he refused to play stereotypes or "do the accent". In "Parks & Rec", his character, Tom Haverford, was a total go-getter; a resilient, stylish entrepreneur who pursued all of his ideas with self-belief and tenacity (even the really shit ideas). In "Master of None", we got Dev, an Indian character who's cute, funny, and actually somewhat sexually competent.
With "Master of None", Aziz Ansari & Alan Yang are bringing an Indian family dynamic that has not previously been seen. He shows us the navigation between tradition and the modern world and also takes care in focusing on other diverse characters outside of Dev, some stand outs being, S2 E6, New York, I Love You, an episode which focuses on the lives of everyday people around the city. There's also S2 E8, Thanksgiving which deals with Denise coming out to her family and her navigation of those relationship dynamics.
Aziz Ansari's work isn't just pushing for diverse faces and inclusive entertainment. It's pushing the boundaries of what comedy shows can be altogether. "Master of None" is comedy with strong emotional arcs, complex social issues, and an experimental spirit. Aziz's annoying cuteness at the helm makes it that much better.
Ali Baluch (Producer, Filmmaker)
Ali Baluch is a producer and filmmaker who has been a rising voice for diversity and representation. His podcast, The Apartment, co-hosted by Asif Ali, interviews diverse performers on their journeys within the entertainment industry. Only recently have performers of colour been in a position to talk at length about the realities they face within the industry. As a young brown dude pursuing this industry, this podcast has been a huge motivation and affirmation that it is possible to have a successful career without selling out your culture or beliefs.
While diverse performers are killing it right now, there are still only a few prominent faces that are seen in the mainstream. Having a platform to listen to these performers speak about how they've managed to navigate the space can be an important tool when facing similar obstacles.
Baluch most recently released "Disregard", a short film that deals with the indoctrination of disenfranchised youth. Kids who are alienated, discriminated against, and silenced are made more susceptible to the recruitments of radical or terrorist groups. Baluch created a socially-conscious piece, which shows that while the characters' backgrounds may be different, the seed of hate is always planted in a very similar way.
Through work like this, I realized that the fight for representation isn't just a fight to get cooler roles. It's really a fight to shift and shape the real-world perception of each other to a more human one. To create work that promotes understanding everyone as complex, instead of the simple caricatures which can enslave us in reality, after a prolonged portrayal.  
Lilly Singh (Comedian, Filmmaker)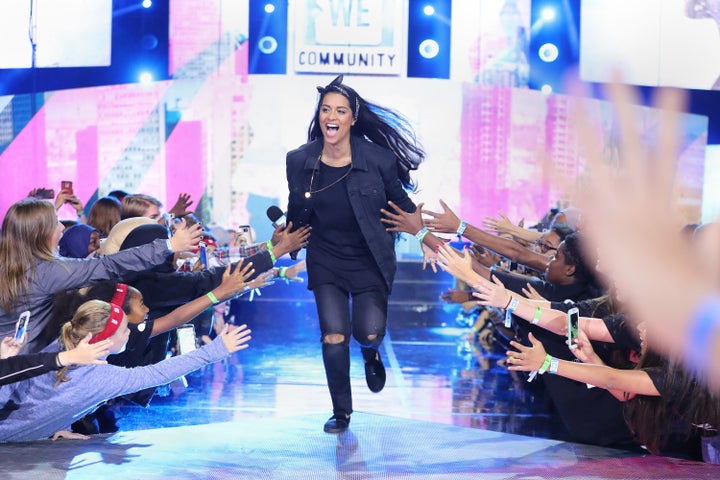 Lilly Singh is a total #bawse. If you're looking for an example of confident, charismatic performer from an Indian background in the mainstream, it's her. Lilly Singh is a pioneer of the self-made digital space. She writes, produces, and acts in her own digital shorts. Her YouTube (IISuperwoman||) following is over 11 million strong, reaching 1.9 billion views. She's been the recipient of two Teen Choice awards in 2016 - Choice Webstar Female & Choice Webstar Comedy. This year she's taken home the People's Choice Award for Favorite YouTube Star and made Forbes 30 under 30 list. Lilly Singh has become a major template for transitioning an online presence into a multi-faceted business. 
Lilly Singh has never been shy to embrace her upbringing and cultural differences in a smart and humorous way, as seen in her "THE PARENTS LOL" series. Her show "#GirlLove" promotes an empowering message of building each other up and has featured guests like Michelle Obama and Bill Gates. In fact, a huge chunk of Lilly Singh's work is centered around the idea of conquering all aspects of life, education, career, relationships. So much so, she even wrote a book about it, "How To Be A Bawse". Lilly Singh, aka Superwoman, really is fucking Superwoman, paving the way for young self-made performers and promoting unity along the way.
Calling all HuffPost superfans!
Sign up for membership to become a founding member and help shape HuffPost's next chapter