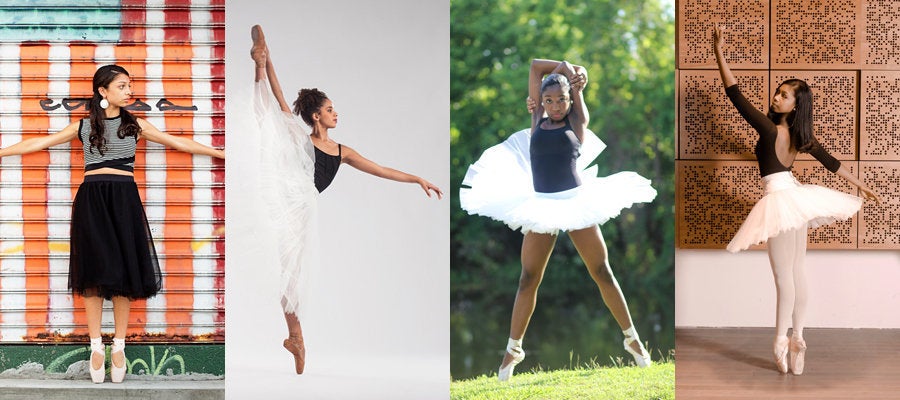 "I want to show the ballet world it's possible to do all these things and not be rail-thin or have blond hair," Misty Copeland told Self Magazine last year. "I feel like I'm representing not just the little brown girls but all African-American dancers who have come before me who were never promoted because of the color of their skin." 
In 2015, Misty Copeland became the first black woman to achieve the status of principal dancer at the American Ballet Theater. But as many of our own readers have pointed out in emails and comments addressed to HuffPost Arts & Culture since, Copeland was not the first woman of color to succeed in a dance world historically filled with white, lithe bodies. Before her, for example, there's Raven Wilkinson, one of the first African-American ballerinas permitted to join a ballet company in the 1950s. And cousins Janet Collins and Carmen de Lavallade, who were some of the first principal dancers of color with the Metropolitan Opera.
Beyond those who preceded Copeland, there are also a number of women today who are breaking barriers alongside her. Copeland's peers include dancers like Olivia Boisson of the New York City Ballet, Precious Adams of the English National Ballet, Awa Joannais of the Paris Opera Ballet, Jasmine Perry of the Los Angeles Ballet, and Francesca Hayward of the the Royal Ballet, to name a few.
In response to Copeland's shoutout to the dancers of color who came before her, we reached out to Brown Girls Do Ballet, a start-up organization devoted to addressing diversity in ballet programs, to ask young dancers in their network to spotlight some of the role models inspiring them. In four beautiful responses, aspiring ballerinas Shalom Johnson, Amelya Rivera, Olivia Winston, and Amirah Muhammad celebrated eight dancers who motivate them in their own careers.
Check out their responses below:
Ebony Williams, Ashley Murphy and Ingrid Silva
Hello, my name is Shalom Johnson. I am 16 years old and I attend the High School for Performing and Visual Arts in Houston, Texas. The dancers that inspire me are Ebony Williams, Ashley Murphy and Ingrid Silva. Why? Well, aside from their amazing technique, their beautiful lines and their artistry, they look like me. I am not the average ballerina dancer. My body does not look like the other girls I dance with nor does my skin color. And I believe if these fantastic ladies can make it in an industry where you are judged on your body type and the color of your skin, well then, I have a fighting chance too. ― Shalom Johnson
Michaela DePrince
"Never be afraid to be a poppy in a field of daffodils." This quote by Michaela DePrince sits on my wall above my mirror in my room. Every day I read that quote and remind myself that no obstacle is too great to stop me from achieving my dreams. I don't need to look like everyone else to be as good as everyone else. Michaela DePrince is not only a beautiful dancer, she is someone who I have been inspired by since the first time I watched her dance at YAGP [Youth America Grand Prix]. She is a warrior. She has proven that a ballerina of color is just as beautiful and graceful as anyone else. ― Amelya Rivera
Lauren Anderson, Misty Copeland and Katlyn Addison
I'm inspired by many dancers of color including Ingrid Silva, Lauren Anderson, and Misty Copeland, all of whom I've had the opportunity to meet. But I'm especially blessed to have Katlyn Addison, Soloist with Ballet West, as my "big sis" and mentor. In addition to always making herself available to answer questions about training, Katlyn also choreographed a contemporary piece for me for YAGP last year and arranged for us to take some Pilates classes together when I needed help with body alignment. I was especially excited when I was able to watch from the wings as Katlyn made her debut last year as Sugar Plum in Ballet West's The Nutcracker, one of a select few dancers of color to dance the role and the first for Ballet West. ― Olivia Winston
Aesha Ash
I draw my artistic inspiration from two hometown Western New York natives like myself. In the field of dance, former New York City Ballet dancer Aesha Ash, and my aunt, supermodel Beverly Johnson. Both have paved the way for many who have come after them and desire to pursue their passion and live their life to the fullest. Despite having gone through challenges, they didn't let anything get in the way of achieving their goals. ― Amirah Muhammad
Calling all HuffPost superfans!
Sign up for membership to become a founding member and help shape HuffPost's next chapter
BEFORE YOU GO
PHOTO GALLERY
Ballet Dancers Changing the Landscape