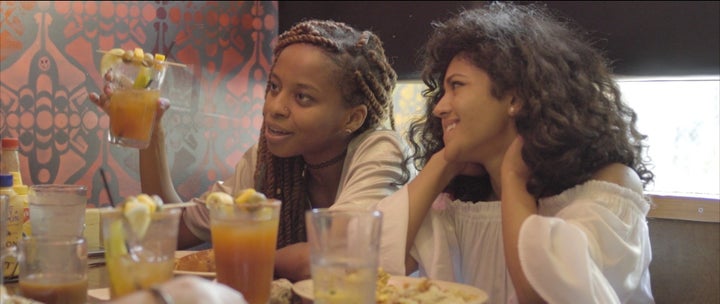 For HuffPost's #LoveTakesAction series, we're telling stories of how people are standing up to hate and supporting those most threatened. What will you stand up for? Tell us with #LoveTakesAction.
The concept of political art may elicit thoughts of carefully designed protest signs, upside-down flags and other distorted emblems of patriotism. And rightly so: artists, now more than ever, are using their craft to comment on the state of the union and to encourage progress.
For Fatimah Asghar, poet and creator of a new web series called "Brown Girls," political acts aren't always so overt. Her show, which premieres this month on OpenTV, is a comedy about two friends, Leila and Patricia, navigating dating, sexuality, personal finances and other millennial woes. But the show, while personal, is also political, Asghar says.

"If this show, or other comedic projects, provide spaces of joy and resistance during a political upheaval, I think that is amazing," she told The Huffington Post.
The project, which she calls a love letter to the myriad communities she belongs to, was borne of her friendship with her best friend, singer Jamila Woods. The two live in Chicago and provide one another with emotional and creative support.
The trailer for "Brown Girls" shows a similar connection between Leila and Patricia, as the women drink beers in bed, talk with their mothers about feminism, and vow their commitment to "single girls club forever." A willingness to show life's more private moments on screen has earned the show comparisons to "Insecure" and "Atlanta," two series Asghar watched and loved after writing her own.
Below, Asghar talked with HuffPost about her new series:
When and why did you start writing "Brown Girls"?
I started writing "Brown Girls" in the fall of 2015. I started writing it because I love film and TV and have always thought of it as an intimidating form, but it was something that I always wanted to try. So I kind of just was like, fuck it ― I'm going to do this. And I wrote a story that was loosely based on the life of me and my best friend, because I don't often see women of color from different racial backgrounds being friends in TV or film. When they are portrayed I feel like they are often in competition with each other, and I don't like that. That's not true to my life.
You've described the show in other interviews as personal, or as a love letter. How much of the show is drawn from your own life?
The two main characters, Leila and Patricia, hold the same identity traits as me and my best friend, Jamila Woods. However, they are by no means identical representations of us, nor are all the events autobiographical. What I wanted to make sure to capture was the texture of our friendship, that was my biggest priority. In some ways, I think both Leila and Patricia have personality elements from me and Jamila in them and are kind of alter-egos.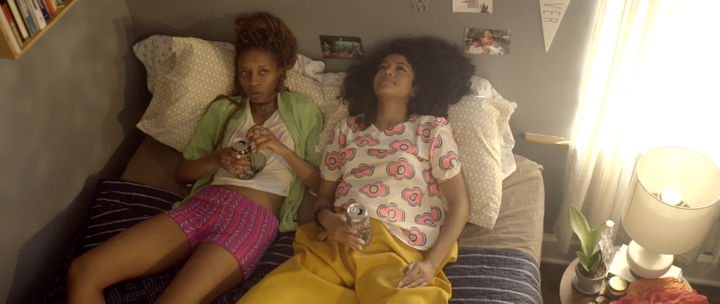 The series is a comedy. What do you think is the role of comedy when there's so much serious political upheaval?
I believe that joy can be our greatest weapon during tough political times. When I protest, when I fight against things that I don't believe in, it's all out of love. It's based on my love for the people who are affected by said issue or political turbulence. That's what I hoped the show would be ― a love letter for the different communities of color that I am a part of, and a joyous celebration of friendship and identity. If this show, or other comedic projects, provide spaces of joy and resistance during a political upheaval, I think that is amazing.
In a statement you recently issued on your Facebook page, you noted that the majority of your crew are people of color, women or queer. Why was it important to you to be representative down to the people behind the camera?
I think that diversity in the crew is incredibly important. The crew controls the mechanics of how the show is shot and seen. And when I worked in theater, even if there was a racially diverse show onstage, that diversity was rarely represented by the crew. The excuse I heard over and over again was, "Oh we can't find talented enough people from diverse backgrounds." That's just completely false. What we wanted to do was create an amazing crew, all masters in their own craft, on this show. We wanted to have a crew that reflected the diversity of the cast and story, as well as the people creating art from various communities in Chicago. And so we did. And I think it's a real testament to how amazing the crew is that they were able to work on a limited budget to create such a high-end project.
What TV shows or web series are you loving right now?
I love "How to Get Away with Murder" and "Scandal." I've been a big Shonda [Rhimes] fan for a long time. I also recently watched and loved "Atlanta" and "Insecure." I love the friendships in "Atlanta," the way that the show followed the relationships between these three men. I also think that show was doing such interesting things formally. Issa Rae has always been a huge inspiration, especially her journey from web series to network. I also love this web series called "Ladies Room," which is hilarious.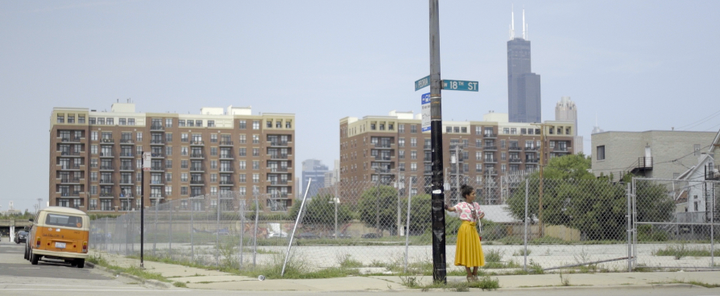 Know a story from your community of people fighting hate and supporting groups who need it? Send news tips to lovetips@huffingtonpost.com.
Calling all HuffPost superfans!
Sign up for membership to become a founding member and help shape HuffPost's next chapter
BEFORE YOU GO
PHOTO GALLERY
Web Series to Watch