WASHINGTON -- As Congress prepares to give President Barack Obama expedited powers to "fast-track" trade deals through Congress, many U.S. steel mills and skeptics of Obama's trade agenda are worried about steel dumping, the term commonly used to describe countries selling steel below market price.
In an interview with The Huffington Post on Tuesday, Sen. Sherrod Brown (D-Ohio), one of the many Democrats feuding with their party's president over the trade debate raging in the Senate, explained why steel dumping is an issue for communities such as his hometown of Cleveland.
As early as Thursday, the Senate is set to vote on legislation that will give Obama what is known as trade promotion authority, which would allow him to shepherd the Trans-Pacific Partnership and other trade deals through Congress with a simple up-or-down vote and no amendments. Without an amendment to the TPA bill ensuring stricter enforcement against steel dumping, Brown argues, the unfair trading practices plaguing the U.S. steel industry will continue.
A "vibrant steel industry," Brown said, is a "national security issue" that is being toyed with because of the failure to crack down on steel dumping and similar practices.
"China has more steelmaking capacity than the entire rest of the world combined. They can't keep their steel mills busy, because they don't have that much domestic consumption," he said. "So China is always trying to sell steel at below-market prices -- so-called 'dumping steel' is the term the trade lawyers use."
"We've seen the price of steel plummet in the United States as China undercuts American steelmakers," Brown continued.
The senator is working to get an amendment that strengthens restrictions on steel dumping added to the TPA legislation. He noted that in Cleveland, there is a steel plant where one person can produce one ton of steel per hour -- the first plant in history to be able to do so.
"We'd never seen that efficiency in the steel business, ever. So we are efficient, our steels are modern, but you can't compete when China cheats," Brown said. "They already have lower wages, we accept that, but they cheat on currency and they subsidize -- sometimes capital, sometimes infrastructure, sometimes land, sometimes water, sometimes iron ore. All very important in steel."
Asked to elaborate on the impact an unamended TPA bill would have on U.S. towns that are home to steel mills, Brown said, "I won't quite say it's a death knell for communities like the one I grew up in, but it heaps one more disaster from globalization on another."
"It's pure and simple a betrayal of workers in this country," he added. "In a place like Mansfield, Ohio, where I grew up, which used to have 6 or 8 major manufacturers and 5 dozen small manufacturers, most of them are gone. The rest of them, by and large, will be gone if we don't take care of worker enforcement on trade law and if we don't help those workers that lose their jobs."
On Tuesday, Senate Majority Leader Mitch McConnell (R-Ky.) said he was forced to file cloture on the TPA bill, after Democrats blocked votes on amendments because they were trying to reach an agreement with GOP leadership on a package of measures. Brown was involved in that effort, canceling his entire afternoon schedule for it.
While McConnell said the Senate would still consider amendments if a deal were reached, the upper chamber's schedule has been thrown off by Sen. Rand Paul (R-Ky.) who is attempting to filibuster a separate effort to consider legislation that would renew the NSA's surveillance powers under the Patriot Act.
If Brown isn't successful in attaching an amendment to crack down on steel dumping, he says he will lobby his House counterparts to push for such protections instead.
"These workers lose their jobs because of decisions we make, and then we're not going to help those workers?" Brown said.
Companies like U.S. Steel and Nucor have been urging lawmakers to take action on lax trade enforcement. In March, U.S. Steel announced an extensive round of layoffs at one of its plants in Minnesota, which it blamed on steel dumping.
"When we cause them to lose their jobs, what kind of self-government is that? What does that say about morals?" Brown said of the lack of protections against steel dumping. "That our government can do something that causes all this trade dislocation and economic dislocation, our workers lose their jobs, and we say, 'Sorry, can't do anything for you'?"
Before You Go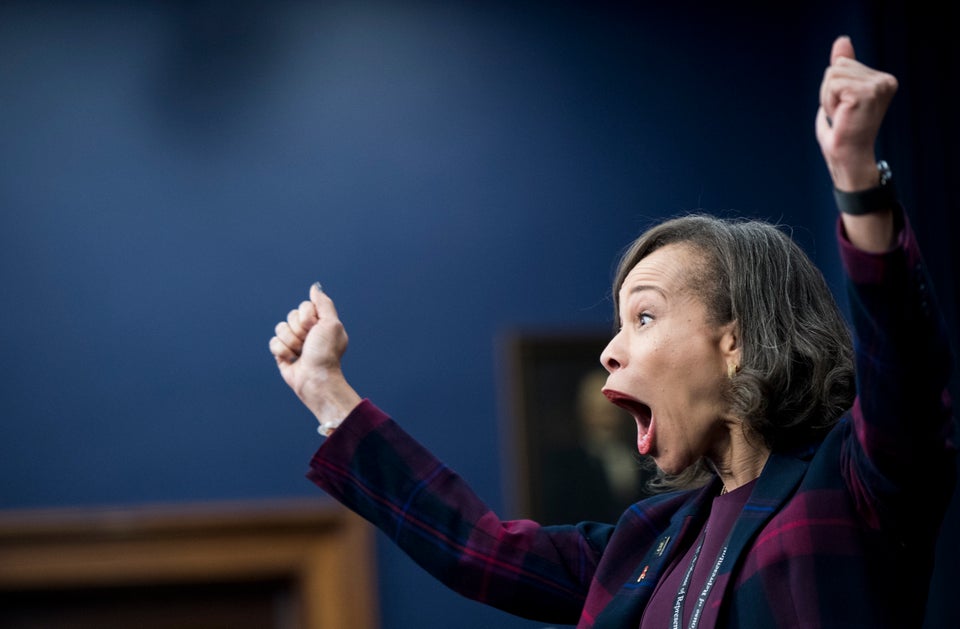 Scenes From 114th Congress And Capitol Hill
Popular in the Community