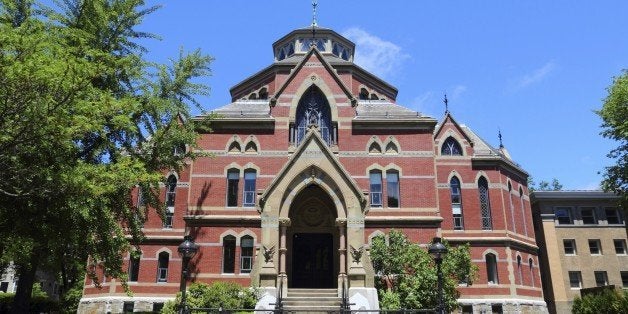 The U.S. Department of Education's Office for Civil Rights began investigating Brown University's handling of sexual assaults this month, bringing the total number of colleges facing such inquiries to 68.
The investigation of Brown, an Ivy League school in Providence, Rhode Island, began July 10. It was the result of a complaint filed by Lena Sclove, a Brown student, in May.
"OCR will examine Brown University's handling of complaints and reports of sexual harassment, including sexual violence, to determine whether Brown has responded promptly and effectively, with particular emphasis on complaints of sexual assault," Christina Brandt-Young, senior staff attorney at Legal Momentum, the nonprofit group helping Sclove, told The Huffington Post Monday. "This will include Ms. Sclove's case."
In 2013, Sclove reported a male student, Daniel Kopin, for allegedly sexually assaulting and choking her. The university found Kopin guilty of four counts of sexual misconduct, and he was given a one-year suspension. However, the spring 2014 semester was the only full, regular academic term Kopin had to spend off campus.
A Brown disciplinary panel suggested Kopin be suspended for two years, which would've allowed Sclove to graduate before he returned to campus. But a dean who did not attend the hearing reduced the suspension to one year, according to documents provided to HuffPost.
In her complaint to the OCR, Sclove said that the university led her to believe she had a choice of either pursuing a school investigation that would potentially remove her alleged attacker from campus or going to police, but not both. Once she learned she could file a criminal complaint in addition to her university report, she did so in March, according to her ORC complaint.
Kopin has chosen not to reenroll at Brown in the fall, when he would be allowed to return. He has also filed a letter with the OCR, denying that he ever sexually assaulted Sclove and accusing her of shifting her story based in part on how various websites and public figures spoke about her case.
Brown, which learned of the investigation on Friday, said its policy is to not discuss individual cases or details of ongoing reviews. "We continue to work to ensure that we adhere to all best practices under Title IX," the school said in a statement.
Brown joins fellow Ivy Leagues Dartmouth College, Princeton University, Harvard College and Harvard Law School, which are all facing federal reviews related to sexual assault cases. A complaint was filed against Columbia University, but no investigation has been opened yet in response.
In recent weeks, OCR has also opened similar investigations at Washburn University in Kansas, Morgan State University in Maryland and Colorado State University.
Since OCR first began disclosing the complete list of higher education institutions under Title IX investigations on May 1, 13 schools have been added. No investigation has concluded since then, but when one does, the department will disclose upon request whether OCR entered into a resolution agreement to fix violations of federal law surrounding sexual violence on campus.
Popular in the Community