Brown University punished a rapist with what amounted to a one-semester suspension for choking and sexually assaulting a fellow student.
Lena Sclove, 22, told a crowd of more than 50 students at the Ivy League campus in Providence, Rhode Island, on Tuesday that the university found her assailant responsible for four counts of student misconduct, but will allow him back at the school in the fall.
"I was just so angry, and the first thought I had was I can't finish my degree here," Sclove told The Huffington Post. "They're letting him come right back, so either I need to take two years off until he graduates or I need to transfer somewhere else. … I did not do anything wrong, and yet I'm the one who's going to take time off or transfer."
On Aug. 2, 2013, Sclove was choked and sexually assaulted after a party by a man she had considered a friend. She reported the assault to the university within two weeks. A week after an Oct. 11 university conduct board hearing, she was informed her assailant was found responsible on four charges, including sexual violence involving physical force and injury.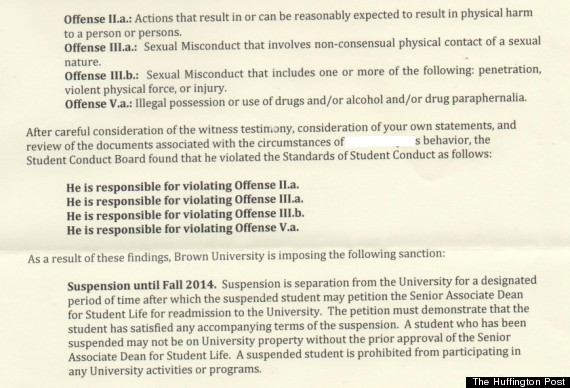 The board recommended a two-year suspension from school for the attacker. That would have allowed Sclove to finish her studies without her assailant on campus. But J. Allen Ward, Brown's senior associate dean of student life, reduced the sentence to a one-year suspension.
Sclove appealed, but Margaret Klawunn, the vice president for campus life, upheld the one-year suspension and added probation for the assailant if he reenrolls.
Because Sclove appealed the sanction, her assailant was allowed to remain on campus until a final decision. He didn't actually leave until just before Thanksgiving -- almost the end of the semester. Spring 2014 was the only regular, full semester he was blocked from attending.

Meanwhile, just before Christmas, Sclove discovered she had a spine injury in her neck as a result of being throttled during the attack. She also was diagnosed with post-traumatic stress disorder. "I couldn't walk without help," Sclove said. "I wasn't paralyzed, I could move, but had very limited mobility."
The physical injury spurred Sclove's decision to hire an attorney and speak out about the university's handling of her case, she said.
Sclove disclosed during her makeshift rally on Tuesday that she learned after reporting her attack that another woman at Brown had been assaulted earlier by the same male student. That woman did not formally report the attack, Sclove said.
Neither Ward nor Klawunn responded to requests for comment. The university said it declines to comment on specific cases, though it acknowledged decisions do not "always yield a completely satisfying outcome for someone who has been victimized."
"These are often very complicated situations," Brown spokeswoman Marisa A. Quinn said in an email to HuffPost. "The University takes a number of steps, including sexual assault orientation sessions for incoming students, to ensure that every student is aware of applicable policies."
Brown is one of numerous universities, including several Ivy League schools, under fire for lax policies dealing with sexual violence. Students claim the schools are too lenient on sex offenders.
According to Brown, hearings by the Student Conduct Board in 2012-13 for sexual misconduct resulted in two expulsions, one suspension and one deferred suspension.
Students were outraged in 2013, when Yale University disclosed in a semi-annual report that only one of six people found responsible for sexual assault had been suspended, and the rest were punished with reprimands, training or probation. A subsequent report showed one student was found guilty of sexual assault and was given a two- term suspension, and the rest of the assault cases hadn't concluded or did not lead to a formal investigation.
From the 2008-09 academic year to 2012-13 at Harvard College, five students were required by the Administrative Board to withdraw from the undergraduate school due to "social behavior - sexual." Two students were punished with probation for "social behavior - harassment/sexual" and the college took no action against six students for "social behavior - sexual." Harvard College was hit with a federal complaint last month for, among other grievances, forcing sexual assault victims to live in the same residence halls as their attackers.
Documents provided by Dartmouth College show that from 2010 to 2013, sexual violence cases resulted in two students being "separated or resigned" from the college, two students suspended, two placed on probation and four found "not responsible." Dartmouth may implement a policy that would make expulsion the preferred sanction for students guilty of sexual misconduct.
Colleges are not required to disclose how many students are investigated or punished for sexual misconduct. Columbia University, for instance, has so far declined to release such statistics.
Three women accused the same male student at Columbia of sexual assault. Still, two of the reported victims told HuffPost that the male student was found not responsible and was allowed to stay on campus.
Sclove said she came forward because she hopes the university will prevent her attacker from reenrolling and wants the school to revise its misconduct policies.
Students supporting her have started an online petition to pressure Brown into expelling all students who are found responsible for sexual assault.
Support HuffPost
The Stakes Have Never Been Higher
Related
Popular in the Community