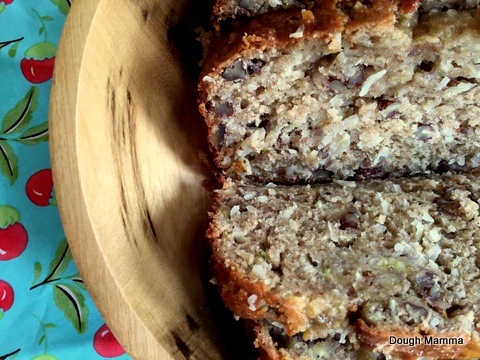 Very few people get excited about banana bread and I happen to be one of those people. Whenever I am at a potluck and I see poor old banana bread sitting in a corner by itself, I kind of feel sorry for it. What did it ever do to me? Well, nothing-and I suppose that's the problem.
Perhaps I am not a "banana person." I am not impressed with bananas foster, banana pudding, banana cream pie or banana ice cream. They're all o.k., but honestly, I much rather spend my calories on another dessert, preferably one with chocolate.
You're probably thinking at this point, why go on and try this crazy woman's recipe, the one who hates banana desserts. Is she going to sabotage us banana lovers? Have no fear, this is a recipe I can stand behind. The base is consistently good and allows for various fillings. Don't worry, we're not putting lipstick on a pig here people, we are overhauling the boring banana bread being hustled at your local PTA bake sales and giving it some heart.
Browned butter, candied pecans, chocolate chips, roasted bananas - this banana bread is getting serious and will throw shade at any lesser dessert in its proximity. "Whatcha ya looking at dried up brownies? Don't stare at me cross-eyed stupid chocolate chip cookies." Browned butter banana bread with attitude, I believe you have been officially promoted to the front row of your next potluck.
Author: Dough Mamma
Prep time: 20 mins
Cook time: 50 mins
Total time: 1 hour 10 mins
Yield: 1 loaf
Notes: I experimented with a few different banana bread recipes before writing this one. The pictures represent of few of those experiments. I added coconut flakes and walnuts in one recipe, while adding just chocolate chips in another. The base remained the same. Though this recipe will suggest 1 cup of chocolate chips, feel free to replace those chips with coconut, raisins or whatever else you might fancy. Also, chocolate chunks melt smoother than the chips so if you prefer a more chocolatey bread, use chunks and if you prefer some texture to your chocolate, use chips. I did not add the pecans to my latest bread because my son hates pecans and therefore, you will not see pictures of the pecan crunch. If you notice your bread is getting golden brown but still needs time to cook the center, loosely cover with foil to prevent burning the tops. Since banana bread rises relatively high, I find it best to put your loaf pan on one rung below the middle rack. Banana bread always tastes better the next day, so give yourself extra time if you really care to impress.
Ingredients
2 cups of cake flour
½ cup of all-purpose flour
1 tsp baking powder
½ tsp baking soda
¾ tsp salt
1 tsp of cinnamon
⅔ cup brown sugar
½ cup browned butter (melted but not hot)
⅔ cup full fat yogurt
2 large eggs
1 Tbsp of lemon juice
1 tsp of vanilla paste
5 bananas (the browner and more speckled the better)
1 cup chocolate chunks (or chips, or roughly chopped bits)
*optional 1 tsp of rum
Candied Pecan Streusel
1 cup of pecans - roughly chopped in big pieces
½ cup of brown sugar
⅛ cup of flour
pinch of cinnamon
3 Tbsp of softened butter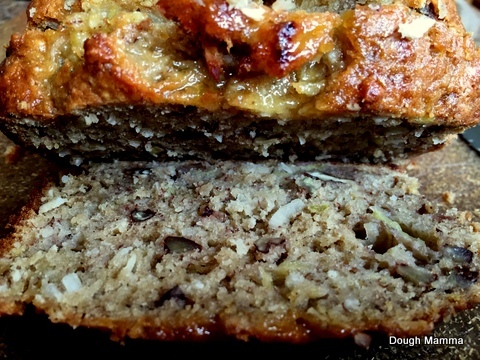 Instructions
Heat oven to 350 F.
Line loaf pan with two pieces of parchment paper to form a plus symbol. This will create a "lift" to help remove the banana bread from the pan. Spray with non-stick spray.
Place 5 bananas on a tinfoil lined baking sheet. Pierce peels with a fork in one inch intervals. Bake in oven for 15 minutes. Bananas peels should look almost black. Remove and allow to cool. Set aside.
In a large bowl whisk flours, baking powder, baking soda, salt, cinnamon and brown sugar - mix well.
To make brown butter, use a light colored saute pan, preferably stainless steel (so you can see your butter brown). Heat your butter over medium-medium high heat swirling the pan every so often. Keep a close eye on it. Remove the butter which is when the color is a honey colored brown and smells nutty. Add approximately 2 more Tbsp of butter than your recipe requires to account for evaporation. You can add your extra butter once your butter is removed from heat. Allow to cool until slightly warm to the touch.
In a separate bowl, whisk browned butter, yogurt, eggs, lemon juice and vanilla paste. You can also substitute rum for your vanilla. Add two of the roasted bananas to the bowl and whisk until smooth or use an immersion blender for a few pulses.
Add the liquids to the dry mix. Using your rubber spatula, gently fold in the liquids while turning the bowl simultaneously. Do not over mix, just mix until combined.
Take your 3 bananas and mash until the consistency of chunky mashed potatoes - then stop. Gently fold in chocolate chunks and your 3 mashed bananas. Keep folding until no chunks of flour remain.
To make your streusel, in a small bowl, mix by hand: pecans, sugar, flour and cinnamon. Add butter and mix until crumbly texture.
Fold into your loaf pan add your streusel topping and bake for 25 minutes uncovered. Keep an eye on your topping and cover loosely with foil after 25-30 minutes of baking. The foil will help prevent the streusel from burning. Continue to bake for another 20-25 minutes (for a total of 45-55 minutes depending on your oven).
Remove from oven when a toothpick inserted comes out clean and allow to cool for 15 minutes. Carefully remove from pan, using a knife around the edges if needed. Allow to cool completely on wire racks - about 1 hour.
To store, place in airtight container.