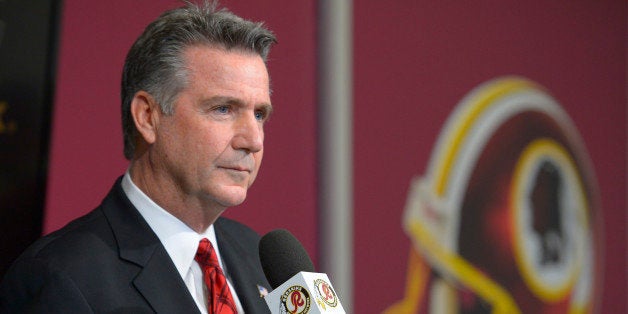 Helping Allen were Republican messaging guru Frank Luntz, former White House press secretary Ari Fleischer, and former Virginia Gov. and U.S. Sen. George Allen. In an email thread in which he consulted with them over to how to respond to ThinkProgress reporter Travis Waldron's questions, Bruce Allen called questions regarding the campaign "ignorant." The tone in the emails was dismissive of arguments in favor of changing the team's name, suggesting that the Redskins' position hasn't changed.
Both George and Bruce Allen are the sons of former Redskins head coach George Allen. Fleisher served as White House press secretary in former President George W. Bush's administration.
After Waldron requested comment on issues relating to the team's name, spokesman Tony Wyllie forwarded the reporter's email to Luntz, Fleischer, and the Allens.
"We don't need to comment on all these ignorant requests," Bruce Allen wrote, referencing the reporter's questions.
"I agree," Fleischer responded, "not [sic] need to answer any more questions or waste any more time with this outfit."
According to ThinkProgress, Waldron's questions to the team included inquiries about its response to the idea that the campaign against its name was now "permanent" and to the fact that multiple Native American leaders and their allies had suggested that a name change was "inevitable."
The team's official statement in response to Waldron's questions deferred to public opinion.
"As a recent national poll showed, the overwhelming majority of Americans agree with our position on our name," Wyllie wrote. "An earlier poll by the Annenberg Institute showed that 90 percent of Native Americans support our name and that's the message we have heard from hundreds of Native Americans who wrote to Dan Snyder in support of the Redskins."
"It's that simple," he said. "NEVER — you can use caps."
The team's management has engaged in a full-court press to oppose calls to change their name. In response to an October D.C. Council vote calling on the team to change its name, the team asked local fans to contact their city council lawmakers and share "what #RedskinsPride means."
George Allen, whose 2006 Senate campaign was consumed by the infamous "macaca" video, is an expert on offensive names.

Calling all HuffPost superfans!
Sign up for membership to become a founding member and help shape HuffPost's next chapter
BEFORE YOU GO
PHOTO GALLERY
Obama Playing Sports