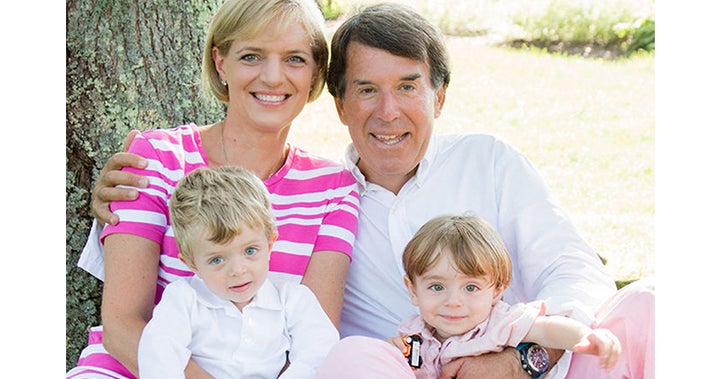 He is the chairman and founder of The Mount Vernon Company who successfully parlayed his career in marketing and advertising, working on brands like Parker Brothers, Converse, and Sunkist Orange Soda (said to be the most successful new soft drink launch in the history of the industry), into real estate, building an apartment portfolio to the tune of $500 million with more than 1400 apartments. His wife, who had moved to New York from the Netherlands, had built her own real estate portfolio while practicing international law at Ernst and Young in New York City. Not only are they smart, savvy, strategic business tycoons, they are about as down to earth as you can get, and they are more concerned with building a better world than building their own real estate empire, as they continue to make a mark in the world by committing themselves to massive charitable and civic projects, creating a wake of positive social impact along the way.
They are Bruce and Elisabeth Percelay, and beyond their business savvy, the two better define themselves as mom and dad to two little boys, William and Charlie, ambassadors for their favorite island, and their second home, Nantucket (ACK), and two people who simply want to make the world a better place. The two recently pledged a $10M dollar gift to Nantucket Cottage Hospital, where their two boys were born, in an effort to lead the charge in building a brand new 100,000 sq. ft. hospital as well as housing for hospital staff, in order to attract the best healthcare professionals from around the world.
I recently visited the two at their home in Boston where they shared their vision, inspiration, and lessons on how anyone can make their own little dent in the world:
Impatience is a Virtue: Contrary to the 14th century quote, "patience is a virtue," Bruce says that when it comes to making a difference in the world, impatience is a virtue. He says that if you want to get stuff done, you need to set difficult goals and you have to push yourself and others to achieve them quickly. Not only did the Percelay's offer a $10M gift to Nantucket Cottage Hospital, they also volunteered to help find another $30M through an aggressive capital campaign. They say that not only does the hospital need updating, they also want to provide on campus housing to the medical staff who come to the island. They say it's expensive to live on the island and so when it comes to attracting top hospital staff, too often the talent chooses Boston. Bruce says that by providing housing it will incentivize those in the medical profession to give Nantucket Cottage Hospital a close consideration. Bruce and Elisabeth worked tirelessly throughout the summer months to begin the additional capital campaign for the hospital. They say that impatience is absolutely necessary in Nantucket because many of the potential donors are only there a few months out of the year. By the time Labor Day rolls around the island empties out, and then it's on to planning for next year. Although their goal is to spend time relaxing on the island, they admit that most nights involve social events, many hosted by them, in order to network and find others who are committed to making a difference on the island.
Work Hard – Lose the Ego: If there's one thing that Bruce and Elisabeth hope to instill upon their two boys as they grow up, it is the importance of working hard and losing their egos. Elisabeth joked that when she and Bruce began dating, she was in the middle of rehabbing a property she purchased in New York City. He showed up for their date and she asked if he would mind helping her work on the floors. Laughing, she explained that their third date was a trip to Home Depot. Bruce says that if you want to make an impact on the world, it requires that you roll up your sleeves and get dirty. He says that if there's anything that they both agree on, it's that when it comes to making an impact, it's not just who can open their wallet the widest, it is also about who is willing to put their nose to the grindstone to get the hard work done. Elisabeth says that they have a very similar work ethic and that they want their boys to see that life isn't just about sitting behind a desk, it is also about picking up a hammer or washing the floors when needed too. Bruce says that when ego gets in the way of the work you do, it slows things down, so if you want to make an impact on the world, get back to work and drop the ego.
Passion: After building a notable career in marketing and advertising, Bruce began his new career in 1987 with the purchase of his first condominium. Since then he's grown his business to more than 1400 apartments. He then combined his marketing savvy with his real estate experience by authoring a book called Packaging Your Home for Profit, published by Little Brown and Company, which sparked media interest with the likes of CNN, Good Morning America, and more than 50 newspaper and magazines around the country. His love of Nantucket caused him to redevelop two of the top inns on the island, and he also became the publisher of Nantucket Magazine, the largest publication of its kind in Nantucket and one that boasts the highest household income demographic of any summer resort-based magazine in America. As chairman of Habitat for Humanity in Boston, he launched the largest urban project ever built in America during his tenure. He was also the driving force behind the building of the new Nantucket Whaling Museum. While it seems that everything Bruce Percelay touches turns to gold, he has another take on it. He says that success is inevitable when one is driven by passion. Bruce says that if he is successful at anything, it is in his ability to figure out a way to make a living and make a difference by spending every day doing what he loves. He says that in college, he ran the student newspaper for Boston University which was the third largest daily in Boston. It was there where he grew an affinity for writing and publishing, which he eventually rekindled with the writing of his book and through the launch of Nantucket Magazine. He says that his days in marketing and advertising gave him a fond appreciation for design and aesthetics, and that even while he was still working in advertising, he would stop and look at beautiful buildings and appreciate the design that went into them. He says it only made sense that evolving in his journey would include an emphasis on real estate, because it all tied into his passion for providing housing and sustainability for families, but also his passion for beauty and art. Bruce says that you cannot be the best possible version of yourself, you cannot be the best in your business, and you cannot make the most impact on the world, unless you are fueled by passion for what you are doing.
Incremental Value of Money: The Percelays' say that when it came to Nantucket Cottage Hospital, and offering a gift that could truly make a difference for the island, they closely considered the incremental value of money. Both Bruce and Elisabeth have carved out a very comfortable life for themselves, however, they believe at a certain point money produces less and less value to them personally and as Bruce pointed out, "You can only eat one meal at a time." Additionally, Bruce explained that while spending $10 million on a yacht or a jet is a lovely thought, the value of those assets will soon disappear while the value of smart philanthropy lasts indefinitely. Ever since news of the gift was reported in local papers, the two say that they have been overwhelmed by the number of people who stop them on the street or at the grocery store in Nantucket to say thank you. Bruce explained that he and Elisabeth love nice houses, jets, and yachts, especially when they are owned by other people, so they get the benefit of enjoyment without the hassle of ownership. He says collecting things of any kind, comes with a price, and so they do their best to keep their toys at a minimum. He says that if you want to make an impact on the world, when you do have extra money set aside, before buying something you don't need, ask yourself, "Where could this make the most impact?"
They are Bruce and Elisabeth Percelay. Their mission is simple; be great role models to their children, be good to people, and do what they can to make their own little dent in the world.
Related
Popular in the Community