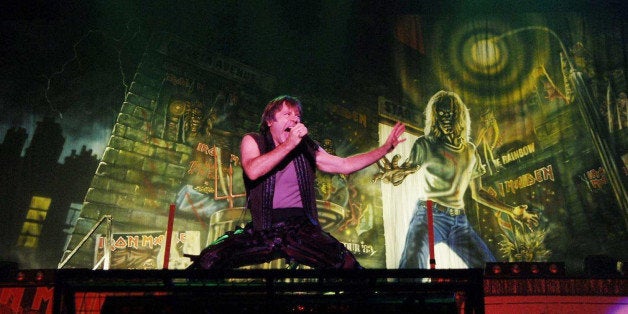 Bruce Dickinson, lead singer of Iron Maiden and owner of one of the most distinctive voices in heavy metal, is being treated for cancer on his tongue, according to a statement on the band's official website.
Dickinson, 56, was diagnosed with a small cancerous tumor on the back of his tongue during a routine checkup just before Christmas. He has since completed a seven-week course of chemotherapy and radiology, according to the statement.
Iron Maiden is known for its relentless touring and has a series of concerts scheduled starting in May. However, those dates could be in jeopardy. The statement said Dickinson should have the all-clear from his medical team in late May, but added that "it will then take a further few months for Bruce to get back to full fitness."
The band promised another update by the end of May.
"Bruce is doing very well considering the circumstances and the whole team are very positive," the statement said.
Dickinson has been nicknamed the "Air Raid Siren" for the power of his voice and his ability to hold notes at the high end of his range, often adding his trademark vibrato to his vocals.
He's also known for his unique talents outside of music. He's a skilled fencer, helped develop "The Trooper" beer named for one of the band's songs, and is a pilot with a commercial license.
Popular in the Community