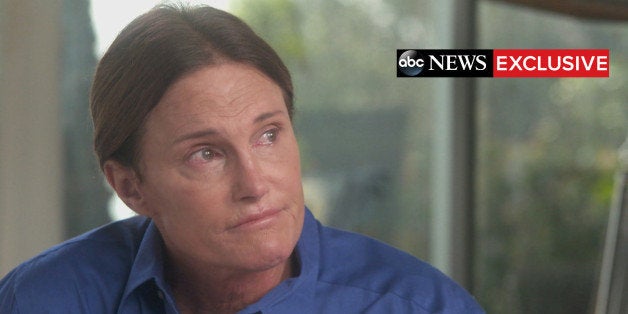 I never knew too much about the transgender community. As much as I wanted to understand the journey and hardship, I avoided asking too many questions in fear of offending anyone. When I learned about Bruce Jenner's two-hour interview with Diane Sawyer about his* (then-alleged) transition from male to female, I was excited to tune in not just for the celebrity tea but also to listen to someone's story firsthand.
Like the thousands of viewers who watched the revealing interview Friday night, I was blown away by Jenner's transparency and courage. I was even pleasantly pleased with the open discussion on social media. Save for the few trolls spewing their 140 character vitriol, so many people expressed their experiences, questions and support with so much love and respect.
Jenner's words didn't only inspire millions of transgendered people around the world but also anyone who is too afraid to live in their truth. Before the interview, I had such a hard time imagining what it must feel like to feel like a gender other than the one you're assigned at birth. What does feeling like a woman really feel like anyway? Surely each woman has their own unique soul, as does each man. Jenner's simple explanation shattered my ignorance: "Bruce was always telling a lie about who he is, and I can't do that any longer." From that one sentence I realized, it's not for me to understand something I can't naturally relate to, but I must be compassionate. No one owes anyone a detailed breakdown of their personal and private experiences (especially when it can be so hard to put into words). The message is: I don't feel like my true self.
In no way meant to trivialize someone's gender identity, I can relate Jenner's statement (not reality) to a person of any circumstance not living their truth. I can't materialize my personality but when I don't behave like myself, I feel dishonest, stuck and unsatisfied. Again, this is not meant to be an equal comparison, but the idea of intuitive realization of self and soul is what helped me understand a transgendered person's experience.
From Olympian superstar to budding transgender icon, Jenner's purpose to inspire others has transformed throughout the chapters of his life. His perseverance, strength, and courage transcends his athletic legacy. The moment Jenner proudly stated, "I am a woman," I exhaled with relief. How free he must have felt to finally admit his truth. Despite the horrible and insensitive media critics, judgement from the narrow-minded public, and the Kardashian empire (which critics assumed would suffer from Jenner's revelation), Jenner did what was right for him. When asked why now after years of suppressing his true identity, the 65-year-old said, "I'd be so mad at myself if I didn't explore that side of me." This interview was done with so much humanity. This was not a juicy exposé or some spin-off special of Keeping Up with the Kardashians. This was a person who shared with the world their unique yet relatable journey to peace -- and that is what makes us all one.
Side Note: Bruce Jenner is so shady and I loved it! He was so subtle with it. My favorite nuggets of shade were:
(Regarding E!'s Keeping Up with the Kardashians) "We'd done 425 episodes over almost eight years now and the entire run I kept thinking to myself, 'Oh my God, this whole thing, the one real true story in the family, was the one I was hiding and nobody knew about. The one thing that could really make a difference in people lives was right here in my soul, and I couldn't tell that story."
And of course the little jab he made at Diane Sawyer about being an older woman who only wears black shoes, black pants and a white shirt.
*Although Bruce Jenner identifies as female, he preferred his identity as "Bruce" be referred with masculine pronouns -- thus my use of "his" and "he."
Calling all HuffPost superfans!
Sign up for membership to become a founding member and help shape HuffPost's next chapter