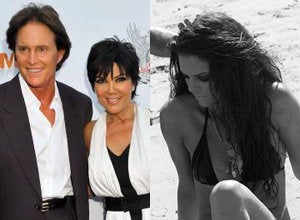 Kendall, half sister to the Kardashian girls and a fellow costar on 'Keeping up With the Kardashians,' made news with a bikini spread she shot this summer, with dad Bruce previously saying he loved the pics.
At a press event for the television show's upcoming season, the Jenner parents said they encourage Kendall's career.
"One of her lifelong passions is to be a model, and it's something she's really excited about," Kris Jenner told PEOPLE.
She added, "They're tasteful, she's covered up completely and they're not provocative. They're just gorgeous shots."
Meanwhile Bruce said, "I sat down with her and said 'If I see school slipping, that's not going to work. You're going to stop until you're out of school,'" he said. "Last year she had her best year ever, so I encourage it. I think it builds a lot of character in a young person so I have no problem with them starting early."

Meanwhile Kendall's younger sister Kylie, who turned 13 this week, is also now modeling.

Popular in the Community