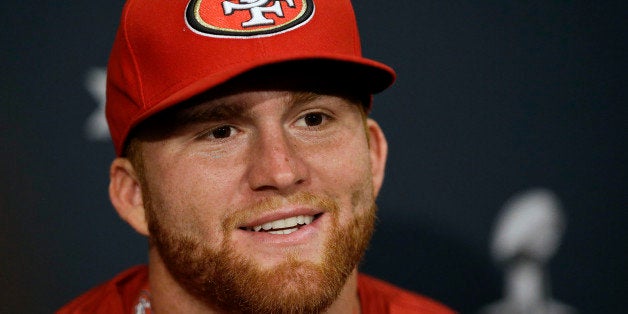 SAN FRANCISCO, March 9 (Reuters) - Five-year NFL veteran Bruce Miller, a fullback with the San Francisco 49ers, was arrested for domestic battery, police said on Monday.
Miller, 27, was taken into custody last Thursday on the spousal battery charge and has since posted bail, said Santa Clara Police spokesman Kurt Clarke.
Clarke forwarded requests for further information to the Santa Clara County District Attorney's Office. Representatives for the prosecutor's office could not be reached for comment.
The 49ers did not immediately respond to requests for comment but told the Sacramento Bee newspaper: "The San Francisco 49er organization is aware of the matter involving Bruce Miller. We were disappointed to learn of these reports and will do our due diligence in collecting all relevant information."
Several top National Football League players, including Adrian Peterson and Ray Rice, were charged with domestic violence in 2014, prompting the league to overhaul its personal conduct policy.
After the NFL was sharply criticized for being too lenient on domestic violence and sexual assault, NFL Commissioner Roger Goodell made the penalties for such crimes much harsher than in the past. (Reporting by Curtis Skinner; Editing by Alan Raybould)

Popular in the Community