With a defiant economy of materials and subject matter, the artist Bruce Nauman is able to evoke metaphysical worlds. In his first body of new work, since he snapped up the prestigious Golden Lion award at the 2009 Venice Biennale, For Children/For Beginners, on view at Manhattan's Sperone Westwater gallery through December 18th, finds the influential minimal-conceptualist injecting one of his pet subjects--hands--with fresh possibilities. In so doing, Nauman also makes terrific use of Sperone Westwater's pristine, and very narrow, townhouse space, designed by Sir Norman Foster.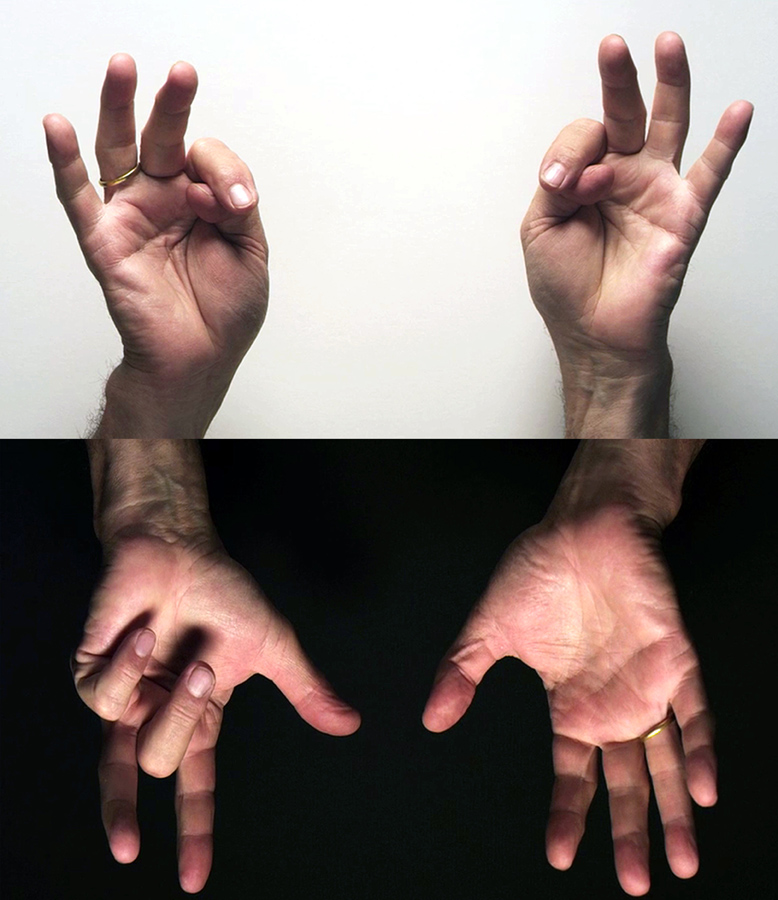 Bruce Nauman, For Beginners (all the combinations of the thumb and fingers), 2010
HD video installation (color, stereo sound), continuous play,2 HD video sources, 2 HD video projectors, 4 speakers,dimensions variable, Courtesy the Artist and Sperone Westwater, New York
Upon entering the gallery, through a blacked-out front door, viewers are immediately confronted with a spectacular video installation featuring two enormous images of the artist's own hands. Providing the sole light source in the space, the projection circumvents its much-discussed narrowness, by causing the walls to recede into relative darkness. This, combined with the limited palette presented by Nauman's hands, which are set against either a black or a white backdrop, and the fact that the sound system has been discreetly camouflaged, lend the work, For Beginners (all the combinations of the thumb and fingers), (2010) an exquisitely spare elegance.
For Beginners finds Nauman responding to verbal instructions provided by his own recorded voice, and then filming his systematic portrayal of 31 finger positions, combined in multiple ways. Presenting one pair of hands above the other, the projection forms a giant square, taking full advantage of the double-height wall of the gallery's main first-floor space. Bisected on one side by a mezzanine, the space presents a potential installation obstacle, which Nauman has ingeniously negotiated, by locating one projector on the ground floor, and the other on the balcony. Each video source is synchronized with its respective sound feed. Together these separate components create a surprisingly unified installation from what is actually a divided space.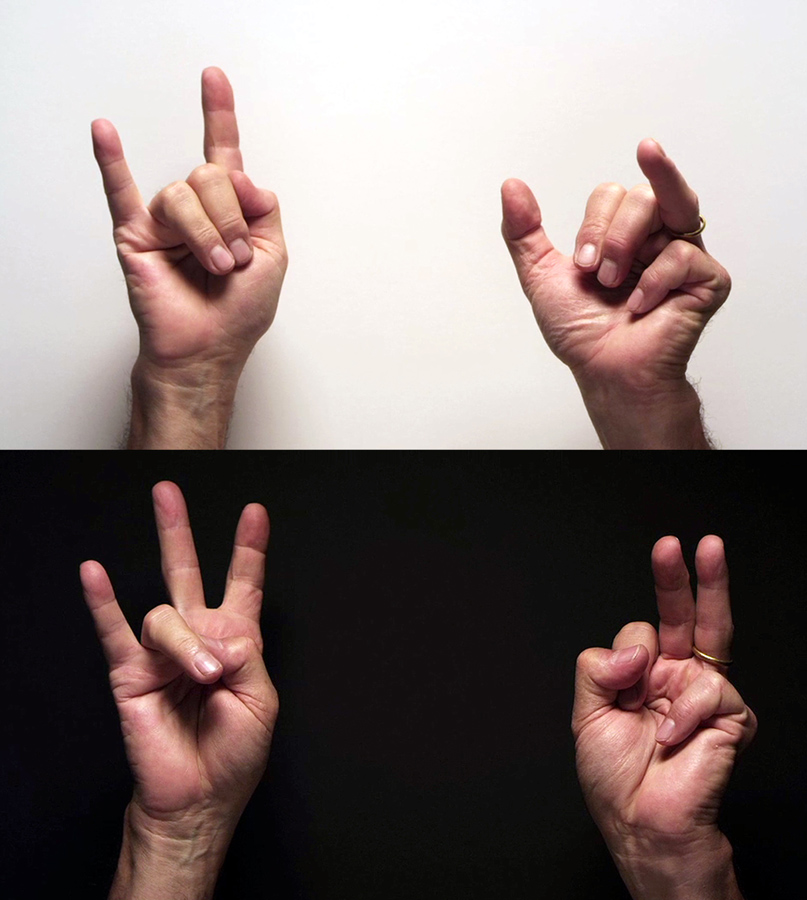 Bruce Nauman, For Beginners (all the combinations of the thumb and fingers), 2010
HD video installation (color, stereo sound), continuous play,2 HD video sources, 2 HD video projectors, 4 speakers,dimensions variable, Courtesy the Artist and Sperone Westwater, New York
According to gallery representative, Maryse Brand, Nauman conceived of For Children/For Beginners after completing his installation, Days (2009), at the Venice Biennale. Reading the words "for children" in a book, reminded Nauman of piano pieces "for children, "triggering the artist's decades-old memories of teaching his young son to play the piano. Brand said, "Bruce started thinking about the finger positions for beginning piano players, all of the different combinations your hand can have, whether your thumb is down or your index finger is up."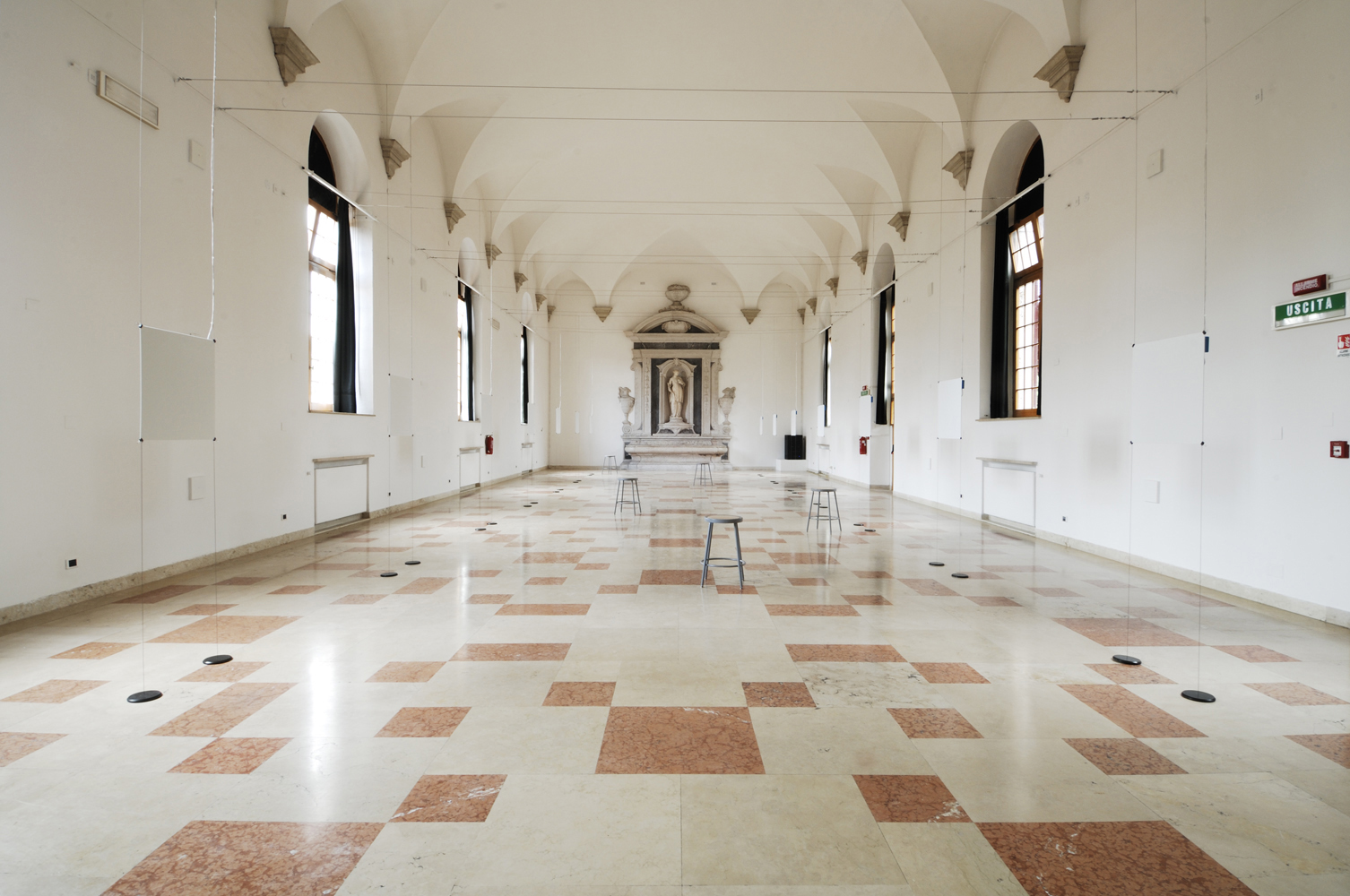 Bruce Nauman, Days, 2009, Installation view,"Bruce Nauman: Topological Gardens," United States Exhibition of the 53rd Venice Biennale, United States Pavilion at the Universitá luav di Venezia at Tolentini, Venice, Italy, 7 June - 18 October 2009, Courtesy Sperone Westwater, New York
Presenting detached pairs of hands, Nauman's For Beginners, (2010) is devoid of nostalgia. And yet the repetition of the looping projections and the echoing of his voice through the gallery gives the work a meditative feel. While watching, viewers may also notice the considerable physical challenge in Nauman's enactment of his own rules. Many of the finger positions, if one tries them oneself, are quite difficult to perform. Since the projections on white and black backdrops are each filmed in a single take, Nauman's hands begin to shake toward the end of each loop, poignantly revealing his human frailty.
The exacting, semi-absurdist nature of Nauman's exercise,which recalls works by artists from Sol Lewitt to Dennis Oppenheim to Diana Thater, is further explored in the gallery's moving exhibition space, or elevator, where a separate work, For Beginners (instructed piano), (2010) presents an empty room filled with sound. In recording this piece, Nauman instructed a friend to transpose 31 finger positions into specific notes on the piano. Placing both thumbs on middle C, the player was told to reach only as far as the eight adjacent white keys, thus taking into consideration, according to Brand, "the small size of a child's hands." Whether by design or by mere coincidence, the artlessness of the player's touch sounds uncannily like that of a child learning to play the piano.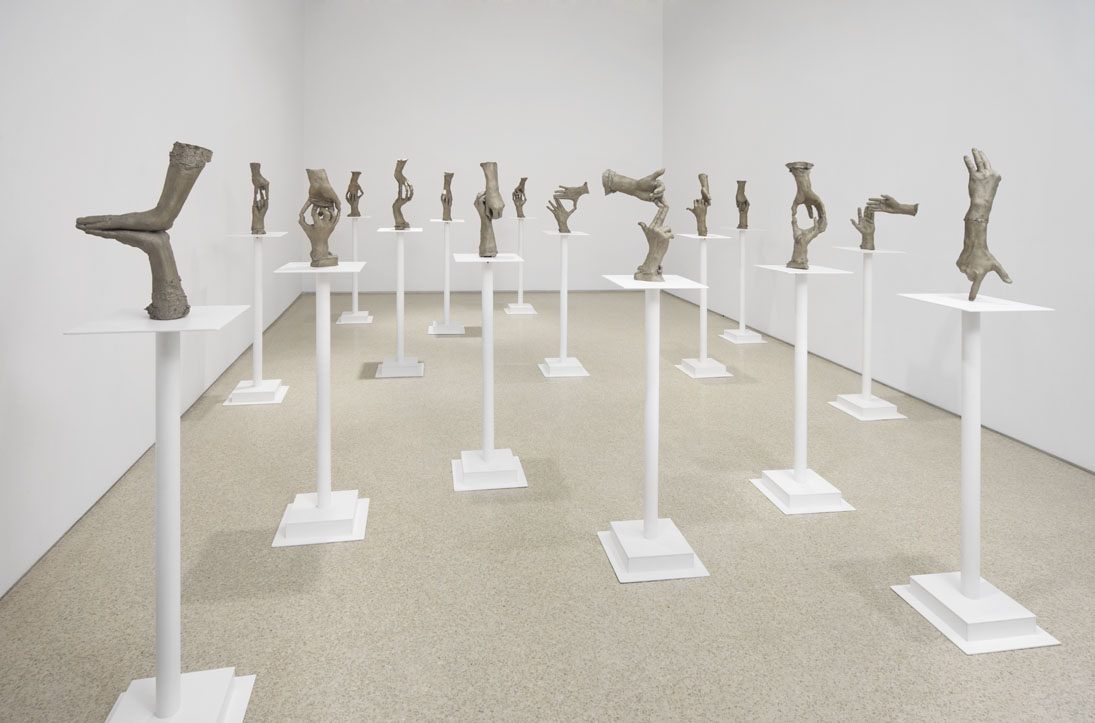 Bruce Nauman, Fifteen Pairs of Hands, 1996, white bronze with painted steel base, edition Artist Proof, 15 parts each: approx. 52 x 12 x 12 inches, Collection The Glenstone Foundation, Courtesy Sperone Westwater, New York
Nauman has long been fascinated with the myriad possibilities presented by hands (and other body parts). In the third floor gallery, two installation drawings, For Children/For Beginners, (2009) also reveal his continued interest in playful word combinations. "Teaching children/Children teaching" or "Learner learning/Learning learning," for example, are apt reminders of how easily words and sounds can be manipulated. Nearby, he plays up the untutored aspect of his recorded elevator "music" with another audio installation For Children, (2010), in which he simply repeats the words "for children" over and over.
Studio Mix, (2010), in the rear of the ground floor gallery, should, ideally, be seen last, since it combines elements from all of the other works in a single installation. In this small dark space, where all of the sounds and images overlap and reverberate, the full sensory impact of Nauman's new works--as well as their remarkable economy--can be appreciated. Indeed, using the spare architecture of the Sperone Westwater space as his template, Nauman has created a multitude of associations and meanings from 31 finger positions. These appear, at once, physical and ethereal, existential and witty, dispassionate and poignant. For this artist, at the top of his game, even the simplest variations--in gestures, words, or, even, sounds--elicit an abundance of complex meanings.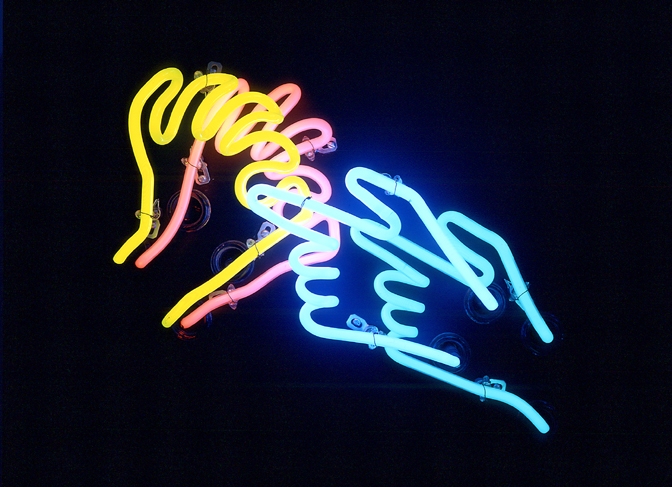 Bruce Nauman, Human Sexual Experience, 1985, neon tubing mounted on aluminum monolith,17 x 23 x 9 1/2 inches (43.2 x 58.4 x 24.1 cm.),Marc and Livia Straus Family Collection, Courtesy Sperone Westwater, New York
Related
Popular in the Community