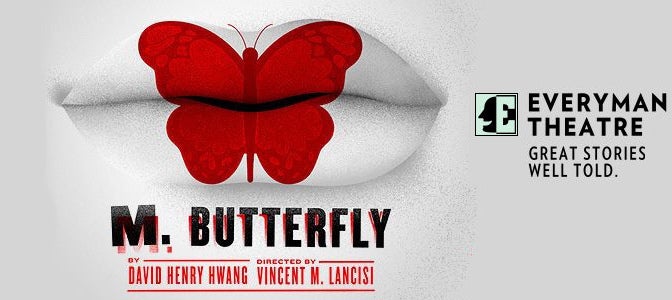 This week I talked with actor Bruce Randolph Nelson about starring in M. Butterfly at Baltimore's Everyman Theatre now through October 8th. Based on an epic true story and celebrating its 30th anniversary of David Henry Hwang's torrid and timeless Tony Award-winning play, M. Butterfly is a masterful probe of truth, illusion, culture and gender. The play tells the story of French diplomat Rene Gallimard (Bruce Randolph Nelson) who becomes enchanted with divine Peking opera star Song Liling (Everyman newcomer Vichet Chum) but this diva is hiding more than her true identity. Converging fact with fiction this gender-bender addresses East and West tensions onstage as M. Butterfly delivers the allure of fantasy and the power of obsession that are a recipe for betrayal that takes place in the closeted Beijing and Paris in the 1960's. What's even more curious is that Everyman's Founding Artistic Director Vincent M. Lancisi who directs this fabulous production of M. Butterfly actually experienced art-imitating-reality when he met Bernard Boursicot the French Diplomat which the character René Gallimard is based on in a chance meeting in France. Weeks later he traveled accompanied by Nelson to join the former diplomat for an illuminating six-hour conversation that provided unrestricted access to Boursicot's remarkable stories, personal photographs and candid perspective. I talked to Bruce about his encounter with Boursicot and his spin on our LGBTQ issues.
When asked what his personal commitment is to LGBTQ civil rights Nelson stated:
I think it's obviously vital and being a fifty-one-year old man and experiencing I guess going from a time when gay and lesbians were on my radar then to have the whole alphabet represented and the fluidity of it represented has been a little learning curve for me too. So my commitment personally is to certainly continue to learn and accept and remain open. I mean, my God it's why I got involved with theatre in the first place as a safe welcoming place for people of all kinds to come and express themselves and it was my surrogate family when maybe my own family wasn't a place where I could be fully myself. You know afternoon drama class was a place where I could not only be myself but all these other wild fabulous characters.
Bruce Randolph Nelson has been a professional actor and teacher in the Baltimore-DC area for years. As a member of the Everyman Theatre in Baltimore he was recognized as Baltimore's Best Actor in 2004 and 2012 by the City Paper. The Everyman Theatre is a professional Equity theatre company founded in 1990 by Vincent M. Lancisi. The theatre is dedicated to engaging the audience through a shared experience between actor and audience seeking connection and emotional truth in performance. Their production of M. Butterfly is sponsored in part by the Downtown Partnership of Baltimore with media support from The Baltimore Sun Media Group and WYPR. Everyman Theatre is supported in part by grants from the Maryland State Arts Council and the Baltimore County Commission on Arts and Sciences. (Photo credit: DJ Corey Photography)
Calling all HuffPost superfans!
Sign up for membership to become a founding member and help shape HuffPost's next chapter