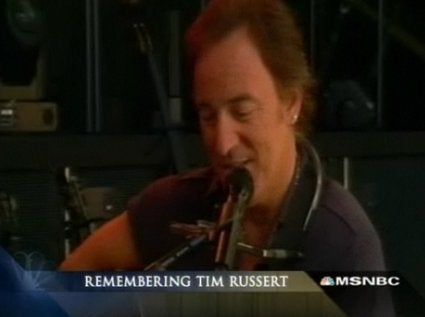 Bruce Springsteen gave a surprise appearance at the end of Tim Russert's memorial service, singing Thunder Road via satellite from Europe. Russert was a huge fan of Springsteen's ever since the days he booked a then-unknown Springsteen as a performer at John Carroll University in Cleveland.
Transcript of Bruce Springsteen's comments:
BROKAW: Been a remarkable afternoon so far. And we have a little
surprise. Luke and I have been talking about this for the last...
BROKAW: ... 24 hours or so.
It turns out that uncle Tony is not the only musical member of the
extended Russert family. In fact, our next guest is so inspired by
uncle Tony that he insisted that he have a place in all of this as
well.
Might learn a few thing from uncle Tony.
BROKAW: We are going to send him a tape of uncle Tony and hope that
maybe he can work out his own career.
The only sad part about this appearance is, this is the one guest that
Tim was never able to persuade to appear on "Meet the Press." But
they were great friends. And Tim went wherever he had to, to hear
him.
Ladies and gentlemen, from Europe, where he is on tour, the Boss.
BRUCE SPRINGSTEEN, MUSICIAN: Good morning, Big Russ and the Russert family.
We want to send all our love and prayers from the E Street Band and
share with you a memory I had of Tim.
It was early in the morning. We were playing on "The Today Show,"
which is a little early for rock musicians. And we went into
"Promised Land." And I did I what I usually do. I was looking in the
faces along the front row to see who was-I always look for that face
that being alive and they're filled with the music that we're playing.
And as I scanned the front row, I got to the left side of the stage,
and there was a guy in a crisp white shirt and a tie. And I looked,
and it was Tim. And he had on that big Irish smile that hid
absolutely nothing. And he was beaming like the rising sun.
And I remember thinking, oh, my God, that's-that's Tim Russert at this
hour of the morning. And I knew that, given his day job, he had more
important things to do. So, we were always flattered and honored to
have Tim as a part of our E Street Band community.
And it's funny that we were playing that song. I think Tim had a real
belief in that promised land and in the American idea. And that was
the passion that you heard behind all those tough questions on Sunday
morning and-and in that big smile.
He also believed, I think, in the honesty of service, the joyful duty
of honesty of service. That's his legacy for politicians,
journalists, and rock musicians, too.
So, I want to send this out to Tim.
Luke, this is for your pop.
(BRUCE SPRINGSTEEN PERFORMS "THUNDER ROAD")
BROKAW: We're very grateful to you for being here today. We must
always keep Tim not only in our hearts, but in our lives as well, and
try every day to be better citizens. Thank you all very much for
being here. Thanks.

Popular in the Community