 Dr. John, with an album that's charting as high as any of his in the last 40 years, ended his New Orleans Jazz & Heritage Festival set by playing a song off his next album. The one after Locked Down. He was looking forward, and opening for Bruce Springsteen.
Springsteen, looking back, referenced his band's performance at the first Jazz Fest post-Katrina levee failure. It was a set that was cathartic if you needed to cry for a week or so, and back then who didn't?
"The show for 2006 stayed with us a long, long, long time." Springsteen told the massive crowd. "And I want to thank you for giving us the opportunity to do what our band was built for. But we got a new dawn. We got a new day. And we got new faces with us. And some old faces..." Spoiler alert: he brought out Dr. John aka New Orleans' own Mac Rebennack.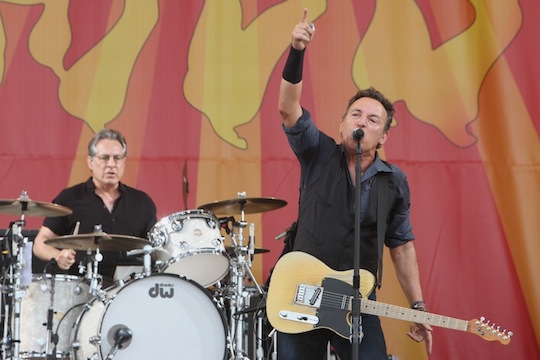 Photo by Adam McCullough
"Back in the early '70s we played on the same bill. Asking the good Dr. John to come join the E Street Band. Hey Mac!" Mac sang and played the R and B classic: "Something You Got" with the band, and Bruce looked as happy as a kid. "He comes out he sits in that groove, man, and all of a sudden... "
"You ought to know / my my / oh oh / I love you so."
Springsteen is the consummate entertainer. New Orleans was woven into his set, but not in the "Hello Springfield -- you beat the hell out of Shelbyville" manner. In his Wrecking Ball album's "We Take Care of Our Own," the line: "From a shotgun shack to the Superdome" was belted out by a crowd miles from the dome. Post-Katrina, it feels like there's been an endless stream of projects that arrived late, cashed in early and never really got it.
With Wrecking Ball, that feeling is aptly described though it was written for Springsteen's home state. "Go on and take your best shot, let's see what you've got" works for anyone who dealt with unscrupulous contractors, coming home and finding yourself replaced... all of it.

"And hard times come and hard times go and hard times come and hard times go and hard times come and hard times go"
Just because the litany is fatiguing does not mean the hard times are gone. Recovery is never-ending, and there's no right moment to put a bow on it. Wrecking Ball doesn't try. Neither does Jack of All Trades.
As Death to My Hometown soared, the set reached an Irish wake levels of catharsis.
"Anybody here back in 2006?" Springsteen asked. A roar. "This is a song about calling on ghosts and spirits and asking them to speak. And we're in such a strong city of spirits, and such a strong city of so many ghosts, ghosts that have been powerful enough to haunt the rest of the nation and guard this town. And so we ask the spirits to inform us. To provide strength and faith to the living."

"This is a song about things we lose that never come back. And it's also a song about things that never leave. Things that stay with you for your life and to the next life, into the next world. Into the next place... " Based on conversations with Mac, it could have been Dr. John speaking. Springsteen talked about everyone in the crowd who lost someone. So many of us did. That's not brought up enough. Then he launched into My City of Ruins.
"Come on rise up ... Come on rise up..."
Springsteen decried programs cutting back fundamental services. "I wrote this song in 2009 when there was no Occupy movement. New Orleans is no stranger to hard times. I know. This is Jack of All Trades."
Church doesn't stop once it's on a roll. It was supposed to be a two and a half hour festival set, and Springsteen went overtime. It was cathartic but I wouldn't call it closure. Post-Katrina, I wouldn't call anything closure. But listening to Springsteen, Dr. John, all the legends with their new work; they seem to be sending signals about where we all meet up in the end.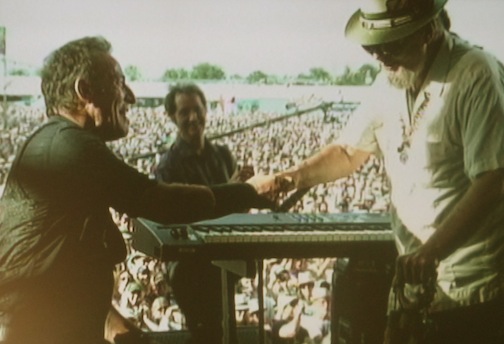 Popular in the Community