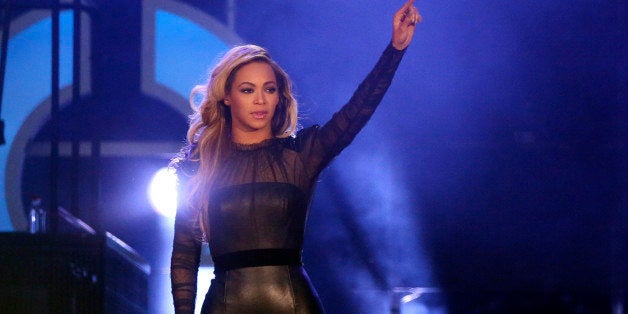 Where I live -- that is, in my head, heart and soul -- music matters. A lot. I'm with Friedrich Nietzsche, who was never a better philosopher than when he wrote this: "Without music, life would be a mistake."
Why is music the most crucial, the most urgent of the arts? Because you can't see around corners -- but you can hear around them. That makes musicians the artists who most reliably tell us the news before it happens.
Bruce Springsteen did that last week, when he canceled a concert in Greensboro to protest a new North Carolina law that legalizes discrimination against transgenders, gays and pretty much everybody the "family values" cohort doesn't like.
"Some things are more important than a rock show, and this fight against prejudice and bigotry -- which is happening as I write -- is one of them," Springsteen said. "It is the strongest means I have for raising my voice in opposition to those who continue to push us backwards instead of forward."
What do you call what Bruce Springsteen did?
A good start. Followed by Bryan Adams, who canceled a concert in Mississippi. Followed by... no one. Yet. So more big-name musicians must step forward and say: "There's always more money, but I only have one name. And I won't have people shouting my name in states where there are citizens who have no rights."
There are only a few states like that now. But these are strange days. Soon there may be many more states where white men who revere a past that never was will create a future that never should be -- states where women, blacks, Hispanics, gays and anyone else white men happen not to like have no legal protection against discrimination, arrest and prison. And nothing will change for the better until the concert halls in those states are dark and silent. Until the only place where music lovers can hear their favorite songs is on the radio. Until business leaders who have gotten used to drinking craft beer and leasing Audis have to tighten their belts. Until legislators scratch their heads and go, "You know..."
How can we jump-start that process?
The usual way. Kids get involved. Their parents get upset. Young people talk to their parents. Then their parents -- who are often Important People and notice things like businesses leaving and new businesses not coming and a stagnant economy -- get involved. And then laws change.
Why do kids get involved?
In my childhood, because the causes -- civil rights, Vietnam --were moral, obvious, urgent. Now it's harder to inspire more than armchair activism. So maybe it comes down to self-interest. Kids get involved when they're denied something they take for granted. Like...music.
So it's key that other musicians -- many other musicians -- boycott North Carolina until this dreadful law is rescinded.
A helpful website -- thank you, Concertboom.com -- lists the concerts scheduled in Raleigh, the capital, until September. On this list you'll see musicians who make music that carries messages of tolerance, hope and love. Perhaps you'll go to their sites or their blogs and express your hope that they honor their work and join the protest. Maybe by canceling their concerts. Maybe by giving some/all of the money they make from their North Carolina concert to anti-discrimination causes. Or whatever seems appropriate.
Here's the list of musicians and bands scheduled to play in Raleigh before November:
Pearl Jam
Beyoncé
Jimmy Buffett
Styx
Chris Stapleton
Kenny Chesney
Willie Nelson
Edward Sharpe & the Magnetic Zeros
Cyndi Lauper
The Doobie Brothers
Ellie Goulding
Lake Street Dive
Ringo Starr
Modest Mouse
Toby Keith
Ray LaMontagne
Steve Miller
Dierks Bentley
Peter Frampton
Greg Allman
Snoop Dog
Wiz Khalifa
Tony Keith
Dixie Chicks
Keith Urban
Brian Wilson
Goo Goo Dolls
Luke Bryan
Maroon 5
Heart
Joan Jett
Brad Paisley
A helpful web site -- thank you, Concertful.com -- lists the musicians and bands appearing in other North Carolina cities this spring and summer:
Alabama Shakes
Ben Harper
Smashing Pumpkins
Chris Isaak
Josh Ritter
Aretha Franklin
Dave Mathews
Brandi Carlisle
Jackson Browne
Selena Gomez
Journey
Haim
Lake Street Dive
Death Cab for Cutie
Lucius
Ringo Starr
The Cure
Toby Keith
Steely Dan
Stevie Winwood
Justin Bieber
Peter Frampton
Tedeschi Trucks Band
Los Lobos
Dixie Chicks
Mumford & Sons
Leon Bridges
Carrie Underwood
If any band or musician wants to take a leadership role in this campaign, here's some inspiring history from the Olde Days. In 1985, when he was still "Little Steven," Steve Van Zandt launched a campaign against Sun City, an all-white resort in South Africa. Working with Danny Schecter, a journalist with a mission, he assembled 49 first-tier musicians: Rubén Blades, Bob Dylan, Herbie Hancock, Ringo Starr and his son Zak Starkey, Lou Reed, Run DMC, Peter Gabriel, David Ruffin, Eddie Kendricks, Darlene Love, Bobby Womack, Afrika Bambaataa, Kurtis Blow, Jackson Browne, U2, George Clinton, Keith Richards, Ronnie Wood, Peter Wolf, Bonnie Raitt, Hall & Oates, Jimmy Cliff, Big Youth, Michael Monroe, Peter Garrett, Ron Carter, Ray Barretto, Gil-Scott Heron, Nona Hendryx, Pete Townshend, Pat Benatar, Clarence Clemons, Joey Ramone, Kool DJ Herc, Grandmaster Melle Mel, The Fat Boys -- and Bruce Springsteen.
"Sun City" -- with its poster simple refrain: "Ain't gonna play Sun City!" -- was picked as record of the year by many music critics. More to the point, the song and the album raised more than $1 million for anti-apartheid projects.
Hard to watch it without getting excited. Maybe someone will. In my dreams: Taylor Swift.