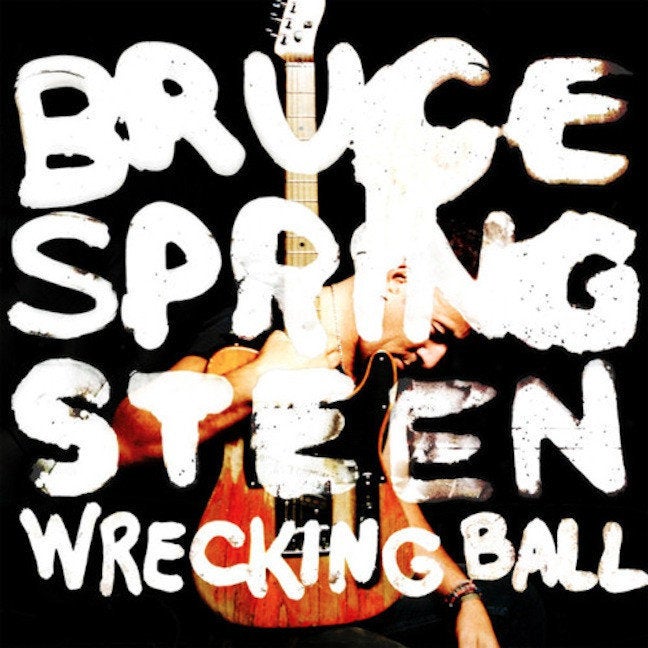 From the moment Bruce Springsteen first strode onstage and exuberantly challenged the Providence Civic Center audience in August 1978, yelling "Are you alive?" before launching into Eddie Cochran's "Summertime Blues," I was taken up and taken in, entranced and enthralled. That was my first experience at a Springsteen concert, nearly 34 years ago, and Bruce Springsteen remains true to his message, which has never changed. "Are you alive?" is still his main question to the audience; answered deeply and truly here by the closing track of his brilliant new album Wrecking Ball: "We Are Alive."
Wrecking Ball is seamless and of a piece, as all great albums are. Each song slots perfectly into the next. Albums that work in this way are few and far between (Sgt. Peppers Lonely Hearts Club Band/The Beatles; Imperial Bedroom/Elvis Costello; Achtung Baby/U2; to name only a few) where the songs don't just work thematically but the overarching sound chocks in like a puzzle piece. This is all the more impressive in an album like this one with a mix of so many different genres and styles. With the opening song, "We Take Care of Our Own," a high-spirited clarion call setting the agenda right off, one notes immediately that the production is clear and strong and Springsteen's voice is right up front in the mix -- energetic and vital. The song is informed by genres that have influenced him throughout his lengthy career: from '60s garage rock handclaps to soul and R&B. The gauntlet is immediately thrown down; let's take the temperature of 2012 and see exactly where we are right now, the fervor of our last political election having long faded in the cold, harsh light of our crumbling economy: "I been knocking on the door that holds the throne / I been looking for the map that leads me home / I been stumbling on good hearts turned to stone / The road of good intentions has gone dry as a bone / We take care of our own."
The second track, "Easy Money," is a swinging orchestral country stomp that recalls the real-life protagonist on Springsteen's 1982 acoustic solo album Nebraska, Charlie Starkweather. But, far from being powerfully bleak and aching as the song "Nebraska" was, our hero in this song is suffused with the cheerful joy of action at last after feeling so out of control for so long. With a gun in his hand, he's in charge until it all inevitably comes tumbling down. Joy is in fact the prevailing musical theme for the entire album; even though it addresses the hardest, coldest truths there are: "I got a Smith and Wesson 38 / I got a hellfire burning and I got me a date / Got me a date on the far shore / Where it's bright and sunny / I'm goin' on the town tonight, lookin' for easy money."
"Shackled and Drawn" follows, Cajun country blues married to gospel and rock & roll. This song contains elements of "Me and My Baby Got Our Own Thing Going," a funkified track by Lyn Collins which was produced by James Brown in 1972. The song's hero could easily be the protagonist in "Easy Money" after he's been caught and is incarcerated: "What's a poor boy to do in a world gone wrong / I woke up this morning shackled and drawn." Again, though the circumstances seem hopeless, the music is carefree and joyous, underscored by inevitability.
One of the album's three ballads, "Jack of All Trades," is next. This is a love song shot through with class consciousness, flavored by guest Tom Morello's soaring guitar. The singer seeks to assure his loved one that he can take care of everything from fixing the car to harvesting the crops; he can take care of everything even in this world that has changed so dramatically, where the value of our homes, our jobs and our lives have dropped so severely. Full of love, sadness, and anger -- a heady cocktail that thrums throughout the record - Springsteen sings, "Now sometimes tomorrow / Comes soaked in treasure and blood / We stood the drought, now we'll stand the flood / There's a new world coming, I can see the light / I'm a jack of all trades, we'll be all right."
The cornerstone of the album is "Death to My Hometown," an ironic coda to the song "My Hometown" from 1984's Born in the USA; an album that was made in an America so strikingly different from the one we live in now that it doesn't even seem real anymore. Yet economically at that time we were starting up the steep slope of a roller coaster ride that wouldn't crest the hill for some time and is only now coming to a screeching halt. The melody borrows from the Alabama Sacred Harp Singers' folk poem "The Last Words of Copernicus," written in 1755 and set to music in 1869, recorded in 1959 by Alan Lomax. "Death to My Hometown" is a Celtic-flavored marching tune with stunningly evocative lyrics that state how even though we haven't been visited with the ravages of war and destruction, our homes and neighborhoods have been dealt an equally crushing death blow by bankers and robber barons. They have just as surely "destroyed our families, factories / and they took our homes / they left our bodies on the plains / the vultures picked our bones" with their unmitigated, unchecked, government sanctioned endless greed.
"This Depression" is the second of three ballads on Wrecking Ball, in which the singer agonizedly reaches out for solace, having never been this low; he's struck with complete and total heartbreak and begs in his vulnerable state, "I need your heart." Once again, Tom Morello's guitar is featured; the music is shimmering, augmented in parts with an angelic choir. Lush and deep -- yet never muddy. The entire production of the album is in fact clear as a bell.
"Wrecking Ball," the title track, was first heard during Springsteen's last tour for the Working On A Dream album three years ago. Initially penned as a farewell to New Jersey's Giants Stadium, the reimagined song is anthemic, both poignant and triumphant. Yes, darling one, nothing changes but the changes, but even though the things we love and care for are targeted for destruction we can rise above it and stay strong. "Bring on your wrecking ball" becoming almost a taunt -- a mantra -- a catchphrase for the times we live in. The apocalypse comes, horns a-blaring; this is also one of two tracks on the record that features the saxophone playing of Clarence Clemons, who died last summer.
"You've Got It" is the third ballad, a bluesy, sexy interlude -- a love song -- rare for this album, but necessary in among all the raucously joyful sturm und drang. It precedes the piece de resistance, the frankly amazing "Rocky Ground," which is completely off the charts every which way to Sunday. "Rocky Ground" perfectly melds gospel, soul, R&B, and hip hop as it tackles the age old theme of survival in these dire times. Gospel singer Michelle Moore is featured and also does a rap in the last third of this instant classic. The song is anchored by an excerpt from another Alan Lomax recording, "I'm A Soldier in the Army of the Lord," sung by the Church of God in Christ Congregation in 1942 in Clarksdale, Mississippi. This is the album's Come to Jesus moment -- a hymn for the new age we live in. It's huge, it's massive and gorgeous, and will no doubt bring the house down when performed live.
"Land of Hope and Dreams" is the first part of the end of our journey. This song was written and performed in 1999 and has provided a stunning, optimistic live show-closer to Springsteen shows ever since. It's been bathed in the blood of the Lamb, as it were; given new life and reborn in the context of Wrecking Ball; "tomorrow there'll be sunshine / and all this darkness past" is another of the main messages here. The takeaway is that we need to take care of each other ("we take care of our own") and nobody wins unless everybody wins. This is the second song to feature the unmistakable saxophone of beloved bandmate Clarence Clemons. It also pays fond tribute to Curtis Mayfield's seminal "People Get Ready."
The last part of the journey's end through this remarkable album is "We Are Alive," which begins with the sound of dust brushing up against the stylus on a vinyl record album. An old folk song (harkening back to "Ring of Fire") plays, swells, and gets louder until it bursts into full flower. The lyric seeks to assuage our sad and weary hearts and minds and remind us of those who laid down their lives for social change; we are alive; "our spirits rise / to carry the fire and light the spark / to stand shoulder to shoulder and heart to heart." Death is not the end; as if to underscore the point, the album booklet includes words from Springsteen's eulogy at Clarence Clemon's memorial service last year: "Clarence doesn't leave the E Street Band when he dies. He leaves when we die."
"This is as direct a record as I ever made," Springsteen recently told Rolling Stone. "That's with the possible exception of Nebraska, which this record has a lot in common with." Wrecking Ball also musically recalls the passion of the 2006 release We Shall Overcome: The Seeger Sessions in which Springsteen breathed glorious new life into classics made famous by the legendary Pete Seeger. But ultimately, Wrecking Ball stands as Springsteen's best album release in almost thirty years. It's both wrenching and jubilant; looking back and looking forward; steeped in sorrow as well as celebratory and undaunted.
Wrecking Ball was produced by Ron Aniello and features a large ensemble of musicians including the New York Chamber Consort as well as the Victorious Gospel Choir. The album's special edition features two bonus tracks: "American Land" (which debuted in 2006 on The Seeger Sessions Tour) and "Swallowed Up (In the Belly of the Whale)." Wrecking Ball will be released on Tuesday March 6 by Columbia Records, followed by a world tour by Bruce Springsteen and the E Street Band.
Support HuffPost
The Stakes Have Never Been Higher
Popular in the Community