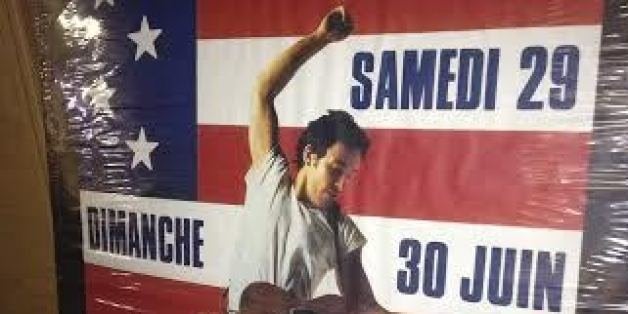 It was 2002 and you were on your Rising Tour in Detroit, where I'm originally from. My father, being the fan that he was, liked to splurge on general admission tickets. I didn't blame him. There's no sight quite like watching each droplet of sweat leave your forehead and land on the chords of your guitar.
And I inarguably had the best seat in the house.
My sisters and I would take turns watching the concert from my dad's shoulders. Imagine it: a breezy night in the mosh pit of Comerica Park at eye level with The Boss, feeling the security of my dad's warm embrace.
Magical is the only word I could use to describe it.
At one point, I felt like it was just me, you and my dad in that arena. After watching your sweat seep through the bandana wrapped around your forehead and spotting each speck of dirt splashed on your sneakers, I looked back at the stadium and saw the mega crowd going nuts for you.
It was at that moment that I knew you were special and have adored and admired you ever since.
The truth is, I might've been kicked out of my house if I didn't. As soon as I walked down to my basement, there you were: a life-sized poster that caught my dad's eye when he was walking past a storefront window in Chicago. Since then, you've been an honorary member of our family.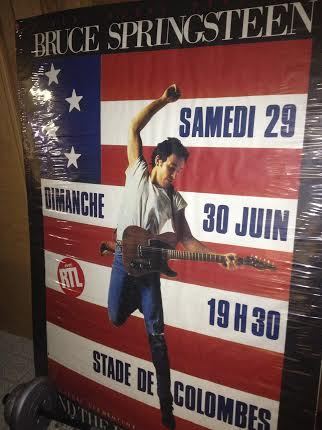 For my father's 40th birthday, my mom threw him a Mexican-themed Springsteen bash at a local authentic restaurant. We all wore bandanas and only rocked out to your music all night long. My mom also made this sign: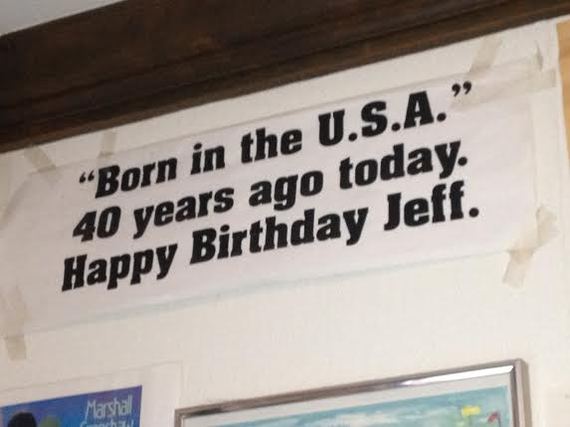 But wait, it gets better.
She also had a special cake made with my dad's face on your body. (Excuse my little sister's look of misery in the photo below. I promise she was having a great time that night.)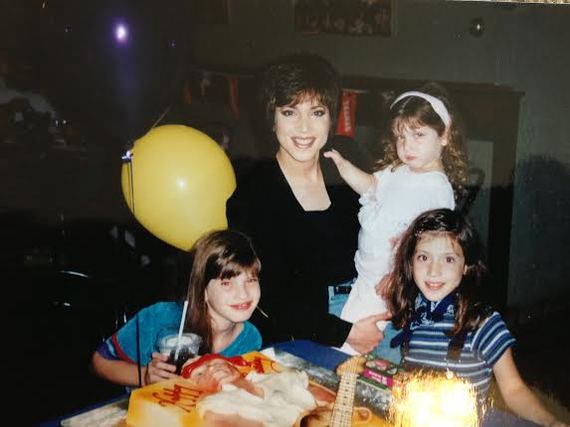 You really have been with us through it all.
When we were road tripping to visit relatives, it was your music that was in the car with us. You were laughing while watching my family form a conga line around the house to the tune of "Without You."
I woke up to your voice blasting through the speakers every Saturday morning as I tiptoed downstairs to find my parents dancing around the family room. Instead of getting mad at them for waking my teenage self up early on a weekend, I'd join in.
You've been with me through some thrilling highs and also stuck by me through some extreme lows.
You were right there next to me as I recited the lyrics of "You're Missing" in my eulogy at my dad's funeral. As I went on to grieve, you promised me everything was going to be alright through each strum of your guitar.
Every time my dad talked about one of your songs, it was like he was giving me a lesson.
His passion was most evident when teaching me how to appreciate the beauty of the song "Thunder Road." It was then that I learned what a love song is supposed to sound like. I give credit to my dad, who sat me down and taught me every note and every lyric. We sat there and listened until the very end as you and Mary drive away. I was carried by the movement of the music in the final moments of the song.
My dad thought that "Drive All Night" was one of the most romantic songs in history, so he had "I'd drive all night" engraved in my mom's wedding band. That way, she could carry your words with her wherever she went. (You true Bruce fans will know that it doesn't get much more
romantic than that.)
After my dad died, I received a lot of condolence wishes. All were very sweet and greatly appreciated, but it was yours that got me.
In April of 2012, my sister and I attended our first concert since losing our dad. It was your first tour without Clarence Clemons -- which, of course, added to the high level of emotions we were feeling that night.
To pay respect to the "Big Man who joined the band," you said just what I needed to hear at that very moment:
"We're missing a few people here right now. But if you're here, and we're here, they're here tonight."
So, Bruce, thank you for your music and for all of the memories you helped my family build. And thanks for always being there when sometimes no one else was.