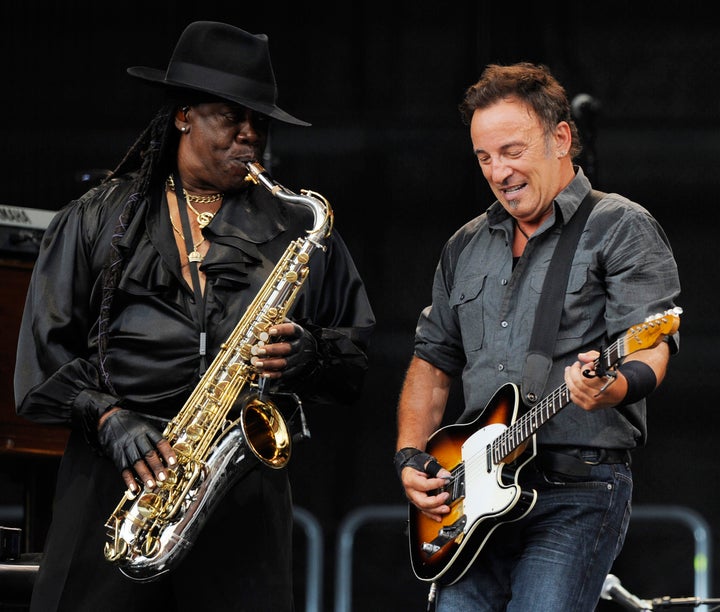 The on-stage magic that existed between Bruce Springsteen and his E-Street Bandmate Clarence Clemons was a nearly four decade-long run of pure friendship, admiration and, above all, musical brilliance. Springsteen, the energetic spark running, running, always running around the stage, jumping and slamming notes and shouting anthems of populist workers and teenage dreams, and Clemons, the mountain, the steady anchor blowing shocks of brilliance into the instant classics.
Having met in Asbury Park's Stone Pony in 1972, the friendship's origin story -- and so many other tales along with it -- would become legend, blurring fact and fiction into a mix no one cared to separate. And even after a ten year hiatus, the chemistry was so strong, new organisms seemed to explode into the air every time they mixed their sounds in that furnace of rock.
From the first time I saw my pal striding out of the shadows of a half empty bar in Asbury Park, a path opening up before him; here comes my brother, here comes my sax man, my inspiration, my partner, my lifelong friend. Standing next to Clarence was like standing next to the baddest ass on the planet. You were proud, you were strong, you were excited and laughing with what might happen, with what together, you might be able to do. You felt like no matter what the day or the night brought, nothing was going to touch you. Clarence could be fragile but he also emanated power and safety, and in some funny way we became each other's protectors; I think perhaps I protected "C" from a world where it still wasn't so easy to be big and black. Racism was ever present and over the years together, we saw it. Clarence's celebrity and size did not make him immune. I think perhaps "C" protected me from a world where it wasn't always so easy to be an insecure, weird and skinny white boy either. But, standing together we were badass, on any given night, on our turf, some of the baddest asses on the planet. We were united, we were strong, we were righteous, we were unmovable, we were funny, we were corny as hell and as serious as death itself. And we were coming to your town to shake you and to wake you up. Together, we told an older, richer story about the possibilities of friendship that transcended those I'd written in my songs and in my music. Clarence carried it in his heart...

Clarence doesn't leave the E Street Band when he dies. He leaves when we die.

So, I'll miss my friend, his sax, the force of nature his sound was, his glory, his foolishness, his accomplishments, his face, his hands, his humor, his skin, his noise, his confusion, his power, his peace. But his love and his story, the story that he gave me, that he whispered in my ear, that he allowed me to tell… and that he gave to you… is gonna carry on. I'm no mystic, but the undertow, the mystery and power of Clarence and my friendship leads me to believe we must have stood together in other, older times, along other rivers, in other cities, in other fields, doing our modest version of god's work… work that's still unfinished. So I won't say goodbye to my brother, I'll simply say, see you in the next life, further on up the road, where we will once again pick up that work, and get it done.