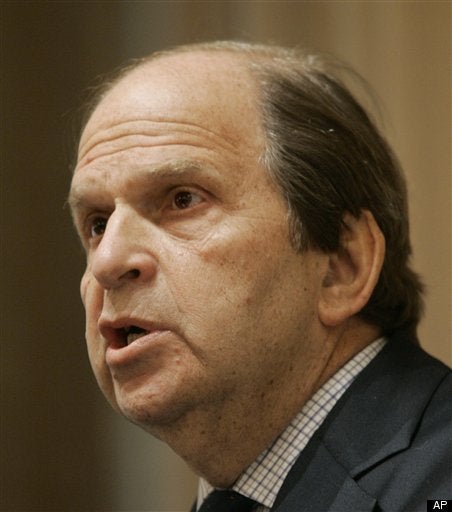 UPDATE: NEW YORK -- Bruce Wasserstein, the CEO of Lazard Ltd., is dead, a company spokeswoman confirms Wednesday .
Wasserstein, 61, a prominent Wall Street dealmaker, was hospitalized with an irregular heartbeat on Sunday.
Wasserstein took over as head of Lazard in 2002. He took the company public in May 2005 and was named its CEO.
Lazard announced on Sunday that Wasserstein, 61, had been hospitalized for an irregular heartbeat. It called his condition "serious," but said he was "stable and recovering."
Lazard shares (LAZ) were halted before the close of trading Wednesday pending an announcement.
Wasserstein has been head of Lazard since 2002. He took the company public in May 2005 and was named CEO.
Wasserstein was in the middle of a contract that would keep him at the company through 2012.
Lazard has remained relatively strong throughout the economic downturn. Its second-quarter profits fell 18% to $28.2 million, or 34 cents per share, but easily surpassed expectations. New York-based Lazard's financial restructuring business has thrived during the downturn, offsetting declines in mergers and acquisitions advisory business.
Merger activity is expected to pick up in the coming quarters as the economy and financial markets begin to recover. Lazard is currently serving as the financial adviser for Kraft Foods's unsolicited $16.7 billion takeover bid of British candy maker Cadbury.
Aside from his work at Lazard, Wasserstein served as chairman of Wasserstein & Co., a private investment firm. Wasserstein & Co. targets investments between $30 million and $150 million. It has investments in companies ranging from Penton Media, a publisher of trade magazines, to gourmet food seller Harry & David.
Wasserstein also owned New York Media Holdings, which publishes New York magazine.
He has been a fixture on Wall Street since the 1980s, when he helped run First Boston, before co-founding an investment bank, Wasserstein Perella Group, with Joseph Perella.
Wasserstein worked on such landmark deals as Kohlberg Kravis Roberts' takeover of RJR Nabisco in the late '80s, and the Morgan Stanley-Dean Witter and AOL-Time Warner mergers.
Wasserstein was CEO of Wasserstein Perella between 1988 and 2001 before selling it to Germany's Dresdner Bank for about $1.4 billion.
Forbes magazine estimated Wasserstein's net worth at $2 billion.
Wasserstein was the brother of Wendy Wasserstein, a Tony and Pulitzer Prize-winning playwright who died in 2006.
REAL LIFE. REAL NEWS. REAL VOICES.
Help us tell more of the stories that matter from voices that too often remain unheard.