Three-hour marathon meals, drinking bubbly before noon and enjoying it all on a patio are just a few reasons why brunch is part of the Southern California culture. And here's a few places to get the brunch season underway.
In the wake of its success on Melrose Avenue, Rick Bayless' Red O has branched out to Orange County, specifically, posh Fashion Island in Newport Beach. The space is similar to the original location, but with its own character, which announces its presence immediately with two walls of tequila bottles, which lead into a vast bar and lounge, before opening into an even larger dining room.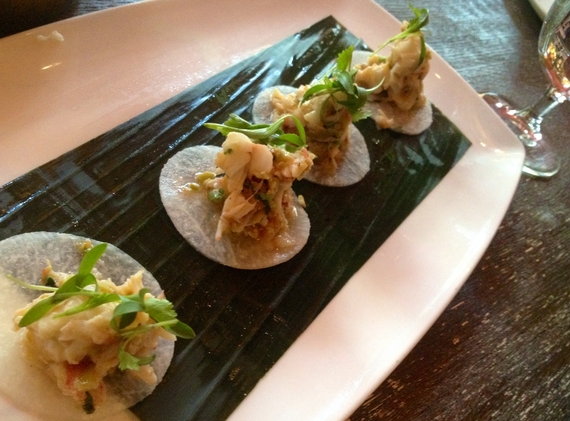 Maine lobster-jicama tacos at Red O Newport Beach. (Photo by Scott Bridges)
The restaurant is now open for Sunday brunch, with menu items like made-to-order Chilaquiles, one of the best hangover dishes ever, composed of crisp yellow corn tortillas in either a Colorado or creamy tomatillo sauce, with choice of topping. Another next-day favorite is Huevos Rancheros. But the highlight just might be the taco-carving station, where freshly made corn tortillas are filled with choice of wood-grilled steak or carnitas, Mexican red rice, refried black beans and an array of toppings.
The restaurant boasts one of the broadest tequila selections this side of the border, with more than 100 varieties, which feature into some unique handcrafted cocktails, but it also features a wine cellar with more than 400 labels.
Meanwhile, in Marina del Venice -- or whatever we want to call that stretch of Washington Boulevard where two very disparate parts of town converge -- there's a brunch spot of a different nature in Casa Ado, where some disparate cuisines converge over brunch. Here at this favorite among locals, Mexican and Italian collide with traditional breakfast items.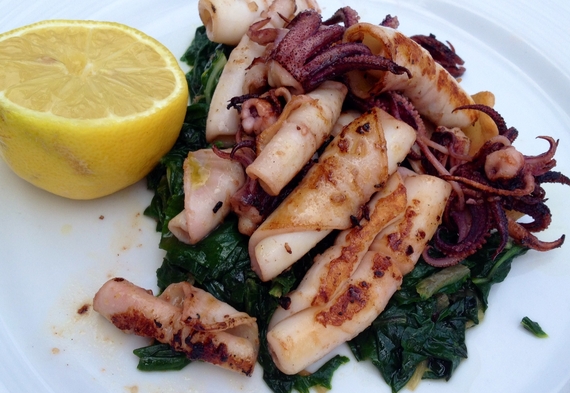 Casa Ado's grilled baby calamari with spiced sauteed chard. (Photo by Scott Bridges)
Where else can you enjoy grilled baby calamari or spaghetti and meatballs or penne pasta in Arrabbiata sauce alongside shredded chicken tacos and guacamole or sunny-side organic eggs served Mexican-style with fried rice and beans? Or, if you prefer good old American breakfast-style fare, there's steak and eggs or eggs Benedict or lox and bagels.
You'll also be delighted to know that there's a full bar and way-too-affordable Mimosas, in addition to other breakfast cocktails to be savored at this beachfront locale where even locals can feel like they're on vacation.
Brunch also means baked goods -- at least it does in my book. And the Westside is renowned for its bakers, and one of its foremost bakeries is Rockenwagner. The latest gem in the developing Hans Rockenwagner empire is a café in Brentwood that bears his name and opened earlier this year for breakfast and brunch.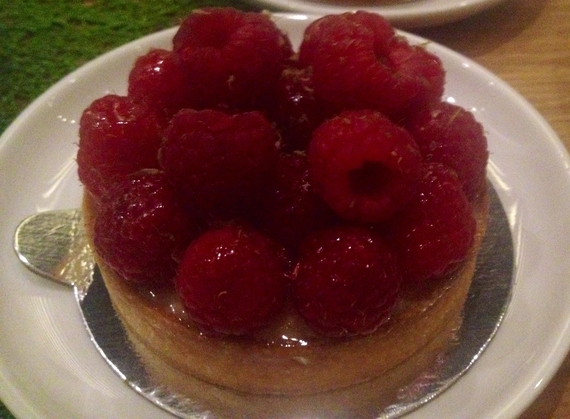 Pastries are a house specialty at Cafe Rockenwagner. (Photo by Scott Bridges)
Café Rockenwagner celebrates pretzel breads, brioches, croissants, quiches and pastries, both sweet and savory. A small, but well-curated selection of beers and wines are available. And while the patio overlooking a busy and hideous section of Wilshire Boulevard is less than delightful, sitting at the naturally lit bar and saying "to hell with carbs" makes one forget the surrounding world entirely.
And, finally, it just wouldn't be L.A. without chicken and waffles. So Chef Laurent Saussy at Open Air Kitchen + Bar -- formerly Fatty's Public House -- is cooking up the brunch favorite, along with chicken and pork pot pies. The space, on a very brunch-friendly stretch of West Hollywood's La Cienega Boulevard, features an open-air dining room that was made for a weekend meal of lengthy proportions.
Open Air Kitchen + Bar's chicken and waffles. (Photo by Scott Bridges)
The restaurant is from the BRG group -- the guys who brought you Brick + Mortar on Santa Monica's Main Street. A full bar -- including a show-off collection of vodkas -- good house cocktails and a can't-miss selection of wines help make Open Air Kitchen + Bar a reason to enjoy brunch season.
REAL LIFE. REAL NEWS. REAL VOICES.
Help us tell more of the stories that matter from voices that too often remain unheard.